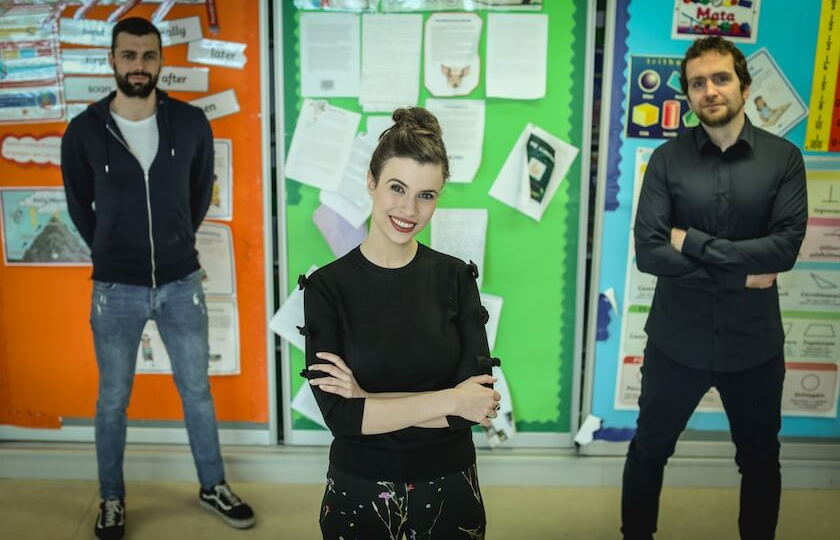 As schools throughout the country remain closed due to the COVID-19 Coronavirus crisis, Mary Immaculate College (MIC) has teamed up with RTÉ to ensure primary school children continue learning outside the classroom.
RTÉ's new 'Home School Hub' began on Monday and has been warmly received by children and parents alike. Throughout the country, children from first to sixth class are tuning in to a virtual classroom where they can engage in daily lessons from their living rooms.
According to Professor Emer Ring, Dean of Education at MIC: "RTÉ's 'Home School Hub' is to be commended for its response in providing reassurance for parents and children at this time when there is so much uncertainty and concern for all of us."
At the invitation of RTÉ, and with the approval of the Department of Education and Skills, Prof. Ring has volunteered to support this initiative by collaborating with the three teachers who are leading and presenting the programme, namely Ray Cuddihy, Clíona Ní Chiosáin and John Sharpson.
Commenting on her involvement in the initiative, Prof. Ring said: "We have a duty and a responsibility as a society and as educators to provide safe and secure environments for our children, where they can achieve their fullest potential and are enabled to flourish. It has never been more important to hold onto these principles."
Drawing on her own extensive teaching experience in mainstream and special education, as well as her experience as a former senior inspector with the Department of Education and Skills and wide range of education research, Prof. Ring will work closely with Ray, Clíona and John on the curriculum based content of both the television programme and online components.
One of Prof. Ring's most recent research papers, completed with MIC colleagues Dr Lisha O'Sullivan, Marie Ryan and Patrick Burke, 'A Melange or a Mosaic of Theories? How Theoretical Perspectives on Children's Learning and Development Can Inform a Responsive Pedagogy in a Redeveloped Primary School Curriculum', will greatly inform the content of this multi-platform initiative.
Prof. Ring noted that "in Ireland, we have a long and proud tradition of education, that is strengthened further in times of adversity as demonstrated by the Hedge Schools in the 18th and 19th century, where parents made incredible sacrifices to ensure their children received an education and Hedge School Teachers' displayed remarkable commitment to their pedagogical craft. RTE's 'Home-School Hub' has become the Hedge School of this COVID-19 crisis".
Prof. Ring is especially proud of presenter and teacher, Ray Cuddihy, who is a recent graduate having completed the Professional Master of Education (PME) at MIC last year. Having got the call from RTÉ, Ray quickly rounded up his fellow teachers, Clíona and John.
"There was no time to lose and we tore into pre-production with Macalla Teo. We couldn't meet up because of physical distancing, and none of us had ever created a daily hour-long show in the space of a week. Our heads were spinning and the pressure was on! It has been very intense but immensely rewarding. A massive team effort."
Ray, Clíona and John quickly decided that structuring the show would be key to its success and they divided up the classes per curriculum with Ray taking first and second class, John taking third and fourth and Clíona taking fifth and sixth. Commenting on Prof. Emer Ring's support, Ray said: "Emer's help has been pivotal and her presence gives the entire production a huge lift."
Ray is acutely aware of the unique circumstances and settings that children are now learning in.
"I design classes that involve children looking, listening, moving, feeling, exploring and investigating their own unique environments. I find it very exciting! We are also aware of the intergenerational aspect of the show. Kids may be watching with their parents or older or younger siblings so we try to make the show as fun as we can for them too and the active learning is something that the whole family can join in with."
He added that "the reaction has been overwhelmingly positive. The general consensus from parents tends to be a huge sense of relief. Some parents have even suggested that there will be statues of us as war-time martyrs!! Everyone has been very supportive and understanding about how quickly the show has sprung into life. Now that we are up and running, we can only achieve more".
Tune in weekdays from 11am to 12pm on RTÉ 2 and for further curriculum-based content, projects and fun activities, visit www.rte.ie/learn.