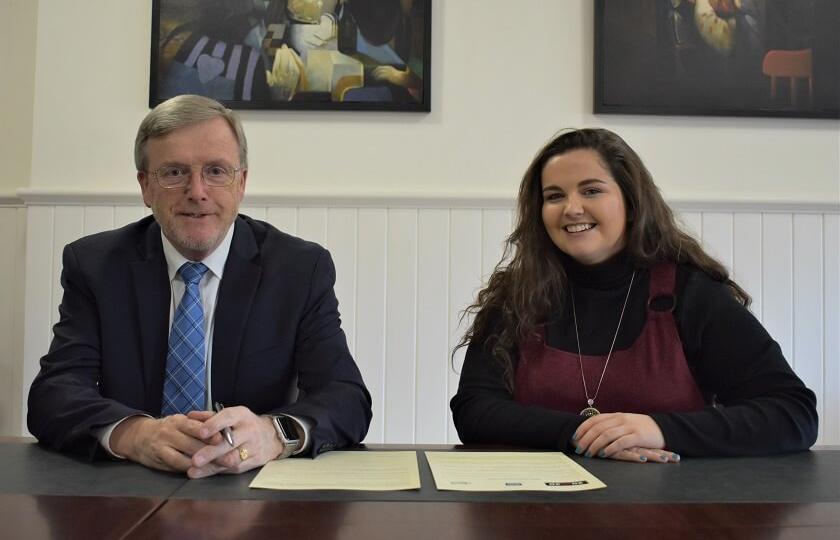 Mary Immaculate College (MIC) has signed up the 20x20 Charter for Third Level, supporting a national movement aimed at "strengthening public perception of the importance of sport and women in sport in Irish society" using the tagline 'If she can't see, she can't be it'.
The initiative by the Federation of Irish Sport—in association with other national sporting and governing bodies including Student Sport Ireland (SSI)—wants to create a cultural shift by increasing visibility of women's sport so "it will become a greater part of who we are and what we follow".
The College has committed to Pillar 1 of the Charter—to actively increase media coverage of College competitions at all levels by 20% by the end of 2020—and Pillar 3, which commits to increase female participation at player level by an overall average of 20% by the end of 2020. MIC joins the ranks of many third level institutions in Ireland taking part in 20x20.
Professor Niamh Hourigan, Vice-President of Academic Affairs at MIC, said that she was "delighted that the College is joining the 20x20 initiative".
"At MIC, we have a long and proud tradition of female participation in sports and indeed, staff in the College such as the late Noreen Lynch made significant contribution to developing the competitive infrastructure of women's Gaelic games in Ireland. Our activities under 20x20 will build on this tradition, and further enhance our commitments to female participation in sport at all levels."
President of the Mary Immaculate College Students' Union (MISU), Aisling Cusack, added: "MISU is very pleased to be involved with the 20x20 initiative. It is a fantastic way to promote and encourage female participation in sporting activities amongst the student body and we are looking forward to working collaboratively with MIC in building on this national campaign."
SSI is the recognised governing body for third level sport in Ireland and its member colleges on the island of Ireland provide for the sport and physical activity needs of more than 200,000 students. Findings from the Student Activity and Sport Study Ireland research in Irish third level colleges in 2016 found that male students are more active than female students. Lower levels of female participation in membership of sports clubs (male 66% V female 34%); volunteering (male 18% V female 13%), and sport scholarship provision (male 71% V female 29%) was also identified.
See MIC's video to launch its 20x20 support below.
Follow the 20x20 campaign on Facebook, Twitter and Instagram using the hashtags: #CantSeeCantBe and #SSI20x20 or see 20x20.ie for more details.
Main photo: President of MIC, Prof. Eugene Wall and President of MISU, Aisling Cusack, after signing the 20x20 Charter for Third Level.