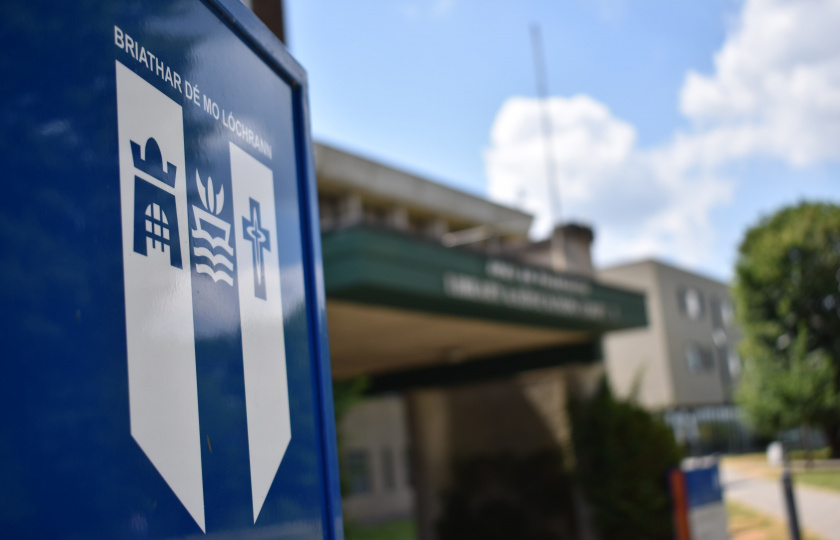 To follow, you will find details of MIC's academic model for the forthcoming academic year.
MIC continues to be led by the prioritisation of public health concerns and by the safety and well-being of its students and staff across both the Limerick and Thurles campuses and as such all planning and resulting decisions are undertaken in line with the Government's public health guidelines and the necessary requirement for social distancing. We plan to return to on-campus teaching and learning when the pandemic abates, but for the foreseeable future the blended model of teaching and learning will be necessary in order to allow for as many students as possible on campus, while also protecting the health of our students, staff and wider community.
2020-21 Academic Calendar:
Autumn Semester (Semester 1) will begin on 28 September and finish on 18 December 2020 and will consist of 12 weeks. Assessments and feedback will be given throughout Semester 1. There will be no end of semester exam period*.
The Spring Semester (Semester 2) will commence on January 25 and end on May 15 2021. It will consist of 12 weeks of teaching and a three-week assessment period.
* The following exams will take place: Language oral exams (BA; B Ed & B EdPsych Gaeilge; Arts Language Electives in B Ed) and Mathematics exams (BA in Education; BA; Arts Mathematics Electives in B Ed) will take place in Week 12.
Orientation
MIC Thurles: Orientation will take place on-campus for new entrants during the week of 21 September 2020.
MIC Limerick: Orientation will take place online for new entrants during the week of 21 September 2020.
This virtual orientation will consist of live talks as well as pre-recorded sessions. Orientation will revolve around digital learning, the academic side of College as well as the social element.
You can find the Orientation schedule for your chosen programme here.
Students will get an opportunity to engage with course leaders and will learn how to familiarise themselves with the required technology for their studies. Students will also meet with key support staff, student services and the Students' Union. In the case of students registering in the BA (Liberal Arts) an opportunity to meet with faculty involved in the delivery all the Arts subject areas will be provided.
Our overall aim of Orientation 2020 is to ensure that while the means of orienting students will be somewhat different, the result will be the same. We will endeavour to provide all our students with the opportunity to establish meaningful connections with the College and its processes.
If public health advice permits, socially distance 'Welcome to Campus' short visits will be scheduled for all first-year groups on the Limerick campus during the week of 21 September 2020. Roll-out of this aspect of orientation will be contingent on public health advice in order to ensure that the health and wellbeing of our College community is safeguarded across both our campuses in Limerick and Thurles. Further information regarding orientation will be posted to our dedicated orientation section of the website closer to the time.
Programme delivery
For the coming academic year, MIC will operate a blended model of teaching and learning – that is to say a combination of online and on-campus delivery. 
The online learning week will resemble a regular teaching week as much as possible, but with all content delivered online. This will enable students to engage in synchronous and asynchronous learning activities. Synchronous teaching means that lecturers and students will be online together participating in a time-tabled live lecture/tutorial. Asynchronous allows you, the student, to connect and attend the pre-recorded lectures in your own time within a specified timeframe.
Rotational Model
The on-campus experience for students on the Limerick Campus in Semester 1 will operate on a weekly rotation model, with each year group coming on campus for a specific number of weeks on a rotational basis over the semester.
We are also mindful of the needs of students who may not be able to engage in on-campus interactions due to underlying health conditions and we will seek alternative methods of engagement for students in this situation.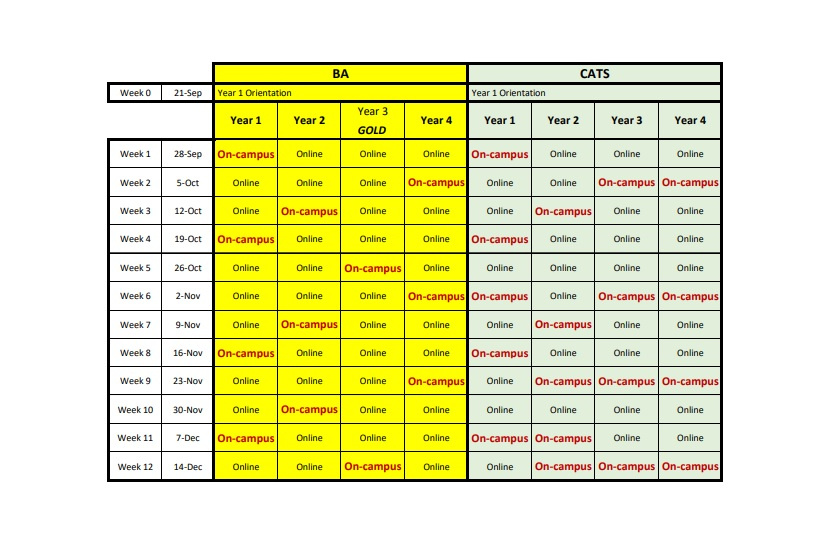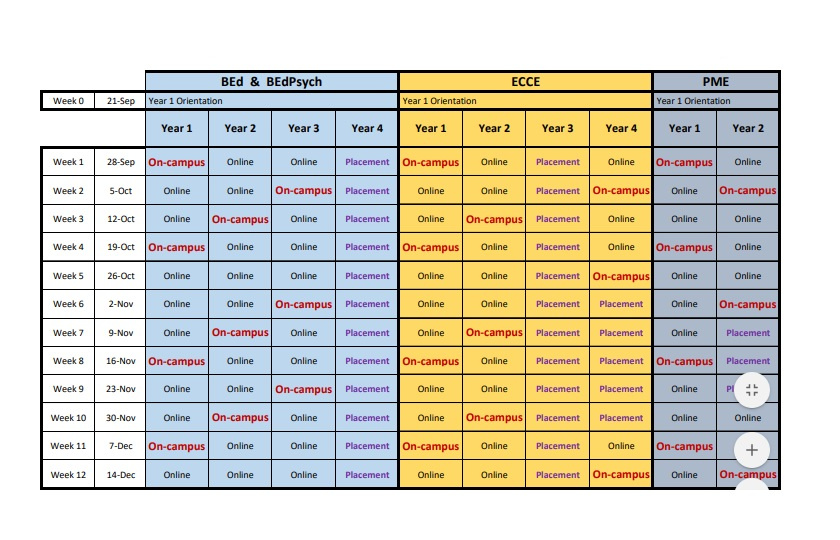 Notes on MIC Limerick Rotational Model:
Orientation will take place online for new entrants during the week of 21 September 2020. If public health advice permits, socially distanced 'Welcome to Campus' short visits will also be scheduled during that week.
The detailed timetables for online and for on-campus (small group) teaching will be published In conjunction with UL at least a week before the semester commences on 28 September 2020.
Year 3 BA and Year 3 ECCE students will be on placement. Those who cannot go on work placements or who have had their study abroad/Erasmus placements cancelled will be undertaking the ​blended GOLD (Global Outlook, Local Delivery) programme. ​This programme will be largely online with some on campus elements. Further details to follow.
The Year 2 BA Media & Communications module Basic Video Production may have special arrangements for regular weekly on-campus teaching.
Some language exams (BA; BEd & BEdPsych Gaeilge; Arts Language Electives in BEd) and Mathematics exams (BA; Arts Mathematics Electives in BEd) will be held on-campus in Week 12
The schedules for the following programmes are not listed here and will be communicated later to the relevant groups: Grad Dip SEN; Professional Doctorate in Ed & Child Psych; Structured Phd in Ed, Taught M Ed, and Grad Dip Ed programmes; Taught MA programmes.
The weekly schedule for the programmes offered on the Thurles Campus of MIC will be published seperately.
MIC programme delivery models, and any changes to them, will continue to be guided by the Government's Public Health Directives.
MIC Thurles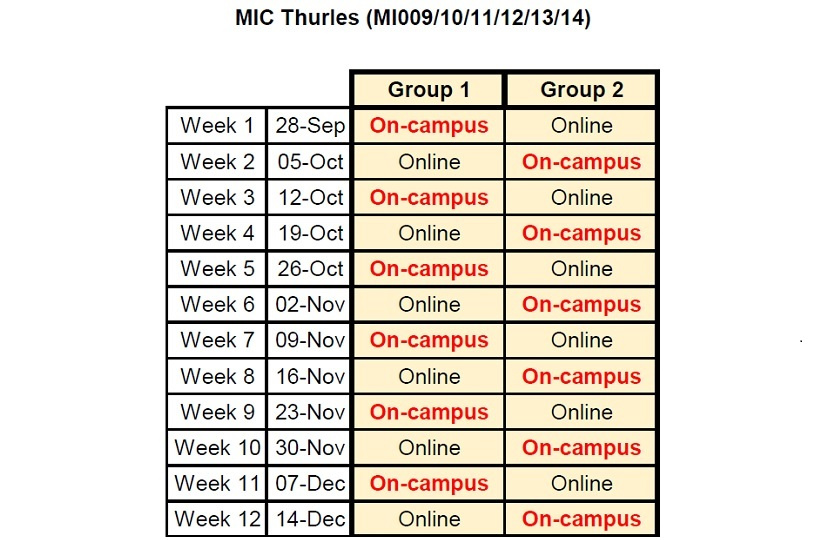 Notes on MIC Thurles Rotational Model:
Incoming students will be assigned to a group once they are registered as an MIC student.
Orientation will take place on-campus for new entrants during the week of 21 September 2020
Year 2, 3 and 4 students should check their student email to see which group they have been assigned to.
Timetables
As with previous years, the timetable will be available at least a week before the semester commences on 28 September. This combined timetable will detail your scheduled activities for both the on-campus and online learning weeks.
Student Supports
All of the academic and pastoral support you would expect ​to operate in a normal college year will be available to you. See here for further information on student supports.
In addition MIC is committed to the development of a digital campus to provide the necessary online academic, technical and pastoral supports.
Accommodation
Courtbrack Accommodation, MIC Limerick, will be open from September 2020 and be available for rental on a weekly rotational basis. Unfortunately due to current Public Health Directives, it will not be possible to offer accommodation within the Halls of Residence at MIC Limerick this September. 
MIC Thurles On-campus accommodation will be open from September 2020. Further details available from Manager.Summerville@mic.ul.ie or T: 061 302500
Information for Postgraduate Researchers
The Research & Graduate School has prepared a document explaining the Processes and procedures for Postgraduate Researchers in the 2020/21 Academic Year.
The document can be viewed here.
Personal Responsibility
COVID-19 is still with us and will continue to be with us for the immediate future. Unfortunately, over recent weeks we have witnessed many examples of the re-emergence of the virus when restrictions were eased. We all have a role to play to ensure that this will not happen within our community and every one of us must take responsibility for our own safety and the safety of those around us. If you have symptoms of COVID-19, had contact with someone with COVID-19, or are in a vulnerable group, then please follow HSE advice and self-isolate if recommended. See www.hse.ie