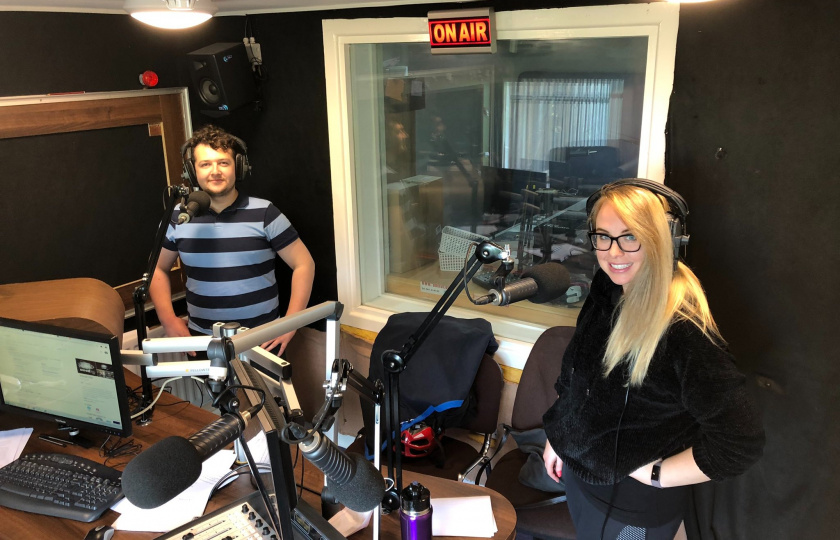 Limerick based College radio station Wired FM saw double when awarded Gold at the 2020 Craol Community Radio Awards last weekend.
The station, which has a permanent studio presence at Mary Immaculate College (MIC) and Limerick Institute of Technology took home two Gold awards from the annual award ceremony, held online this year due to COVID-19 restrictions.
Vanessa Flood and Jack McGann, both final year MIC Media & Communications Studies students were awarded Gold in the Commissioned Programme Category for their World College Radio Day programme, which was aired globally as part of a 24 hour marathon on Friday 2nd October.
The awarding judges described the special programme as "Very smartly produced and presented. The passion and commitment of the presenters was very obvious. There was a real sense of 'giving' about this project. Giving exposure to local artists; giving airing to important topics. Finally, the link-ups with stations around the world was very exciting."
Wired FM scooped a second Gold award for a three-and-a-half hour live broadcast held in front of a live crowd from the Record Room in March, which was entered in the Community and Volunteer Participation Category. This special broadcast, entitled Wired FM Presents: PX Music Live from the Record Room was produced by 12 staff and students from MIC, LIT and the Limerick School of Art & Design.
The Craol Community Radio Awards are the largest award of its kind in Ireland dedicated to recognising and celebrating community radio. Open to all community stations across Ireland, the awards are judged by key media leaders and recognises the best in national community radio.
In awarding Wired FM the Gold award for their special live broadcast, the judging panel said: "Lightening in a bottle, capturing of a moment in recent Irish music history, and one that is tied to the station. The audio is a little distorted in places, but you can overlook that due to the sheer energy conveyed. All the more evocative of the noise and crush of live music venues, now that we don't have them anymore. The live broadcast, presenting and interviews are a complex proposition for young broadcasters."
Wired FM broadcasts 60 hours of programming every Monday to Friday of the academic year on 99.9FM in Limerick City. Celebrating 25 years this year, a series of events are planned for the spring College semester. Students studying in Limerick are encouraged to contact Wired FM if they would like to get involved in any aspect of broadcasting.