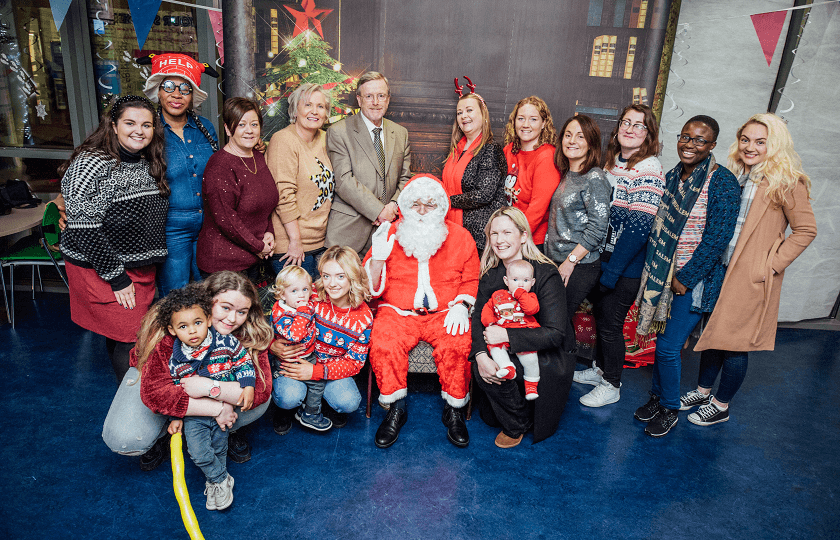 Mary Immaculate College had a very special visit from Santa Claus on Wednesday 4 December.
Every year for the past nine years Santa has taken time out from his busy schedule and made his way to MIC in Limerick to visit the children of parents studying at the College.
The annual Student Parent Children's Christmas Party, organised by the on-campus Student Parent Support Service, Students' Union at MIC (MISU) and MIC's NISE Path 3 Project, is a key event in the College year for student parents and their children, and continues to grow in size each year. This year 38 children from tots to teens were greeted by Santa at his grotto in MIC. Accompanied by their parents and extended family members, they enjoyed games, arts and crafts, face-painting and received gifts from the big man himself.
Second year student Claire Coyne from Killarney is a parent to two girls, Alana aged 8 and Aoibhìnn aged 3. Currently studying to become a primary teacher, Claire spoke of her delight at attending the event. "It's brilliant to be here today with my family and it's so lovely for the kids to see where I go to college. The support that I receive from the Student Parent Support Service at MIC is absolutely brilliant. Nicola, who coordinates the service, is so supportive when it comes to financial issues or just the everyday challenges that you face being a parent and a full-time student. The College as a whole and the lecturers at MIC are very supportive of mature students and in particular, student parents." Claire also noted that the drop-in sessions provided on-campus for student parents are an excellent way of sharing experiences with other student parents and something which she regularly attends.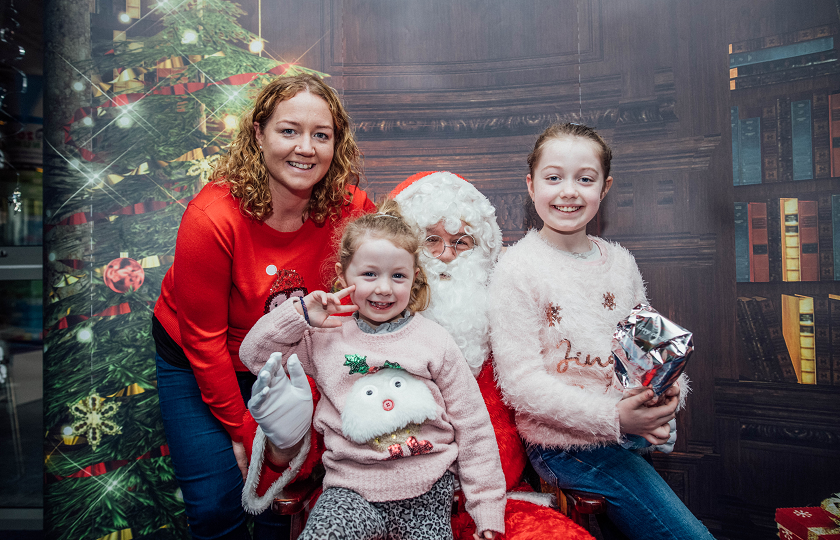 Marie O'Connor from Galway city is also a second-year student on the Bachelor of Education programme at MIC. Marie has four children–Sophia (7), twins James and Mark (5) and baby Emilia (5 months) who Marie was expecting during her first year of study at the College. "As I was expecting Emilia during first-year, I found the support from the Student Parent Support Service at MIC, in particular Nicola, fantastic as I juggled having three kids at home, being pregnant with my fourth and engaging in full-time study. Nicola was great in helping me throughout this journey to become aware of different practical supports available within the College. It is difficult having four small children and studying to become a primary school teacher, but I also have great support from my husband and hopefully I can inspire my children and show them they that they can achieve anything."
According to Nicola Hurley, Coordinator of the Student Parent Support Service at MIC, the Children's Christmas party is an important date on the College calendar for many reasons. "This time of year is especially challenging for student parents as the busy lead-up to Christmas coincides with study week and exams. The party brings an opportunity to include their children in their college experience in a positive way and alleviates the pressure of study for a little while to socialise with family and other student parents. This is a vibrant and growing cohort, who are supported by weekly drop-in sessions and one-to-one support through the Student Parent Support Service, which has been existence for 12 years."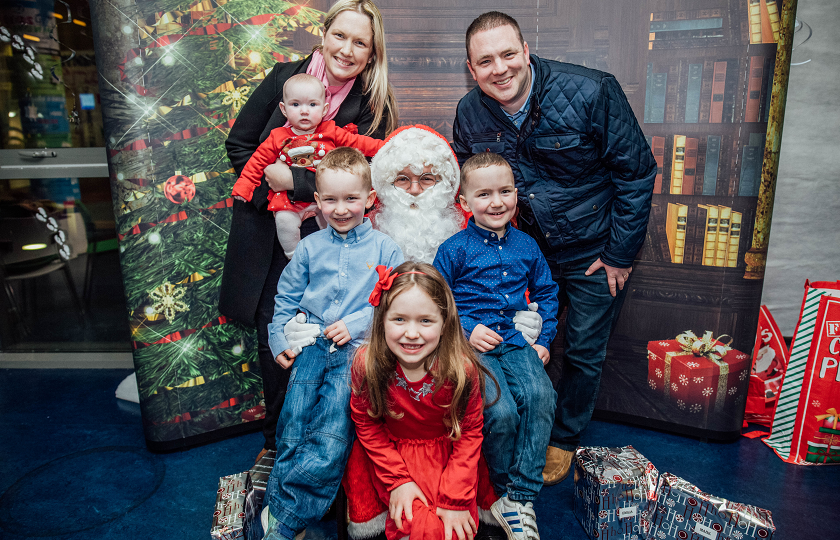 Nicola continued by saying, "The reality of student life is dramatically different for student parents in juggling the dual responsibilities of parenting with study. The Student Parent Support Service provides dedicated support offering practical, emotional, social, educational and financial support to this cohort of students, advocating equally for all. The service complements the College's mission of inclusivity and equity in providing a supportive environment where all have the opportunity to achieve their full potential."
Aisling Cusask, President of the MIC Students' Union, said, "MISU is delighted to be involved with the Student Parent Christmas Party again this year. This event is so important to our Student Parents as it gives them an opportunity to bring their children on campus and include them in their college experience. The Christmas Party highlights the importance of a support for student parents within the College community and amongst the student body and recognises their hard work and dedication to their studies over the last semester. I would like to wish all of the students and their families a Happy Christmas and a wonderful New Year."