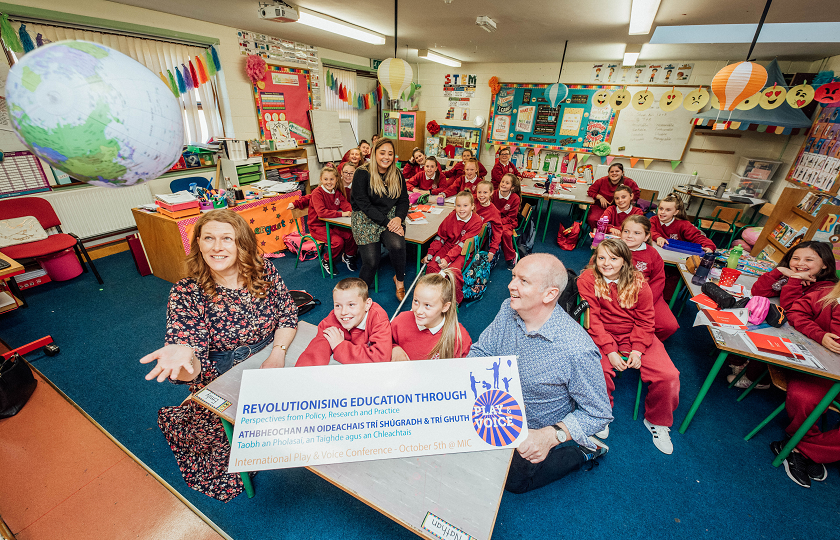 Why should play be included in education? What can we learn when we listen to students' voices? How do 'play' and 'voice' impact learning in the classroom? A major international conference at Mary Immaculate College (MIC), Limerick, will explore these themes and much more on 5 October.
The 'Revolutionising Education through Play and Voice' Conference—which is aimed at educators and parents—will look at why we must listen to the voices of all children, how play can impact development, and the importance of including 'play' and 'voice' in education from early years through to primary and post-primary school.
Organised by a team from MIC, Queen's University Belfast (QUB) and University College Cork (UCC), the conference will feature a host of national and international expert speakers, present practice in workshop sessions throughout the day, and explore cutting-edge research from around the world.
Speaking ahead of the conference, Professor Emer Ring, Dean of Education at MIC and a member of the conference steering committee, said, "We are delighted to be hosting this conference at Mary Immaculate College. The title of the conference 'Revolutionising Education through Play and Voice' is deliberately crafted to prompt a revolution back to a child-centered focus on education so that all children can thrive and all abilities are valued. We believe that 'play' and 'voice' are vehicles that will enable us to do just this."
She continued by saying, "We are living in a world where there are a myriad of competing demands on children and families. We can forget that sometimes simply allowing children time for play and time to listen to the magical way that children see the world are significant contributors to children's learning, development and wellbeing. Adopting a playful approach to learning from early years through to post-primary level engages children and develops children's imagination, creativity, innovation and problem-solving skills. In essence the skills required for being a global citizen in the 21st century." Prof. Ring also made reference to climate activist, Greta Thunberg, as an excellent example of student voice in action. "This inspirational young woman with autism has reminded us all of the value of listening to the voices of children."
The conference will open with a keynote from Professor Laura Lundy, an expert in law and children's rights, and co-director of the Centre for Children's Rights at Queens University Belfast. According to Professor Lundy: "Children have a right to education, to play and to be heard yet, even though the Convention on the Rights of the Child is 30 this year, little attention has been paid to the ways in which these rights relate to each other. This conference provides a unique and important opportunity for researchers across Ireland to share good practice for schools who want to promote children's rights to play and participation." 
Dr Domnall Fleming, an expert in student voice and lecturer in the School of Education at UCC, will explore why we must listen to the voices of students now more than ever before. He explained that "student voice is an increasing acoustic in post-primary schools. The vindication of the rights of a child / student to have a say in their experiences of school and their classroom has clear benefits for inclusion, their engagement in learning, their relationships with their teachers and their progression within school". In his session, Dr Fleming will co-present with students from St Francis College, Rochestown; Coláiste an Phiarsaigh, Glanmire; Presentation Secondary School, Mitchelstown; and Christian Brothers College in Cork.
"This conference offers these students the opportunity to share their student voice work, its complexity, challenges and achievements, in the context of their fellow students and their learning," he added.
Dr David Whitebread, formerly of Cambridge University, and an internationally renowned expert on play across all education contexts, will deliver the second keynote of the conference. Dr Whitebread will discuss recent scientific evidence which proves that children learn most effectively through play. 
The conference will close with an address by Professor Niamh Hourigan, Vice-President of Academic Affairs at MIC, as well as a performance by the Corpus Christi School Choir from Moyross whose rendition of The Cranberries classic Dreams has brought them national recognition.
The conference will also celebrate the fifth birthday of the Centre for Early-Childhood Research at Mary Immaculate College (CERAMIC), which has an exceptional track record in conducting research focused on exploring current education provision for children with a view to contributing to improved outcomes for all children and families. Established in 2014, CERAMIC has led and contributed to a wide range of initiatives underpinned by the cultivation of a rights-based and child-centered philosophy of education. CERAMIC has also been centrally involved in the multi-award winning Leadership for INClusion in the Early Years (LINC) Programme.
You can find more information and the full conference schedule here.