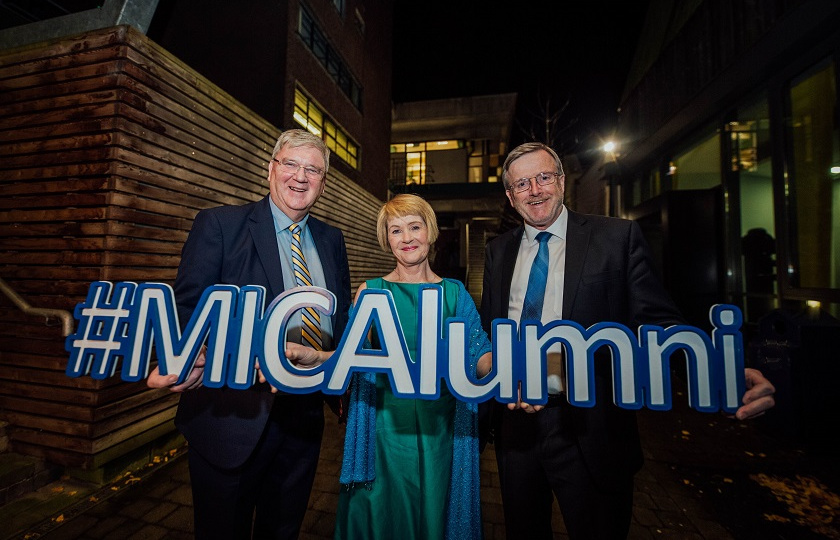 Tuesday 19 November saw 130 students, graduates and alumni from MIC recognised for their academic and other notable achievements, with over €100,000 being presented in scholarships and bursaries at the annual College Awards Ceremony.
Among those receiving awards was founder and Managing Director of Supermac's, entrepreneur Pat McDonagh, who was awarded the MIC Alumnus of the Year Award 2019, in recognition of his notable business achievements. Having graduated from MIC as a primary teacher in 1973, Pat identified an opportunity for a fast food outlet whilst teaching in Kilrickle, Co. Galway resulting in the first Supermac's opening its doors in 1978 on Main Street, Ballinasloe. Since then Supermac's has become a firm fixture in Irish towns and cities with over 116 restaurants throughout the country including the Barack Obama Plaza, Tipperary Plaza and the Galway Plaza and, the latest one to open, the Kinnegad Plaza at the junction of the N4 and N6.
Today Supermac's is the largest indigenous fast food restaurant group employing over 4,000 people nationally. In addition Pat, who is very much involved in the day-to-day management of his business, has helped to establish up to 60 self-employed franchisees in their own successful businesses. Pat invests in companies that have a high potential with strong management and global appeal and to that end, he also owns the franchises for Papa John's Pizza and SuperSubs as well as the US-based Claddagh Irish Pub and restaurant chain.
Pat is currently furthering his interests in hospitality and, with his wife Una, owns the Só Hotel Group that includes the Castletroy Park Hotel in Limerick, the Loughrea Hotel & Spa, the Charleville Park Hotel, the Killeshin Hotel in Portlaoise, the Athlone Springs Hotel and the Castle Oaks House Hotel in Castleconnell.
Accepting the award Pat said: "I am delighted to be receiving this award here this evening, particularly as Mary Immaculate College is my own Alma Mater. It is a special feeling to be recognised by the place that I spent some of my most formative years. The importance of Mary Immaculate College to Limerick is immense. In these uncertain times, education is the great equaliser and the importance of Mary Immaculate College's contribution to the welfare of our society in a national context is vital."
Also receiving an alumni award was Limerick author Róisín Meaney who graduated from MIC as a primary teacher in 1980. Three weeks before she was due to enter MIC as a first year student, Róisín won a car by completing a sentence that began with 'I would like to win a Ford Fiesta because…'. This was the first stepping-stone in a journey that has lasted over two decades and has led ultimately to her transition from primary teacher to author.
Róisín, who was born in Listowel but is based in Limerick, taught in St Mark's Junior School in Dublin for two years following her graduation from MIC. After this she traveled to Zimbabwe where she worked as a high school English teacher in a township outside Harare for two years before returning to Ireland where she began teaching in her old primary school. In the meantime she was entering other competitions, all with the same tie-breaker element, and winning many other prizes.
After a further five years of teaching, Róisín felt the need for another change. This time she took a career break and encouraged by her competition successes, she moved to London where she worked as an advertising copywriter. Three years later on her return to the Irish classroom and having been bitten by the writing bug, she offered to write a regular column for InTouch, the member magazine of the INTO. In 2001, she took a second career break and travelled to San Francisco where she began to write her first novel, The Daisy Picker, which won a two-book publishing deal.
In 2008, with three published novels under her belt, she opted to leave the classroom to focus solely on her writing. To date, Róisín is the author of 16 novels for adults and two children's books, and her works have been translated into several languages. She is currently working on her next novel, which is due for publication in June 2020. Twice a month Róisín tells stories to children in libraries, and she also visits schools through Poetry Ireland's Writers in Schools programme to talk about the joys of being a writer.
Accepting her award Róisín said: "I'm absolutely delighted to be honoured in this way by MIC; the smile has hardly left my face since I got the news. It's a wonderful and generous gesture by my Alma Mater, and I'm very thankful."
The night also saw 50 CAO Undergraduate Scholarships, valued at €2000 each, awarded to first year students on the basis of CAO points obtained in the Leaving Certificate Examination; while Liam Lenihan, Vice-Chairman of Munster GAA, presented GAA bursaries valued at €750 to nine very deserving MIC students who excelled in their particular sport. This year also saw the awarding of the inaugural TOMAR Trust Path Scholarship valued at €2,500. This scholarship is offered by the TOMAR Trust to support Mary Immaculate College's PATH programme, which seeks to recognise students who transfer with distinction from their Further Education programme to take up a place in MIC Thurles' teacher preparation programmes. Other awards presented on the night included the John Hayden Memorial Award, the Shellie Murtagh Memorial Bursary; Faculty of Arts and Faculty of Education academic awards; the Saint Bonaventure Trust prizes; postgraduate and LINC Programme awards.
Congratulating all the recipients Professor Eugene Wall, President of MIC said: "Individually and collectively, all of our students, both current and graduated, whom we honour today embody our College's mission - ultimately to make the world a better place through our ideas, our innovations and our engagement. They have the ability to develop and shape ideas that will make a positive and lasting impact on the world".
Professor Wall also announced details of MIC's recently launched Sports Scholarships, including two elite scholarships valued at €4,000 each. Further details on these and all of MIC's scholarships schemes available at www.mic.ie/scholarships.
To see all the photos taken on the night, see the Facebook album here.