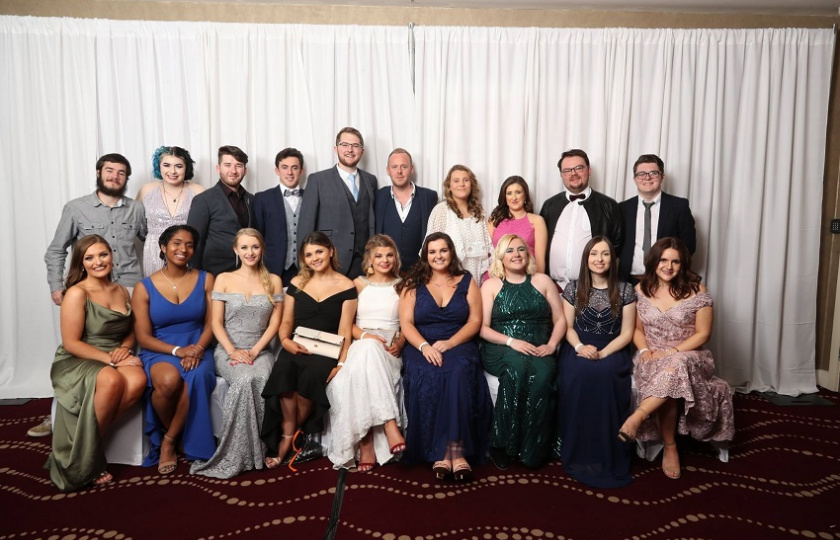 MIDAS (Mary Immaculate College Dramatic Arts Society) claimed two of the top awards at the recent Board of Irish College Societies Award (BICS) the Best Society (Cultural/Academic/Social) category and the award for Best Event with their 2018 musical Seussical: The Musical.
The 2019 BICS Awards ceremony was held last Thursday night (11th April) in the Sheraton Hotel Athlone. The Board of Irish College Societies (BICS) is a national organisation constituted in 1995, dedicated to providing a national forum for the societies in Ireland's Universities, Colleges and Institutes of Education. The Board is responsible for the promotion of interest in the activities of Irish college societies and of contact and co-operation between them.
Members of MIDAS have spent the past number of weeks working on their application including a portfolio of their work. Members of MIDAS then travelled to Athlone on Thursday last for an intensive day of interviews with the Awards Adjudicators, which consisted of staff and alumni judges from across the country. The BICS judges were incredibly impressed by the level of dedication, which the students had shown, and in the awards presentation noted that MIDAS application was nothing short of perfection. Indeed Michelle Whyte, Chairperson of BICS, commented that "the standard of entries was absolutely breath taking; a true reflection of the fun, creativity and dedication that these student volunteers bring to their campus community."
Congratulating those involved Rachel Dunne, President of MISU (Students' Union) said: "Mary Immaculate Students' Union are so proud of MIDAS and all of its members on their incredible success at the National BICS Awards last week. They are a society of highly talented and dedicated individuals and I'm delighted that their huge commitment to the society and to college life has been recognised at the national stage. It's so important that societies' contribution to colleges is recognised, as their activity enhances both students' experiences and their holistic development, and MIDAS have carried out tremendous and wonderful work enriching Mary Immaculate College for the past 20 years. It was amazing for the society to leave BICS with two national awards in recognition all of this effort, and we are sure it will continue well into the future here in MIC."
While David Cuddihy, MIC Students' Union Clubs & Societies Coordinator, said, "It is an absolute honour to see the dedication of our Societies members each year when it comes to the National Society Awards. Each and every single one of them should be commended on their hard work and their commitment to enriching life at MIC. This year our Music Society, International Society and MIDAS represented the College in a commendable fashion at the National Society Awards with each being highly commended by the judges. MIDAS in particular have proven once again to be an unstoppable force claiming top prize in their given categories. BICS has given our students' the opportunity to meet their peers from across the country and make connections which they will treasure will treasure for years to come."
MIDAS beat off stiff competition from TU Dublin Tallaght Campus, TU Dublin Blanchardstown Campus, National College of Ireland, Cork Institute of Technology and IT Tralee in their given categories to emerge victorious. This all comes in a week that MIDAS take to the Stand Hotel with a Gala Ball to celebrate their 20th year of award winning performances at Mary Immaculate College.  Further information on MIDAS Ball may be found here.