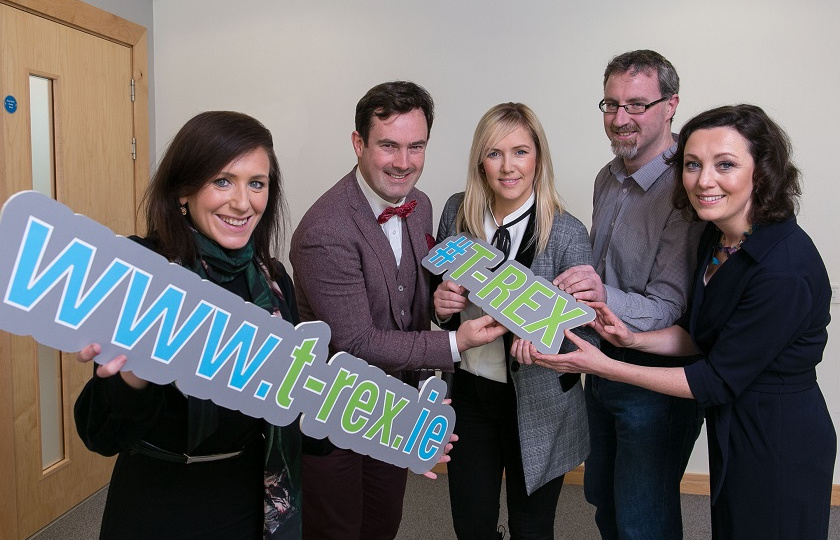 The next stage of the MIC led T-REX project was launched recently. Formally known as REX (Research Expertise Exchange), and relaunched as T-REX (Teachers' Research Exchange), this innovative platform provides an online network for teachers and other educational researchers.
T-REX supports schools and Higher Education Institutions (HEIs) in accessing and sharing the latest insights from cutting-edge research at times and in places that suit them. It aims to support conversations, collaboration and strong connections between research, policy, practice and between schools and HEIs.
Two new funding awards from the both the Research Alive! group (comprised of the Teaching Council, the National Council for Curriculum and Assessment (NCCA) and the Centre for Effective Services) to the tune of €200,000 over a two year period and a further €150,000 from the National Forum for the Enhancement of Teaching and Learning in Higher Education will be used to fund this next phase of project development. The support of these funding partners will build on the initial development work led by MIC, UL and NUI Galway over the past two years. The development team has also recently being expanded with a new partnership with Marino Institute of Education.
MIC lecturers, Marek McGann (Department of Psychology) and Marie Ryan (Department of Reflective Pedagogy and Early Childhood Studies) have led the T-REX project over the past number of years and led both funding bids.  Reflecting on the funding awards, Marie Ryan noted, "While our initial endeavours have demonstrated the capacity for this project to support students and teachers in engaging with educational research in meaningful ways, in order to grow the community and realise the full potential of this initiative additional resourcing of the project was necessary. We are delighted that this is now possible due to the funding from the Research Alive! group and further funding from the National Forum for the Enhancement of Teaching and Learning. This support will ensure that the T-REX community will continue to grow, that innovative resources for teachers interested in education research will be developed and that platform functionality will be enhanced."
Continuing Marie Ryan said: "We are excited to work with the Research Alive! group, the National Forum and schools, teachers and teacher educators around the country to build a vibrant online community and an innovative suite of resources that will support teacher research in Ireland."
Dr Terry Maguire, Director of the National Forum for the Enhancement of Teaching and Learning in Higher Education said: "The National Forum is particularly delighted to be supporting the T-REX project through our teaching and learning enhancement fund.  The project is aligned with the Forum's vision of a valued and informed teaching and learning culture in Irish higher education. The project is innovative in its design and ambitious in its reach. It has already demonstrated real potential to strengthen links between post-primary and higher education, allowing those working in both to learn from and with each other."
Tomás Ó Ruairc, Director of the Teaching Council said "The promotion of research for teaching, learning and assessment is a key function of the Council. We know from consulting with teachers that they want a space where they can have conversations with their peers, researchers and teacher educators about research, the insights it can offer for innovation in their professional practice, and where they can adapt and apply these insights for the benefit of the learners in their care. That's why the launch of T-REX (the Teachers' Research Exchange) is such an important and innovative development."
Professor Emer Ring, Dean of Education at Mary Immaculate College, congratulated the T-REX team saying: "I warmly congratulate MIC's Dr Marek McGann and Marie Ryan, whose initial vision this innovative project was, on the announcement of additional funding for the T-REX project.  The concept of creating an online space for teachers, student teachers and teacher educators across the education system from early years and beyond to come together to share experiences, resources and expertise, bringing teaching, learning and educational research more closely together is an important one. Well done to all involved."
To learn more about the T-REX project please click here.
To read the Teaching Council's dedicated T-REX e-zine please click here.
Pictured (L-R): Marie Ryan, Department of Reflective Pedagogy and Early Childhood Studies, MIC; Tony Hall, NUI Galway; Jennifer McMahon, University of Limerick; Cornelia Connolly, NUI Galway; Marek McGann, Department of Psychology, MIC.