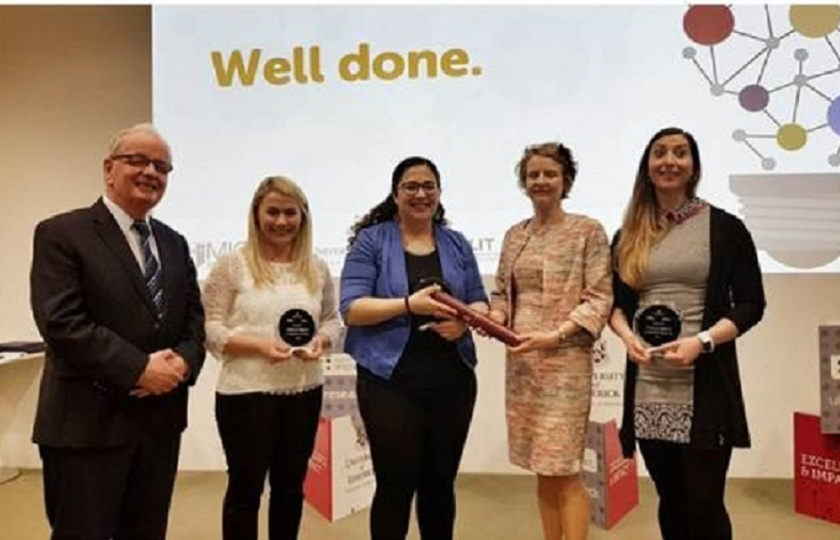 Maria Dervan - prize winner at the UL Thesis in 3 Final 2019
Mary Immaculate College PhD student, Maria Dervan, won third prize at the 2019 Final of the Thesis in Three Competition which took place on Monday 20 May 2019 in the Kemmy Business School, UL. Her presentation was entitled "Autism Spectrum Difference and the Influence of the Teacher".
The competition final included 16 finalists from the University of Limerick, Mary Immaculate College and Limerick Institute of Technology, who are members of the Federated Limerick Graduate School (FLGS). These Masters and Doctoral research students were challenged to present their research in three minutes, using 3 slides, to a non-specialist audience. Entrants had to refine their niche subjects and in-depth research into bite-sized presentations that engaged and informed their fellow students, the wider FLGS community and the general public.
Maria is a first year PhD student in the Department of EPISE under the supervision of Dr Margaret Egan and Prof Emer Ring. This wonderful achievement is a testament to the excellence of her research, as well as her Supervisory team and Department in MIC. Congratulations Maria!
Maria's entry can be viewed in the video below and the other competition entries can be viewed here.