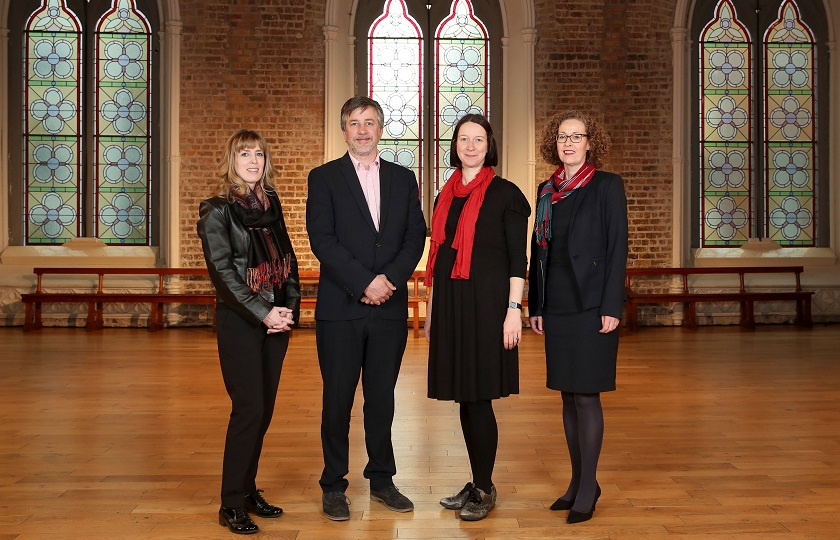 Dr Ailbhe Kenny, senior lecturer and Head of the Department of Arts Education and Physical Education (Acting) at Mary Immaculate College (MIC), is one of three Irish principal investigators working on projects that will receive €1 million each in funding from a joint research programme coordinated by Humanities in the European Research Area (HERA).
Dr Kenny and fellow researchers will participate in transnational research projects aimed at gaining a deeper understanding of public spaces in Europe. She is directly involved with the project Night Spaces: Migration, Culture and IntegraTion in Europe (NITE)—which will focus on eight European cities and will aim to develop an understanding of experiences in public spaces at night and how this can inform current and future debates, policies and practices. The Limerick team will study African migrants' community music making in Cork and Galway.
NITE, along with projects FESTSPACE (Applicant: Dr Aileen Dillane, University of Limerick) and FESTIVERSITIES (Applicant: Dr Bernadette Quinn, Technological University Dublin), are three of 20 projects underway across Europe under the theme 'Public Spaces: Culture and Integration in Europe'. A founding member of the HERA network, the Irish Research Council is the handling agency for the programme, which will invest €20 million. The Irish researchers' participation is funded by the Irish Research Council.  
President of MIC, Prof. Eugene Wall, commented: "Congratulations to Dr Kenny on her successful funding application to HERA for the project 'NITE'. For MIC to play a part in this initiative involving 20 research teams from 24 European countries, which will explore the social, cultural and political challenges facing Europe and the wider world, is a rare honour. This programme will strengthen research partnerships and, hopefully, have far-reaching positive outcomes and learnings. The fact that staff from MIC and UL, two members of the Shannon Consortium, were successful in leading two of the three HERA funding applications from Irish host institutions demonstrates the talent and innovation within higher education in this region. I wish NITE, and all the projects, every success."
Minister of State for Training and Skills, John Halligan TD said: "Developing close ties with our European counterparts is extremely important – now more than ever, and it is fantastic to see Irish researchers collaborating as part of transnational research teams. With the theme of 'Public Spaces', I look forward to the research outcomes of the programme and seeing how we can understand and interact with our own public spaces better – making them more inclusive for all cultures and ethnicities."
Also commenting today (25/04/2019), Peter Brown, Director of the Irish Research Council, said: "We are delighted for our researchers to be part of this transnational funding opportunity with HERA."
"Collaboration with researchers from across the continent will add greatly to the depth of understanding and knowledge and the overall research output, as well as it being a fantastic opportunity for them to network with peers in similar fields in Europe. We are committed to funding excellent research across all disciplines at the Council and being part of the HERA network is an important part of this, as we commit to the development of collaborative and transnational humanities research across Europe."
NITE brings together Principal Investigators Dr Kenny with Dr Sara Brandellero (Leiden University), Dr Derek Pardue (Aarhus University), Prof. Ben Campkin (University College London), and Prof. Manuela Bojadzijev (Berlin Institute for Integration and Migration Research (BIM)).
Dr Kenny holds a PhD from the University of Cambridge, is a Fulbright Scholar and EURIAS fellow. Ailbhe is the author of Communities of Musical Practice (2016) and co-editor of Musician-Teacher Collaborations: Altering the Chord (2018). View her recent TEDx talk here.
Further information on the HERA network and programmes, including the projects funded under the previous HERA joint research programmes, can be accessed here.
Main photo above: Pictured at the launch of the HERA JRP Public Spaces: Culture and Integration in Europe are (L-R): Dr Aileen Dillane (University of Limerick); Peter Brown, Director of the Irish Research Council; Dr Ailbhe Kenny (Mary Immaculate College) and Dr Bernadette Quinn (Technological University Dublin).