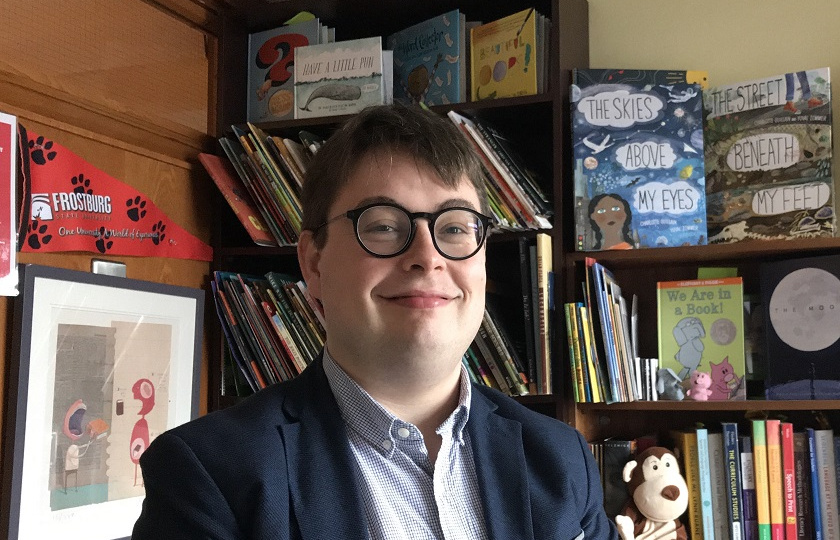 Patrick Burke, Lecturer in Language and Literacy Education at Mary Immaculate College, was named as one of 30 literacy leaders in the International Literacy Association's (ILA) 2019 30 Under 30 list. The list celebrates rising leaders in the literacy field—a cohort of young innovators, disruptors and visionaries creating positive change in the global literacy landscape.
The 27 year old who hails from Dunmore, Co Galway, was the only Irish person on the list and was recognised for his work in literacy research and teacher education.
Speaking about the prestigious honour he said: "I am genuinely surprised and delighted to have been recognised by the International Literacy Association in this way. I have been very fortunate to have had admirable literacy teachers from primary school right through to more recent lecturers (and now colleagues!) at Mary Immaculate College.  The support I have received from friends, mentors and collaborators at Frostburg State University and Dublin City University also can't be overstated."
Continuing he said: "I am very lucky to get to work with enormously committed student teachers and in-service teachers through my teaching and research at MIC. I am also fortunate to have wonderful colleagues who are dedicated to research and practice in literacy and in education more broadly."
Representing 13 countries, this year's list of honourees includes educators, school administrators, nonprofit leaders, authors, volunteers, researchers and social entrepreneurs.
According to Marcie Craig Post, ILA Executive Director, "The individuals on this list are solving critical issues—issues many of them have faced on their own paths to success. Their contributions are paving the way to more accessible and equitable literacy learning in their schools, communities and beyond. It's an honor to recognise these young leaders whose vision and tenacity are transforming our world."
Patrick joins an elite class of emerging leaders. Past honourees include Shiza Shahid, cofounder of the Malala Fund; Andrew Sutherland, founder and chief technology officer of Quizlet; and Kathryn Lett, EL teacher at Kentwood Public Schools in Michigan.
Huge congratulations to Patrick on this wonderful achievement.
About Patrick Burke
Patrick is a Lecturer in Education and member of the English Language and Literacy team at MIC. He is currently completing his PhD under the supervision of Dr Eithne Kennedy at Dublin City University, where he is researching the teaching of literacy in a cross-curricular manner in senior primary school classrooms. Teachers who are interested in getting involved can contact Patrick directly on patrick.burke@mic.ul.ie if they would like any further information.
Prior to joining the faculty at MIC, Patrick worked as a classroom teacher and post-holder in a diverse and developing primary school in Dublin. He subsequently completed a Master of Education (Reading/Literacy) degree at Frostburg State University, Maryland, where he also worked as an International Fellow in the Children's Literature Centre. This work involved collaboration with authors, teachers, professors, school administrators, parents and community organisers to promote literacy among children and young people in the local area. Patrick went on to work as an Advisor with the Professional Development Service for Teachers (PDST), where he collaborated on the design and delivery of CPD in literacy (Gaeilge/English) for teachers and principals nationally. Patrick is currently involved in a number of initiatives and research projects in literacy education, including the NCCA Primary Language Development Group.
About the International Literacy Association
The International Literacy Association (ILA) is a global advocacy and membership organization dedicated to advancing literacy for all through its network of more than 300,000 literacy educators, researchers and experts across 146 countries. With over 60 years of experience, ILA has set the standard for how literacy is defined, taught and evaluated. ILA's Standards for the Preparation of Literacy Professionals 2017 provides an evidence-based benchmark for the development and evaluation of literacy professional preparation programs. ILA collaborates with partners across the world to develop, gather and disseminate high-quality resources, best practices and cutting-edge research to empower educators, inspire students and inform policymakers. ILA publishes The Reading Teacher, Journal of Adolescent & Adult Literacy and Reading Research Quarterly, which are peer reviewed and edited by leaders in the field. For more information, visit literacyworldwide.org.