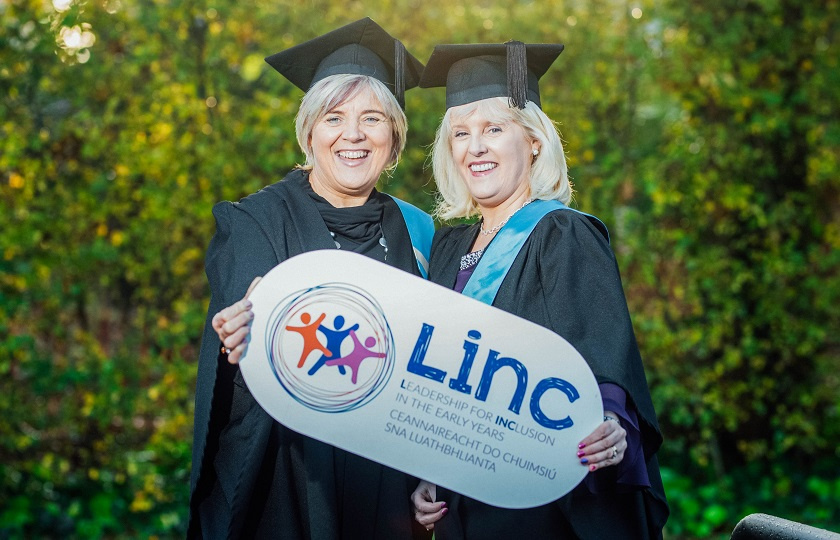 "As ambassadors for inclusion, you will do everything you can to ensure that every child is included," stated Professor Eugene Wall, President of MIC—speaking on Saturday 26 October at the LINC conferring ceremony at Mary Immaculate College (MIC).
Professor Wall was speaking at a conferring ceremony which saw the third cohort of students graduate from the Leadership for INClusion in the Early Years (LINC) programme. This year 887 students from 26 counties were presented with a Level 6 Special Purpose Award.
LINC, established in 2016, is a higher education blended-learning programme designed to enhance inclusion of children with additional needs in early years' settings through the development of the role of Inclusion Coordinator. The programme, offered by a consortium led by Mary Immaculate College and including Early Childhood Ireland and Maynooth University – Froebel Department of Primary and Early Childhood Education, is part of a Government commitment to the provision of high quality education and training in the field of early childhood care and education and was introduced as part of the Access and Inclusion Model (AIM) in 2016.
Prof. Wall also urged graduates to "continue to strive for inclusion in all that you do, remembering always that it is the impact you will make on the lives of children is what truly matters."
Leanne Barton from Churchtown, Dublin, was awarded with a College Gold Medal for achieving first place on the programme. Also receiving an award was Mella Finn from Mitchelstown, Cork who won the Early Childhood Ireland Best LINC Portfolio Award.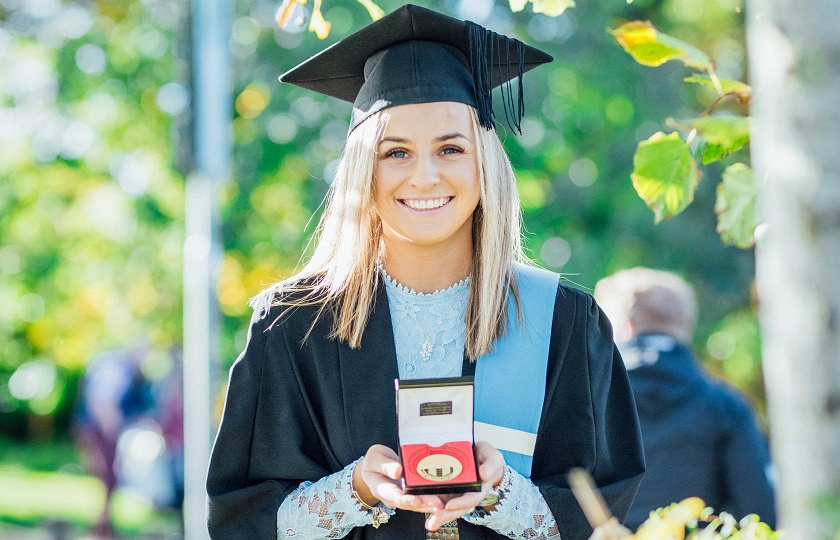 Offering congratulations on the day was Prof. Emer Ring, Dean of Education at MIC who said: "Today we are delighted to celebrate this wonderful occasion here at Mary Immaculate College, on a day when there are 887 students graduating from 26 counties with a Certificate in Leadership for Inclusion in the Early Year. We are exceptionally proud of our LINC programme graduates.The LINC programme is a demanding and challenging programme of study and the commitment, dedication and enthusiasm of the 887 graduates who have engaged with the programme this year is testimony to the role of the early learning and care sector in promoting inclusive culture, practice and pedagogy to ensure all children are included and achieve their potential from the very beginning. With our partners Early Childhood Ireland and Maynooth University, Froebel Department of Primary and Early Childhood Education, we are very proud of the achievements of our graduates on the LINC programme and look forward to continuing to build an inclusive early learning and care system together with our partners, our LINC team and our graduates into the future".
Commenting on the graduate's achievement Teresa Heeney CEO of Early Childhood Ireland added: "This is a very exciting time of year for all involved with the LINC programme as we prepare to congratulate another group of hardworking graduates. The LINC initiative has been widely recognised for its important impact on accessibility in early years. At the heart of this is the passion and dedication of students to enhancing inclusive provision for children. This year, 887 students will graduate from LINC and enter a new chapter of their careers as leaders in inclusion for all children. This phenomenal number reflects both the commitment of students and the hard work of all the wonderful staff and tutors at LINC. On behalf of my colleagues at Early Childhood Ireland, I would like to send my warmest congratulations on this fantastic achievement, and to wish all our graduates the very best for the future!"
This sentiment was echoed by Professor Marie Mc Loughlin, Head of the Froebel Department of Primary and Early Childhood Education, Maynooth University who commented that "the LINC programme offers an invaluable opportunity for early childhood educators to engage in high quality professional development which has the potential to transform their practice in the area of inclusive and special education and develop capacity for leadership within early childhood settings for the future".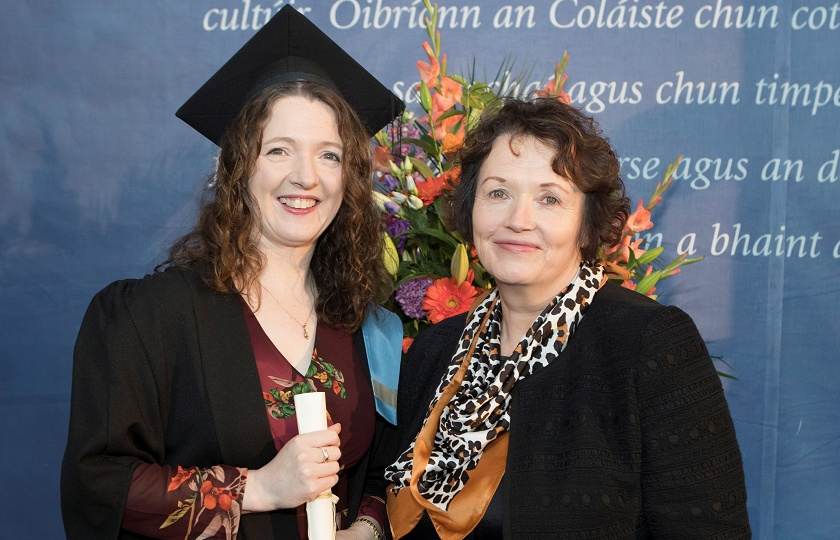 Earlier this year the LINC programme was awarded the Student Engagement and Communication Award at the Education Awards. In 2018, the LINC programme received the Jennifer Burke Award — an annual accolade which recognises and rewards innovative practice in the areas of teaching and learning. In 2017 the programme won an Education Award in the Best Online Learning Experience category. 
The LINC programme is free of charge to participants and employers, and is funded by the Department of Children and Youth Affairs, Department of Education and Skills and the Dormant Accounts Fund. Settings with an ECCE contract can nominate an employee for LINC and the nominee must have a full Level 5 Award or higher in a relevant discipline. While over 80% of the programme is delivered online, the classroom based sessions are offered in nine regional centres in order to ensure access to practitioners across the country. The centres for 2019/20 are North Cork; North Tipperary; Roscommon; Cavan; Carlow; Dublin City Centre; Dublin West; Dublin North and North Wicklow.
Further information on the LINC Programme can be found at www.lincprogramme.ie.