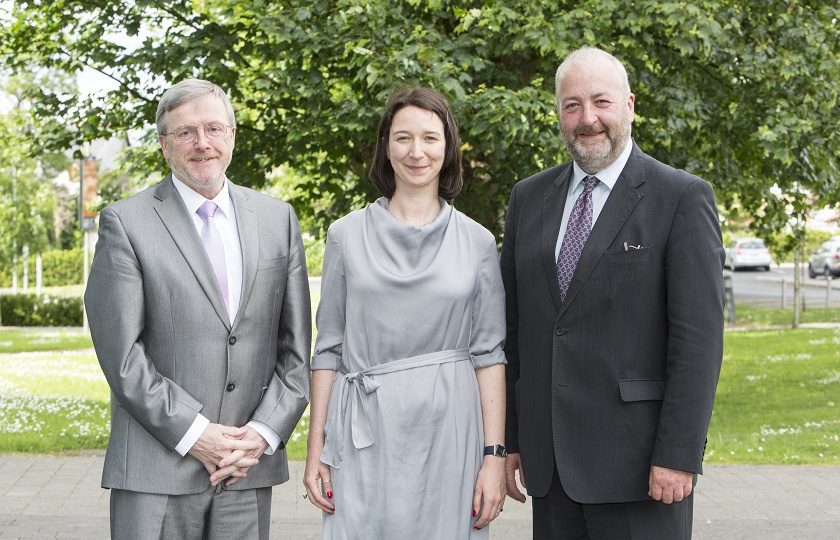 Pictured above (L-R) are Professor Eugene Wall, President of MIC; Dr Ailbhe Kenny, Acting Head of the Department of Arts Education and Physical Education at MIC and Professor Michael Healy, Vice-President of Research at MIC.
Mary Immaculate College (MIC) lecturer, Dr Ailbhe Kenny, was recently awarded a grant of €90,000 from Creative Ireland under the National Creativity fund to support her 'Song Seeking' project.
The National Creativity Fund enables the Creative Ireland Programme to activate, enable and support genuinely ground-breaking and innovative initiatives, research projects and community programmes, which have creativity and wellbeing at their centre. Through a series of strategic partnerships with cultural organisations, education and academic institutions and healthcare specialists, the selected projects are ambitious, innovative and inclusive and will help inform and implement the vision of the Creative Ireland Programme right across Government.
Congratulating Dr Kenny on her success Professor Eugene Wall, President of Mary Immaculate College, said: "On behalf of the MIC community I would like to congratulate Dr Kenny on yet another success. Out of 287 applications, 'Song Seeking', is one of only 30 initiatives to be granted funding from Creative Ireland under the National Creativity Fund. This is a huge honour for Mary Immaculate College and serves as another example of the College's growing research reputation."
Professor Michael Healy, Associate Vice President of Research at MIC, said: "Huge congratulations to Dr Ailbhe Kenny on her project 'Song Seeking' being awarded €90,000 by Creative Ireland under the National Creativity Fund.  This outstanding achievement will allow Ailbhe to further develop her work on music and arts education within the asylum seeker community and cements her position as a leader within arts education in Ireland."
The 'Song Seeking' project will involve a cross-agency collaboration between MIC as the project lead, the Association of Irish Choirs (AOIC) and the Irish Refugee Council (IRC). Across six direct provision (DP) centres, the project will include intergenerational group singing workshops, shared 'Sing-In' days with local choirs, a new choral commission, a large- scale 'Big Sing' event and a final conference. Research throughout the process and from multiple perspectives is integral to the project.
Speaking of her delight at being chosen as a grant recipient Dr Kenny said: "I am very excited to expand and further develop my work on music within asylum seeker centres. This project breaks new ground in Ireland with regards to its intergenerational, creative and integration focus. Furthermore, 'Song Seeking' bridges the two worlds of practice and research to inform future directions and aid our current understandings of asylum seekers' cultural and creative needs."
Announcing the grants Minister for Culture, Heritage and Gaeltacht Josepha Madigan TD said: "Each of these initiatives offer new opportunities for more integrated, local, community-focused interventions which bring together all aspects of creativity and wellbeing – from good health, community cohesion and resilience, to building strong social networks, culture, arts and local economies."
Creative Ireland is a culture-based programme designed to promote individual, community and national wellbeing. The core proposition is that participation in cultural activity drives personal and collective creativity, with significant implications for individual and societal wellbeing and achievement. You can find out more here.
Full details of the projects supported as part of the new National Creativity Fund are available here.
Dr Ailbhe Kenny is Acting Head of the Department of Arts Education & Physical Education. She holds a PhD from the University of Cambridge, is a Fulbright Scholar and EURIAS fellow. Previous positions held include Research Fellow at Dublin City University, Primary Teacher, and Arts and Education Officer at 'The Ark'. Ailbhe has led numerous professional development courses and is actively involved in university-community projects, including directing the MIC Children's Choir. She regularly publishes in international journals, handbooks and edited volumes on music, arts and teacher education. Ailbhe is the author of Communities of Musical Practice (2016) and co-editor of Musician-Teacher Collaborations: Altering the Chord (2018), both published by Routledge.