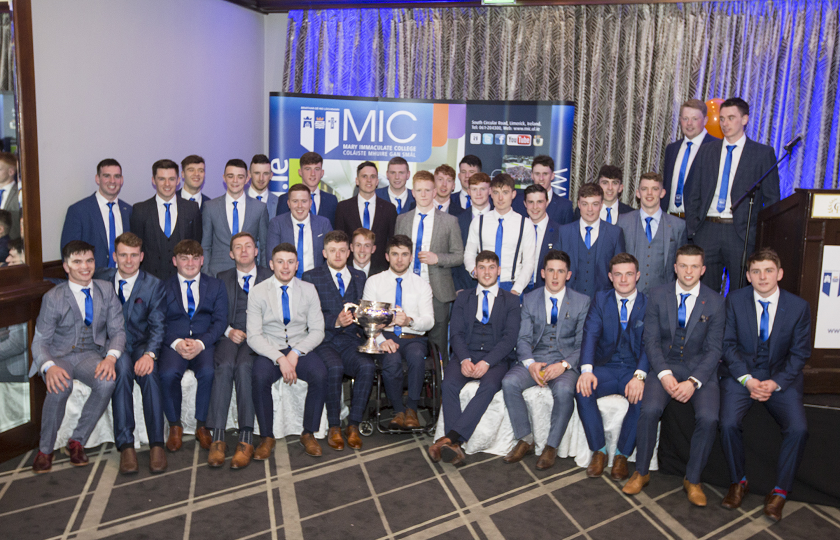 Mary Immaculate College (MIC) paid homage to its victorious Senior Hurling Team, Fitzgibbon Cup champions 2017, at a special event held in the Castletroy Park Hotel on Monday 3 April 2017.
Over 100 guests attended the event to celebrate the team's momentous achievement of securing back to back Fitzgibbon Cup winning titles having defeated Carlow IT on Saturday 25 February with a full time score of 3-24 to 1-19.
Congratulating the players Professor Eugene Wall, Acting President of MIC, said "MIC came into the competition this year as the defending champions. This in itself brought much pressure and expectations were high. In true sportsmanship, which we have come to expect from this wonderful team, MIC were victorious for a second year in a row. For a college with just 3,800 students to secure such a title is a wonderful achievement.  To do it twice is extraordinary. Your determination and tenacity during the match was inspiring and you truly were deserving victors. We are all very proud of you".
Continuing Prof. Wall observed that teams like this do not become champions without excellent management and support, and so he paid tribute to the Selectors, the Backroom Team, Ciara Cregan, MIC Sports Officer and Joe Redington, MIC GAA Development Officer in addition to acknowledging the tremendous work of MIC's hurling team manager, Jamie Wall, who steered the team to victory.
Presenting all the players with their medals Prof. Wall paid special tribute to David Sweeney, Conor Twomey, Ronan Maher, Stephen Cahill, Darragh O'Donovan, Michael O Neill, Cian Lynch, and Aaron Gillane of whom made the GAA Hurling Rising Stars Team 2017.
Accepting his medal, Eoin Quirke, spoke of the honour he had captaining this team and the unique bond that exists between the team members. "On paper there many have been stronger teams in this [Fitzgibbon Cup] championship but we had the bond that no other team had".
Manager Jamie Wall accepted his medal to a resounding standing ovation and paid tribute to the entire tam saying "No player was ever found wanting for effort. They gave it everything". He continued to pay tribute to his backroom team without whom 'this victory would not have happened'. Concluding he paid special thanks to Noreen Lynch, former PE Lecturer at MIC, and his predecessor, Eamon Cregan, who led the team to their first victory in 2016, for championing the cause of GAA sports in MIC throughout the decades.
In attendance on the night were members of the Fitzgibbon family, descendants of Fr. Edwin Fitzgibbon, who in 1912 donated the Fitzgibbon Cup as the trophy to be contested by the various colleges within NUI. Originally known as Tom Fitzgibbon, Fr Edwin was born in 1874 to large Irish-speaking, farming family from Ballynona, Co. Cork. A passionate GAA man Fr Edwin fostered the growth of Gaelic games in University College Cork, where he was Professor of Scholastic Philosophy, gradually eroding rugby's monopoly on the college. On his election to President of the U.C.C. Hurling Club in 1912 he donated a trophy, known as the Fitzgibbon Cup, to be contested by the various colleges within NUI. The original Fitzgibbon Cup is now on display in the Croke Park Museum, with the replica trophy being made in 2000. Fr Fitzgibbon is listed as one of the '125 Most Influential people in GAA History'. Fr Edwin's great grandniece, Niamh Fitzgibbon from Killeagh, Co Cork,is currently studying primary Teaching at Mary Immaculate College and was joined on the night by her Dad, Ger and Mom, Deirdre.
Also in attendance was the Mayor of Limerick, Cllr. Kieran O'Hanlon and the Chairperson of the County Board, Mr Oliver Mann.
Concluding the President expressed his gratitude to MIC alumnus Pat McDonagh for his generous support of the event and to all his staff in the Castletroy Park Hotel for their wonderful hospitality and for helping to make the evening a special one.