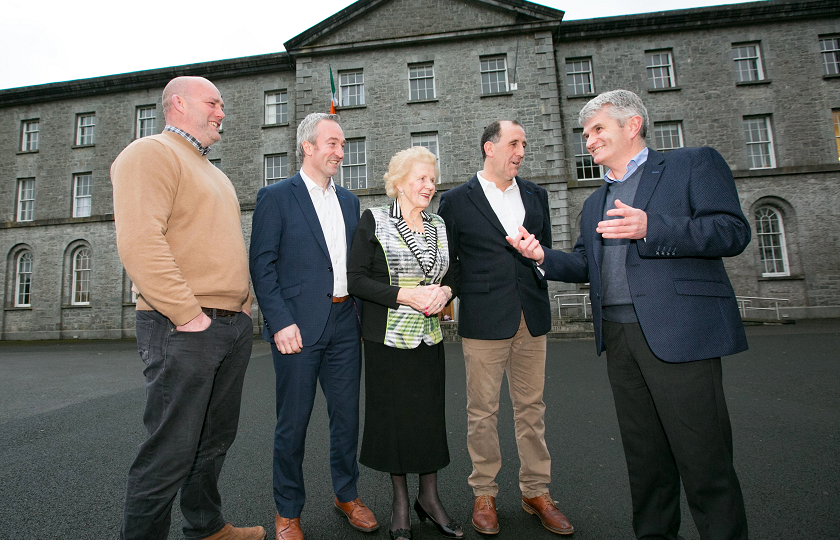 A cast of rural champions has been confirmed for a conference, entitled Building Rural Communities, that will seek inspiration from the world of sport in the bid to rejuvenate and revitalise ailing parts of rural Ireland.
With rural Ireland experiencing population declines of 20% and more over the past five years compared to urban growth of up to 8%, it's clear that the urban migration and emigration trend continues unabated. While much depends on Government to follow through on promises of correcting the slide, there's an equal onus on all who live in and care for rural Ireland to be creative and innovative so that we reimagine and build communities that will not alone stop the decline but begin to grow again.
To that end the Institute for Pastoral Studies, Mary Immaculate College, will host a conference on Wednesday 29 March to advance the conversation around how to regenerate rural Ireland. While the theme of the conference is around taking lessons from sport, which currently plays a glue-like role in rural Ireland, the conversation on the night will embrace broad issues affecting rural areas and trying to reimagine ways to revitalise them. 
Speaking on the night will be Kerry football legend, sports commentator and Chairman of the Commission for the Economic Development of Rural Areas (CEDRA), Pat Spillane. He will be joined by the woman described as the "embodiment of the spirit of rural Ireland", Anna May McHugh, Managing Director of the National Ploughing Championships, the biggest outdoor event of any kind in Europe and one of the largest agricultural shows in in the world. 
One of rural Ireland's greatest heroes, Anna May will talk to a theme of "A pleasant and friendly place to meet and do business" - the original mission statement for the ploughing championships when it was formed in 1931.
Also confirmed for the line-up is Tipperary's All-Ireland winning manager Michael Ryan. A proud advocate of rural Ireland, Ryan will deliver a talk titled 'Maximising a natural asset', based on the success of his native Upperchurch in developing a successful tourism product based around hill-walking
Joining the platform is another famous sporting name and a man synonymous with rural Ireland and, indeed, farming - rugby legend John Hayes. Hayes will talk about efforts in rural Limerick, in the two areas he is synonymous with, Bruff, where the club he played for is a bedrock of the local community, and Cappamore, where he is from and a small town noted for its annual agricultural show.
The final speaker confirmed for the night has proven that innovation knows no boundaries by developing two successful sports related businesses in Scarriff, Co. Clare, another pocket badly affected by rural decline. Padraig Giblin gave up a steady job with the ESB in the late 1990s to establish the first retractable nets business for sports pitches in Ireland and has since spread his enterprise into new sectors, to an extent that today his netting systems are installed as far afield as in the US to cover tobacco plantations.  Since then he has gone on to develop a second sports based business in Scarriff, the Derg Isle team building, personal development and survival training centre which hosts groups from schools and corporates right up to intercounty GAA teams. 
 According to the Director of the Institute for Pastoral Studies, Fr Eamonn Fitzgibbon: "The challenges to rural Ireland are really serious and building a sense of community is key. We need to think smarter and be more innovative going forward if we are to revitalize badly hit areas of rural Ireland. To that end, there are many lessons to be learned from sport and we have a cast of rural champions assembled for the event. We certainly won't want for inspiration on the night. The speakers have all walked the walk and, no doubt, will bring many great learnings to the table."
Established in 2016 the Institute for Pastoral Studies, Mary Immaculate College, seeks to avail of opportunities to work in partnership with the wider community becoming an active partner and contributor to the work of dioceses and parishes.
#BuildingRuralCommunities takes place on Wednesday 29 March at 7pm at MIC, St Patrick's Campus, Thurles.