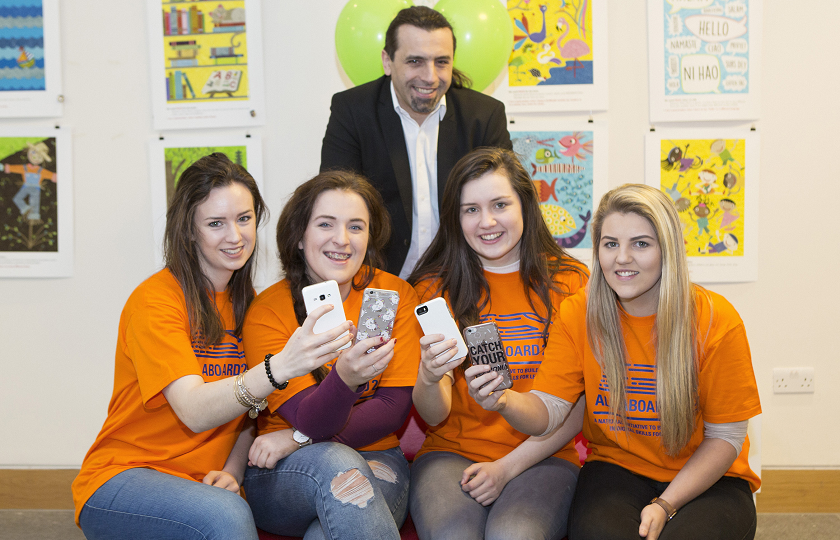 Last week saw Mary Immaculate College (MIC) host a packed schedule of free events as part of #AllAboard2017, a week-long series of national and regional public events designed to build confidence in Ireland's digital skills. 
Funded by Ireland's National Forum for the Enhancement of Teaching & Learning, the project aims to identify the wide range of skills and knowledge that students, those who work in all levels of education, and the general public, will need to feel confident and creative when learning, working and exploring the digital world.
Speaking after the week- long event Dr Gwen Moore, Director of Teaching and Learning at MIC said "We were delighted to act as a hub for All Aboard 2017 which featured a vibrant schedule of events, aimed at staff and students here at MIC, primary school teachers and pupils, and the public. Presenters included a range of guest speakers, academic and professional services staff, and student digital ambassadors who all shared knowledge and skills for the digital age.
A particular focus on MIC's engagement with primary schools featured a Primary School Showcase on Thursday 6th April where we welcomed junior digital ambassadors from seven primary schools who shared digital technologies for learning. It is in this sharing of digital skills for learning across educational sectors, communities and partners that mad the focus of All Aboard 2017 at MIC unique".
From Monday 3 – Fri 7 April MIC hosted almost twenty free events ranging from talks on the use of DNA in reconstructing family history to robotics workshops for primary teachers; to talks exploring how digital access technology can be used to encourage greater learning on Limerick's local and history and museum collections to 'app alley' a demonstration of a variety of mobile Apps that can be used to enhance learning. #AllAboard 2017 also saw the launch of the new CTL and BLU websites.