Imogen Stuart Biography
Born in Berlin in 1927 Imogen is the daughter of the art critic and author Bruno E. Werner. She grew up in wartime Berlin, where she took up drawing and sculpting at a young age, encouraged by her father who asked the famous German expressionist sculptor, Professor Otto Hitzberger, to take his daughter as a pupil after the War.

About Imogen Stuart
In 1945 Stuart began studying under Otto Hitzberger, who taught her modelling, carving, and relief work using different materials. She met her future husband, the Irishman Ian Stuart, grandson of Maud Gonne - who was also studying under Hitzberger - in 1948, and in 1949 the two moved to Ireland. They married in 1951 and took up residence in Laragh Castle near Glendalough. It was here she developed a keen interest in Ancient Irish art and Christian literature and poetry which provided inspiration for her creative practice. Many of her works are displayed in churches and public spaces across Ireland.
Imogen has regularly showed at the Royal Hibernian Academy, contributed to the Irish Exhibition of Living Art and exhibited in both solo retrospectives and group exhibitions across Ireland, including:
Living Art Salzburg Biennale
Houses of the Oireachtas
Hugh Lane Municipal Gallery, Dublin
Solomon Gallery, Dublin
Jonathan Swift Gallery, Dublin
National Self-Portrait Collection, Limerick
She has worked for both private commissions and for the Catholic Church, an early and important patron.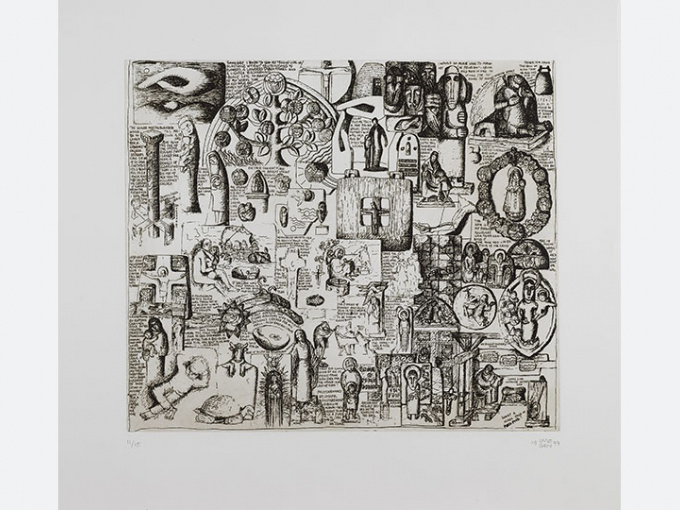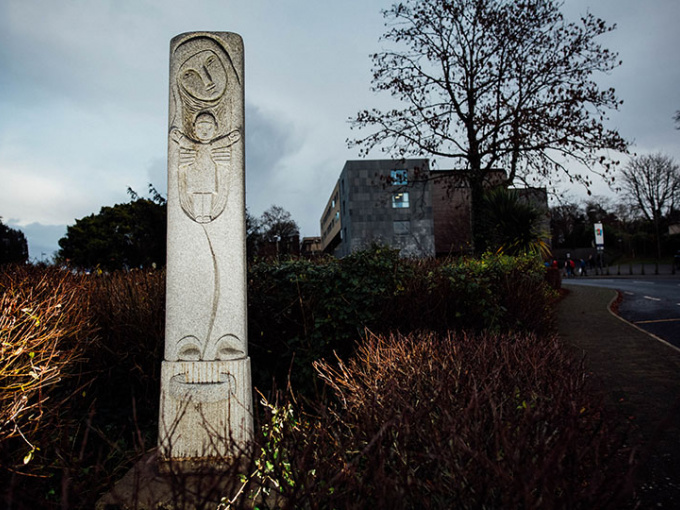 Commissions
Significant church commissions include the Stations of the Cross in Muckross, Ballintuber Abbey and Firhouse, Tallaght; the interiors of Castleknock Church and Burt Church (which was subsequently voted 'Irish Building of the 20th Century' and designed by Donegal architect Liam McCormick); and the large bronze of Pope John Paul II in Maynooth; the bronze doors on Galway Cathedral; the Madonna in the Lady's Chapel of Christ Church Cathedral; the 16ft Penal Cross in Lough Derg, located in the Sanctuary in the Basilica and the altar, ambo, presidential chair (sedilia) and baptismal font of the Honan Chapel at UCC, designed by Richard Hurley.
Other major commissions include: President Erskine Childers gravesite; the official commemorative medal and stamp for the Canonization of St. Oliver Plunkett; the official bronze busts of former President Mrs Mary Robinson for Áras an Uachtaráin (State House) and Sean MacBride for Iveagh House (both of which will be on display at MIC); Flame Of Human Dignity, Centre Culturel Irlandais, Paris; The Arch Of Peace, Market Square in Cavan Town and Pangur Bán, a hand-carved twelve foot high pitch pine sculpture originally commissioned for the Shopping Centre in Dun Laoghaire and now located in Áras an Uachtaráin.
Honours & Awards
Imogen has received the Oireachtas art exhibition award (1972) and the ESB Keating McLoughlin Award at the Royal Hibernian Academy (RHA) annual exhibition (1972), among others. She was elected a member of Aosdána in 1981 and a full member of the RHA in 1990. She was elected by the RHA as Professor of Sculpture in 2000. Imogen received honorary doctorate degrees from Trinity College (2002), UCD (2004) and NUI Maynooth (2005).
In 2010, the President of Ireland Mary McAleese presented Imogen with the McAuley Medal, a recognition of her long-standing relationship with Mary Immaculate College and a lifetime contribution to the arts in Ireland. Imogen was elected Saoi of Aosdana on 15 September 2015 in a ceremony presided over by President of Ireland Michael D. Higgins, joining previous Saoithe Samuel Beckett, Louis LeBrocquy, Brian Friel, Sean O Faolain, Patrick Collins and Mary Lavin in the distinction.
In November 2018 Imogen was awarded the Cross of the Order of Merit of the Federal Republic of Germany, the highest tribute the Federal Republic of Germany can pay to individuals for services to the nation.