Access Electronic Resources off Campus
Online Resources
Accessing Electronic Library Resources from Home
If you are a registered student or member of staff, it is possible to access all online information resources from home. When you click on a link to a database or e-journal, the following window will pop up. Log in using your MIC username and password.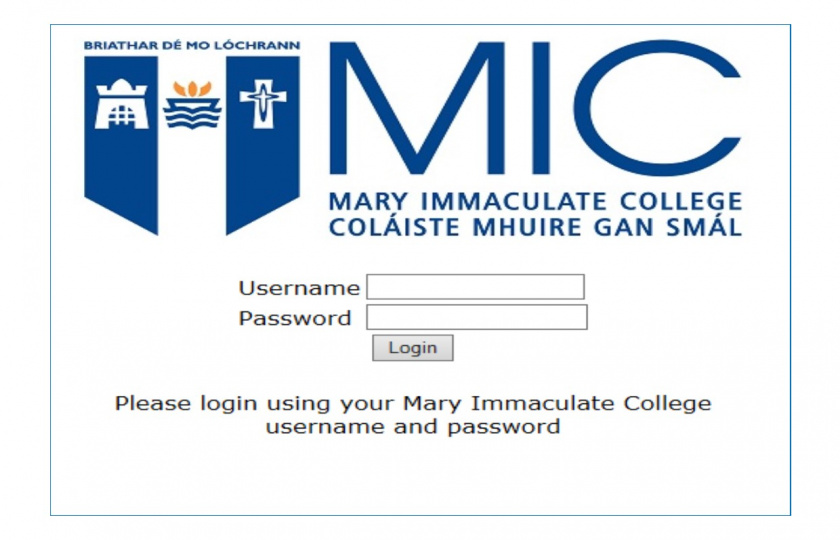 Students
Username: Your ID number.
Password: The password you use to log on to computers on the campus.
Staff and Postgraduate Students (Research)
Username and password you use to log on to your PC 
Contact us
Users experiencing difficulties with their College username and password should contact the icthelpdesk@mic.ul.ie  at  061- 774777
Users experiencing difficulties accessing a specific electronic journal or database should contact:
MIC Limerick - User Services Librarian (061-204367)
MIC Thurles - Thurles Librarian (0504-20531)
Contact us
Users experiencing difficulties with their College username and password should contact the icthelpdesk@mic.ul.ie  at  061- 774777
Users experiencing difficulties accessing a specific electronic journal or database should contact:
MIC Limerick - Technical Services Librarian (061-204911) or  Users Services Librarian (061-204369)
MIC Thurles - Thurles Librarian (0504-20531)