What is Blended Learning?
Both face-to-face and online mediums offer different advantages to the learners.  Blended learning recognises that a learning environment should exploit the most appropriate medium to deliver a quality learning experience. It allows you to choose which learning should take place face to face and which should be delivered using technology. It is up to each lecturer to determine how much learning should take place online. You do not have to create a learning environment that offers all content through technology. Most lecturers start by developing online content such as PowerPoint presentations and offering them on a Virtual Learning Environment (Moodle). They then progress to using Moodle to communicate with students, submitting assignments and giving assignment feedback, this is often followed by using technology to offer diverse learning experiences such as collaborative, social and reflective learning.  Please see this link  to view the blended learning continuum.
Why use Blended Learning?
Blended learning offers opportunities for students and staff to participate in learning in ways, which might be difficult to do solely in a face-to-face classroom environment. It can allow you to improve student learning without spending more time teaching. This can be accomplished by encouraging students to learn both independently and from their peers as well as you, the academic. It can allow students to continue their learning outside of the classroom by providing opportunities for them to reflect and engage without time constraints.
Rather than being about technology, blended learning is about supporting students in achieving their learning outcomes using diverse learning experiences. Figure 1 below illustrates different opportunities for blended learning.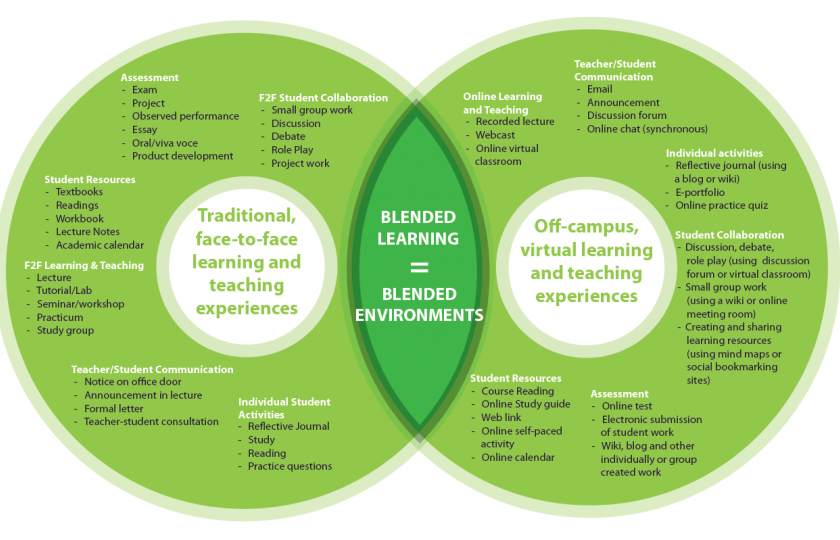 Figure 1: Possibilities for blended learning (source: Griffith University (2010): Getting started with Blended Learning)
Approaches to designing blended learning
Here in MIC we use an adapted version of the ABC curriculum design by UCL, a 90 minute interactive workshop that allows programme teams to design or transition to a blended learning curriculum. At the end of the workshop teachers have an action plan for each of their modules as well as a clear picture of how they will use technology to enhance their learning design. Other approaches include:
7 Cs of Learning Design (Conole, 2014)
Carpe Diem (Salmon, 2016)
How can we help?
Facilitate workshops to assist your project team to integrate technology into their teaching (in new or existing programmes)
Advise you on the types of technologies that could enrich the learning experience for students
Advise you on digital pedagogies to enable you to integrate technology into your teaching
Provide professional development to develop digital skills and pedagogies
References
Conole, G (2014) The 7Cs of Learning Design – a new approach to rethinking design practice, Proceedings of the 9th International Conference on Networked Learning 2014, Edited by: Bayne S, Jones C, de Laat M, Ryberg T & Sinclair C
Salmon, G (2016) Carpe Diem - A team based approach to learning design
UCL (n.d.) ABC Learning Design Toolkit
University of Leister (n.d.) 7Cs Learning Design Toolkit