Educational Psychology, Inclusive & Special Education
About
The Department of Educational Psychology, Inclusive & Special Education (EPISE) in Mary Immaculate College of Education comprises of 11 full-time members of faculty qualified in educational psychology or inclusive/special education.
The faculty serve students in programmes extending from Doctoral level through Level 4 on the QQI system. EPISE staff also supervise student research for doctoral and masters' degrees, and final year projects/undergraduate dissertations. 
They also conduct research and publish in national and international journals. There are multiple well-established community educational links supported by faculty members in the department.
Contact
Head of Department
Dr Johanna Fitzgerald
+353 61 61 204517
Subject Overview
Undergraduate
The modules below can be undertaken by those studying on both the Bachelor of Education and the B Ed in Education and Psychology programmes.
In addition to the selection above, the modules below can be undertaken by those studying on the B Ed in Education and Psychology programme only.
The modules below currently comprise the specialism in Special Education that can be undertaken by those studying on the Bachelor of Education programme only. The specialism requires a Final Year Project (double-weighted).
Postgraduate
The modules below can be taken by those studying on the Professional Master of Education (PME) programme. 
This three credit module presents the child with special educational needs (SEN) as being first and foremost a child and explores how the classroom teacher can use developmentally appropriate evidence-based practices to support children with SEN in the inclusive classroom. This is the first of two discreet modules in Inclusive Education for Children with SEN in the B Ed programme. These discreet modules form part of a dual approach (discreet modules and permeated modules) to enable children with SEN receive an appropriate inclusive needs-based education.
This is the second of two discrete modules in Inclusive Education for Children with Special Educational Needs (SEN) in the B Ed Programme. The focus of this module, which is situated within a holistic B Ed programme comprising discreet and permeated modules, is on matching educationally relevant characteristics, strengths and needs to evidence‐based key educational interventions for children with SEN. There is also an emphasis on individualised planning with the identification and evaluation of learning targets for children with SEN.
This module provides information and skill development in inclusive theory and practice and special education for students in the Professional Masters in Education programme. The module provides instruction in the development, use and evaluation of various strategies for teaching curricular content to children in primary schools who have learning difficulties or special educational needs. The focus of this module will be on teacher planning for working with children with special educational needs, including those with Attention Deficit Hyperactivity Disorder, Social, Emotional and Behavioural Disorders, Specific Learning Disability, Mild General Learning Disabilities and Autism Spectrum Disorders in general education classrooms.
The department offers a Doctorate in Educational & Child Psychology.
The DECPsy programme is a professional doctorate with a nominal value of 270 ECTs. The programme provides a connected curriculum that integrates academic knowledge, research and professional practice. Taught modules (outlined below) are delivered over the first two years of the programme. One day per week is typically assigned to study/research. There are research and placement elements to the programme also (outlined below).
The department offers a Graduate Diploma/Master's in Special Education.
There are 10 modules in this programme (outlined below):
The department offers a Graduate Certificate in Autism Studies.
There are five modules in this certificate.
Lifelong Learning
The department offers a Certificate in General Learning and Personal Development (CGLPD)
This programme is designed to enhance the holistic development of adults with an intellectual disability, in an inclusive third level setting. The certificate is composed of the following Level 4 QQI minor awards:
Projects
Dr Margaret Egan
Work in progress: Collaborative project to develop a resource handbook for Early Years' educators, teachers, student teachers, Speech and Language Therapists (SLTS) and trainee SLTs. Working title: Identifying and Supporting Children with Speech, Language and Communication Needs. Limerick: Curriculum Development Unit, MIC.
Dr. Johanna Fitzgerald
Chairperson/ coordinator Limerick SENCO Forum, a professional learning network for post-primary SENCOs in the Munster region. Three network meetings held annually.
Ongoing (2017) collaborative JMB/ AsIAM initiative to develop school resources to promote inclusion of learners with ASD in mainstream post-primary schools.
Ongoing (2017) collaboration with Limerick and Clare ETB schools: implementation of 'Provision Mapping as a Response to Strategic Leadership and Coordination of Special Education provision'.
Work in progress: developing a resource handbook for principals and SENCOs in post-primary schools in Ireland entitled 'Leading Learning for Students with Special Educational Needs at the Post-Primary Level: A Handbook for Principals and SENCOs' (working title). Curriculum Development Unit, MIC.
Collaborative research project with Faculty members from the Department of Allied Health, UL entitled 'Incorporating Inter-Professional Education in Individual Education Planning for Students with Special Educational Needs: student speech and language therapy students and teachers learning together.'
Dr. Suzanne Parkinson
'Mise Mar Fhoghlaimeoir' is funded by An Chomhairle um Oideachas Gaeltachta & Gaelscolaíocht. 
2016: 'My Learner Identity' is a unique new resource designed to nurture the 'Who' and 'How' of learning from preschool through to sixth class. The series supports children in becoming learners, in articulating perspectives of themselves as learners and their worldview, their experiences of school and on the educative process. The series addresses the 'how' of learning and encourages learners to reflect and develop key learner dispositions associated with effective learning.
Research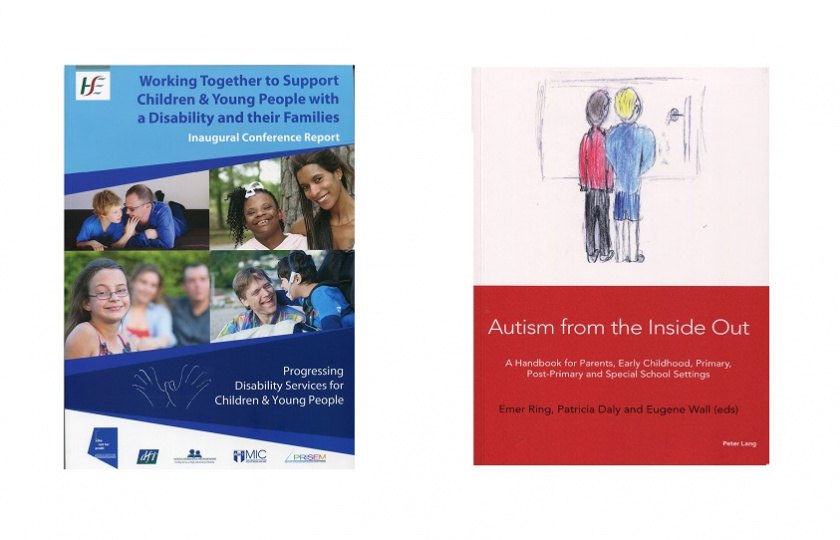 Working Together to Support Children & Young People with a Disability and their Families contains key contributions from the following faculty in EPISE:
Dr Therese Brophy
Siobhan O'Sullivan
Carol Slattery (Trainee Educational Psychologist)
Dr Margaret Farrelly
Anne O'Byrne
Autism from the Inside Out includes chapter contributions from following staff and students in the EPISE Department:
Dr Margaret Egan
Sarah Feeney (Doctoral Student, EPISE)
Dr Claire Griffin-O'Brien
Dr Michele Dunleavy
Anne O'Byrne
Dr Patricia Daly
Useful Information
Departmental Assistantships - applications for 2021 now open
The Department of Educational Psychology, Inclusive and Special Education, Mary Immaculate College, is now accepting applications from current and potential research MA/PhD students for a funded Departmental Assistantship beginning in September 2021.
Further information is available here. Application Form  in PDF format is here.
Application Form in Word format is here
Contact: Dr. Laura Ambrose  Laura.Ambrose@mic.ul.ie
About

Subject Overview

Staff

Projects

Research

Useful Information