BA in English Language and Literature (For International Students)
This degree is level 8 on the National Framework of Qualifications (NFQ) awarded by University of Limerick.
PLEASE NOTE: This programme page is for International Students/students from abroad only who wish to study this programme in Ireland. It is not relevant for CAO applicants. Relevant programme page for CAO applicants may be found in the Undergraduate section and is labelled with a CAO code.
Places Offered: Up to 15.
Programme Overview

Programme Content

How to Apply

Ask a Question
Programme Overview
The BA in English Language and Literature aims to foster critically aware and digitally-skilled graduates who are highly adept at creating and interpreting texts and content. The programme will enhance literary and professional knowledge of English by focusing on the core features of language and linguistics, as well as the core literary texts, genres and theories.

Why study on this programme?
This degree is the only one of its kind available in Ireland. It is primarily delivered in a small group setting by internationally respected researchers of both language and literature.
Our team have specifically designed a range of bespoke modules that aim to provide access to innovative research in the field of language and literature. These modules can be used to interpret a wide range of different text types. Particular features of the BA in English Language and Literature include:
Small group teaching with communicative, hands on, problem-based teaching and learning
Programme content that is situated in a real-world environment exploring real-world issues through the lens of language and literature
Year 1 foundation modules in language, literature, and the intersection of the two fields, to give you a thorough introduction to the area
A range of specialist modules in both language and literature in second and final year to provide you with the tools to analyse a range of texts from poetry to sports news, from the works of Shakespeare to a visit to the hairdressers
A specific focus on researching language and literature using freely available, online computer tools
A certified Teaching English as a Foreign Language (TEFL) optional module in second year
A one year off-campus programme with opportunities to gain valuable work experience and/or intercultural experience though Erasmus/study abroad
Our aim is to develop experts in text creation and analysis through establishing and fostering an open, creative and critical undergraduate research community. In addition to specific modules, we also look to develop your oral presentation, communication and writing skills, while paying close attention to enhancing your digital literacy. We especially encourage good academic citizenship through communicative teaching and learning, group work, collegiality and ethical conduct in research.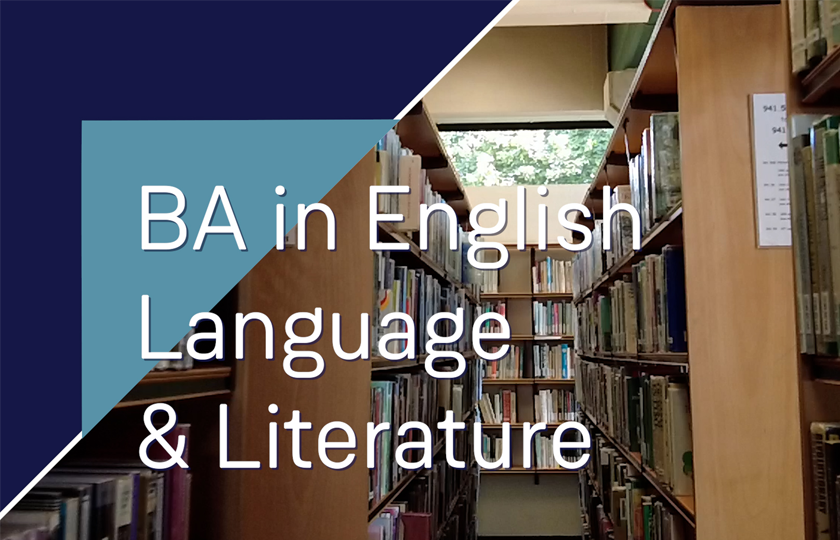 What you will study?
Year 1 is designed to give you the foundational skills in both language and literature. Students will study the systems and structures of the English language: the fundamentals of our sound system, how these sounds combine to form words and how these words combine to form sentences. You will be introduced to the notion of language beyond the sentence, looking at how it functions in the real world (clue: very differently to how you might think). We also look at different approaches and digital applications used in the study of language. There are two foundational modules in English literature (digital and performance) that study poetry, prose (novel and short story) and drama. Finally, two specifically designed modules bring the worlds of language and literature together in an exciting learning environment.
In Semester 1 of Year 2, we aim to build on your digital and analytic skills by exploring key notions in the study of language such as style. The literature module studies 20th Century novels from Ireland and beyond, allowing you to examine how features of language identify a particular author's writing style. In Semester two, we use language and literature to question the dominant value systems and ideologies present in everyday written and spoken language. We explore themes in contemporary language and literature, but also pay close attention to their history through an examination of issues such as politics, imperialism and globalisation. In Year 2, you will also have an extensive selection of elective modules to choose from, including teaching English as a foreign language (TEFL).
Year 3 is devoted to work placement and/or study abroad.
In Year 4, the final year, we investigate some of the major trends and advancements in language and literature in the twentieth and twenty-first centuries including forensic linguistics, human machine interaction and ecological, racial and gender-based theoretical models. We study the applied nature of these contemporary modes of thinking through a variety of text types using a variety of methodologies. Our primary focus is on the understanding of the meaning of texts that we encounter in our everyday spoken and written lives. Semester 2 features the capstone module of the programme, Language and Literature 4, which is a student-led module culminating in a day-long seminar designed to provide first-hand experience of an academic conference, complete with plenary speaker.
Career Opportunities
English is the first language of almost 400 million people and the second language of many others. It is estimated that around 1.5 billion people worldwide are learners of English. Increasingly, companies are using English as their corporate language globally to ensure good communication and collaboration with customers, suppliers, business partners, and other stakeholders (e.g. Airbus, Daimler-Chrysler, SAP, Nokia and Microsoft).
There is a global demand for graduates with cultural and critical expertise, who are highly adept at interpreting and producing texts and content and who have a high level of digital skills. Possible career opportunities include, but are not limited to:
Administrative roles (e.g. Civil Service, Public Bodies, sales and marketing, arts administration, human resources)
Communications
Content Design (e.g. web content, blog writing, policy development, editorial assistant, content executive)
Customer Service (e.g. Webcare)
Digital Content Creation
Publishing
Roles within IT (User Experience (UX) design, production editor)
Social Media
Technical writing
Teaching
The BA in English Language and Literature is designed to address the digital demands of everyday communication. This programme will also meet a strong need to equip graduates with up-to-date applied skills in the use of technology to analyse, arrange and showcase information in English so as to optimise communication.
Off-Campus Programme
In Year 3, you will participate in an off-campus programme. This typically consists of a study abroad placement in Europe, North America, Argentina, Australia, China, or Japan and/or work placements in a wide variety of settings, in Ireland or abroad. International placements are highly valued and encouraged for the added cultural and linguistic benefits they offer. The off-campus programme provides students with a unique opportunity to discover the world and experience working environments which may also provide future employment for graduates. Typical work placement settings include educational, theatre, media, cultural, community, local government, and Gaeltacht organisations.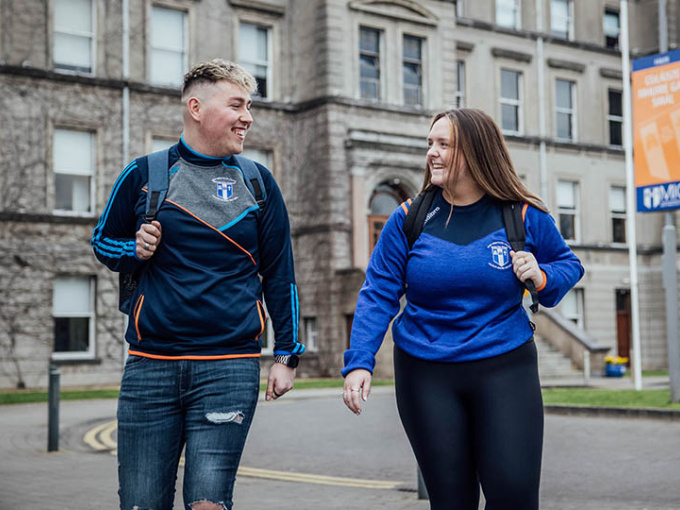 Contact
Dr Brian Clancy, Programme Coordinator
Programme Overview

Programme Content

How to Apply

Ask a Question