About
The Embracing Diversity, Nurturing Integration: Learning for Life Project (EDNIP) report was launched on Tuesday 15 June.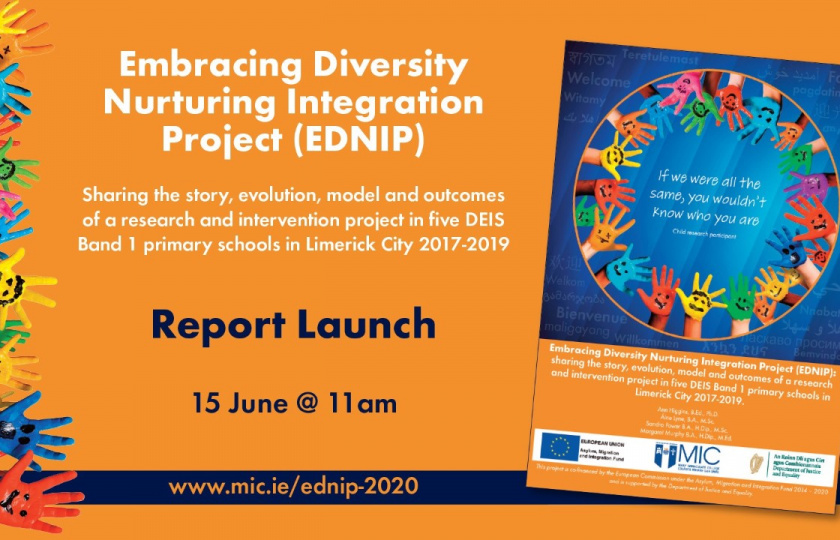 Click here to view the EDNIP 2020 report.
The report was launched virtually by Ms. Donnah Vuma. Donnah, from Zimbabwe, is a founder of Every Child is Your Child and was Clare Woman of the Year in 2017. Donnah, a wonderful advocate for human rights and experienced public speaker, is one of 17 people who received a place in UL under the Place of Sanctuary scholarship programme.
EDNIP is a partnership project developed to support schools to embrace diversity and nurture integration. The need for EDNIP was identified by schools
in response to discussions in the Transforming Education through Dialogue (TED) school networks. TED is located in the Curriculum Development Unit, Mary Immaculate College, Limerick. The EDNIP report shares the story of the evolution, model and outcomes of EDNIP.
EDNIP partners include the five participating schools - St. Michael's Infant School, Scoil Iosagáin CBS Primary School, Presentation Primary School, Our Lady of Lourdes Primary School, St John's Girls' and Infant Boys' Primary School, along with Mary Immaculate College, Department of Education, Limerick Education Centre, Limerick and Clare Education and Training Board, Tusla Education Support Service and Limerick City and County Council.
EDNIP, working closely with and building on pre-existing good practice within the five participating self-selected DEIS Band 1 primary schools in Limerick City, developed and delivered a model of management, intervention and research. The model of intervention included working within and out of school time with children, families and school staff. In all 11,684 opportunities were availed of, 8,183 by children, 2,674 by parents and 827 by school staff. EDNIP undertook baseline, formative and summative research, conducted interviews, focus groups and questionnaires. The report found that EDNIP made a significant difference to the quality of life and learning for children, families and schools.
Based on the report findings and our experiences of developing and delivering EDNIP we developed a suite of three recommendations, each accompanied by a set of aims, objectives and indicators of success.
This project is co-financed by the European Commission under the Asylum, Migration and Integration Fund 2014-2020 and is supported by the Department of Justice and Equality.
Click here to view the EDNIP 2020 report.