Academic Calendar & Semester Timetables
Academic Calendar
Autumn Semester (Semester 1) will begin on 28 September and finish on 18 December 2020 and will consist of 12 weeks. Assessments and feedback will be given throughout Semester 1. There will be no end of semester exam period*.
The Spring Semester (Semester 2) will commence on January 25 and end on May 15 2021. It will consist of 12 weeks of teaching and a three-week assessment period.
* The following exams will take place: Language oral exams (BA; B Ed & B EdPsych Gaeilge; Arts Language Electives in B Ed) and Mathematics exams (BA in Education; BA; Arts Mathematics Electives in B Ed) will take place in Week 12.
Previous Calendars
The Academic Calendar contains dates of teaching weeks, study days, examination dates and Exam Board meetings throughout the autumn and spring semesters of each academic year.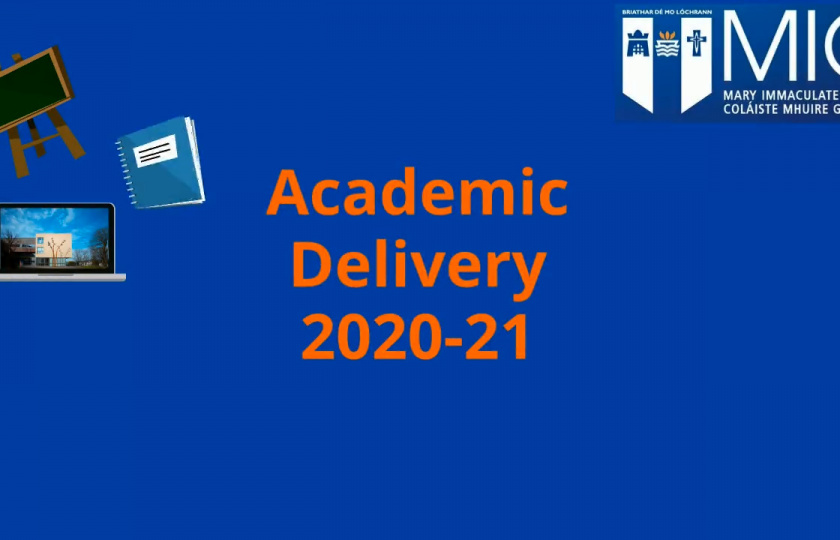 Semester Timetables
Spring 2021
These MIC semester timetables are linked to the UL schedule and are subject to change.  You must check for any changes at the beginning of term.
Students are reminded that they must be available to attend class from Monday to Friday inclusive, from 9am to 6pm.
MIC Limerick
Limerick Timetables Revised: Tuesday 19/01/2021
For more details, please see here.
Bachelor of Arts (BA)
Contemporary & Applied Theatre Studies (CATS)
Early Childhood Care & Education (ECCE)
GOLD 
Bachelor of Education (B Ed)
Bachelor of Education (International)
Bachelor of Education & Psychology (B Ed Psych)
Professional Masters of Education (PME)
MIC Thurles 
MIC Thurles On line schedules Spring Semester 2021
BA in Education, Business Studies and Accounting Year 1
BA in Education, Business Studies and Religious Studies Year 1
BA in Education, Gaeilge and Religious Studies Year 1
BA in Education, Gaeilge and Business Studies Year 1
BA in Education Mathematics and Gaeilge Year 1
BA in Education, Mathematics and Business Studies Year 1
BA in Education, Business Studies and Accounting Year 2
BA in Education, Business Studies and Religious Studies Year 2
BA in Education, Gaeilge and Religious Studies Year 2
BA in Education, Gaeilge and Business Studies Year 2
BA in Education, Mathematics and Gaeilge Year 2
BA in Education, Business Studies and Accounting Year 3
BA in Education, Business Studies and Religious Studies Year 3
BA in Education, Gaeilge and Religious Studies Year 3
BA in Education, Gaeilge and Business Studies Year 3
BA in Education, Business and Accounting Year 4
BA in Education, Business Studies and Religious Studies Year 4
BA in Education, Gaeilge and Religious Studies Year 4
BA in Education, Gaeilge and Business Studies Year 4
Academic Calendar

Semester Timetables