Fr Peter McVerry and the McAuley Medal
Fr Peter McVerry was awarded the McAuley Medal in 2022, presented by President of Ireland, Michael D. Higgins, in recognition of his social justice activism.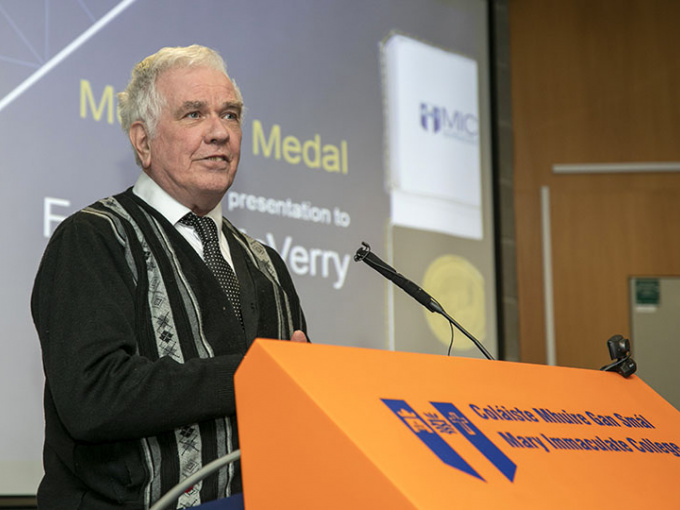 Peter has worked in Dublin's north inner city since 1974, where he came into contact with young people who were sleeping on the streets because of their home situation.
In 1979 he opened a hostel for homeless boys aged 12-16, this subsequently became his life-time work. Through this work at the hostel Peter saw that on reaching the age of 16, the age whereby these boys had to leave the hostel, there were very few options available to them and so most ended up back on the streets. This realisation led him to set about providing services and accommodation for older youths. In 1980 Peter moved to Ballymun in north Dublin, and by the end of 1983 he had founded the Arrupe Society, a charity to tackle homelessness. This charity, which was subsequently renamed the Peter McVerry Trust, has progressed from a three-bedroom flat in Ballymun to becoming one of the country's largest organisations responding to the issue of homelessness. The Trust is a national housing and homeless charity committed to reducing homelessness and the harm caused by substance misuse and social disadvantage.
The charity provides low-threshold entry services, primarily to younger people and vulnerable adults with complex needs, and offers pathways out of homelessness based on the principles of the Housing First model.
Peter McVerry Trust's national headquarters are located in Dublin. The charity has a mid-west regional office in Limerick City, a north-east regional office in Drogheda, Co Louth, a mid-east regional office in Johnstown, Naas, Co Kildare and a southern regional office in Cork city.
In 2021, the charity worked with over 10,000 people and was active in 28 local authorities across Ireland.
As a social activist, Peter is a strong advocate for those who have no voice in society. He has written widely on issues relating to young homeless people such as accommodation, drugs, juvenile justice, the Gardaí, prisons and education.
He has a regular article in the monthly Redemptorist magazine, Reality, and speaks on issues of homelessness, justice and faith to groups around the country.