Eunice Kennedy Shriver and the McAuley Medal
Eunice Kennedy Shriver, Founder of the Special Olympics, was presented with the inaugural McAuley Medal in 2008 in recognition of her outstanding and inspirational work in establishing the Special Olympics.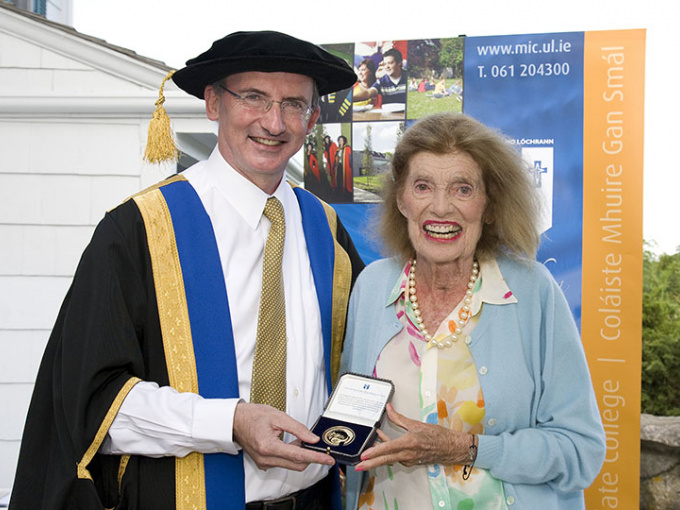 The late Prof. Peadar Cremin, President of Mary Immaculate College at the time, travelled to her home in Cape Cod, to present her with the award in the presence of the late Senator Ted Kennedy and his wife Vicky, Ethel Kennedy, the wife of the late Bobby Kennedy, Eunice's daughter Maria Shriver, and sons Mark and Tim Shriver.
Eunice Mary Kennedy Shriver DSG (10 July 1921 – 11 August 2009) was an American philanthropist and a member of the Kennedy family. She was the founder of the Special Olympics, a sports organisation for persons with physical and intellectual disabilities.
Speaking on the presentation Prof. Cremin said, "The College is deeply honoured that Eunice Kennedy Shriver has agreed to be the inaugural recipient of the McAuley Medal. Like Catherine McAuley, Eunice Kennedy Shriver is a remarkable woman whose tireless commitment to the service of others is based upon a vision aimed at making a profound and lasting difference.  
"As the Executive Vice President of the Joseph P. Kennedy Jr. Foundation and Founder and Honorary Chairperson of the Special Olympics, Eunice Kennedy Shriver has succeeded not only in changing the lives of people with intellectual disabilities in every part of the globe but she has also changed how others perceive those people. In celebrating people with intellectual disabilities, she has challenged societies all around the world to recognise the value and potential of these members of our community".
Under Eunice Kennedy Shriver's leadership, the Joseph P. Kennedy Jr Foundation helped to advance international understanding of the causes of intellectual disability and has championed the rights and accomplishments of people with intellectual disabilities as citizens. The Special Olympics, established in 1968, stands amongst the Foundation's initiatives as a truly global phenomenon.
On receiving the medal Mrs. Shriver said "I am grateful for Catherine McAuley and her example that has lasted for hundreds of years. Her example was helping those who need and deserve a chance. What a wonderful legacy. I think we must remember the lay people, the nuns and the Church. So many of them give their lives to people with special needs. They do so much, with so much kindness, and, we don't thank them enough."