About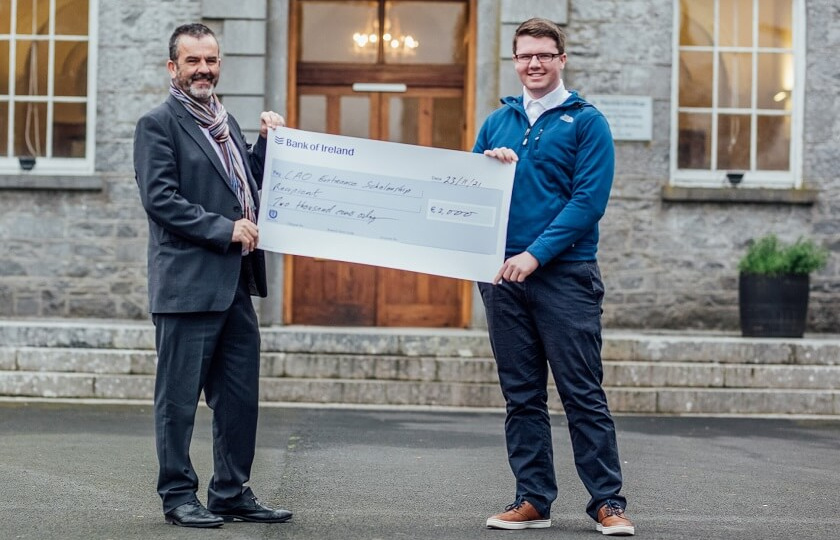 Each year, Mary Immaculate College awards up to 50 Undergraduate Entrance Scholarships across all undergraduate programmes valued at €2,000 each, on the basis of results obtained in the Irish Leaving Certificate Examination.
The scholarships are tenable only in MIC for the First Year of a full-time primary degree programme to be undertaken at MIC, in the academic year following the Leaving Certificate Examination on which the award is based.
To be eligible to receive a scholarship, a student must have met the normal entry requirements for the degree programme in question and have been validly registered for same. A student who has previously registered for a programme leading to a degree in any third level college should not be eligible for the award of an Undergraduate Entrance Scholarship.
Scholarships shall be awarded in order of merit in accordance with the standard scoring system for Leaving Certificate results. Only performance in the six best subjects taken at the same sitting of the Leaving Certificate will be counted.
If the holder of an Undergraduate Entrance Scholarship withdraws from the programme for which they have registered, or fails to continue throughout the year to meet the attendance and other requirements for the programme, including examination entry, they may be required to repay to the College the whole or part of the scholarship.
No special application form is required for Undergraduate Entrance Scholarships. Successful students will be notified directly.
For more information, see Frequently Asked Questions below.
Contact
Student Academic Administration Office
+353 61 204503
Uversity scholarships for adult learners
Mary Immaculate College is delighted to be one of the participating institutions in the Uversity Higher Education Scholarships for Adult Learners (23 years and over). By providing meaningful, multi-annual financial support, Uversity's scholarships aim to remove the financial barriers for adult learners to pursue a Bachelor's degree for the first time. Scholarships are not limited to particular subject areas and will enable recipients to complete a degree in one of the participating institutions.
For further details, visit the Uversity website here.
About

Uversity scholarships for adult learners