About
The Admissions Office receives student applications, and manages their progression from application through to offer of places, and enrolment on the College's undergraduate and taught postgraduate programmes of study.
The office is also responsible for ensuring that entry standards for all programmes, as determined by Academic Council, are implemented.
The Admissions Office is located in Room G01, situated on the ground floor of the Foundation Building. Please note that the office opening hours are Monday to Friday 9.30am - 12.30pm and 2pm - 4.30pm. The telephone numbers are 061 205160/ 205137/204348/204929
If you have any general admissions queries, please email Admissions@mic.ul.ie. If you have queries regarding entry to taught postgraduate programmes then please email TaughtProgrammes@mic.ul.ie.
Contact
Admissions Office
061205160/061205137/204348/204929
Useful Information
Policies
Language Exemptions
For further information please see the MIC Access Office here. You can contact the office on: AccessOffice@mic.ul.ie. 
Please note: Born/part-educated outside of the Republic of Ireland
In the following circumstances it is possible to apply for a Language Waiver if: You were born outside of the Republic of Ireland (ROI), attended part of your second level education outside of the ROI for at least 1 year, but are now attending second level in Ireland and were unable to be provided with the opportunity to take up a second language. OR You were born in the ROI but now reside and attend second level outside of the ROI and were unable to be provided with the opportunity to take up a second language. Such applications are reviewed on a case-by-case basis, please download and complete the Language Exemption form and return to Admissions@mic.ul.ie The closing date each year is 1 July.
Deferral of Place (Direct Entry including Taught Postgraduate Programmes)
Students who wish to defer their place as a result of direct entry to MIC should email the Admissions Office, Admissions@mic.ul.ie, requesting the deferral, and giving the reason(s) for wanting it. The Admissions Office will then consult with the relevant Programme Director to see if they wish to grant the deferral. If a deferral is being granted, the Admissions Office will email the student and the student will need to email Admissions in the springtime of the following year to indicate if they wish to take up their deferred place. If a taught postgraduate student has paid the acceptance fee of €500 and subsequently decides to defer, then the fee will be offset against the fees due for the programme in the following year. Therefore the acceptance fee will not be refunded. Please note that some postgraduate programmes do not have a deferrals procedure, and if a deferral is not being granted then the Admissions Office will inform the student by email.
Download information about Deferral of Place (CAO Entry)
Enrolment
Online Enrolment
All new students to MIC must complete Online Enrolment.
You can access the Online Enrolment Portal here. You can log in with your MIC student email address and password that were provided to you in your enrolment email.
CAO students will begin receiving their enrolment email from the 7th of  September. Once you log in you will need to change your password.
To complete online enrolment you will need to complete the My Enrolment tasks, pay your fees and complete your module registration. Note that depending on your course, online module registration may not be available until the end of week one.
If you have difficulty with Online Enrolment please email Enrolment@mic.ul.ie.
Please refer to the screencast below to assist you in completing your online enrolment.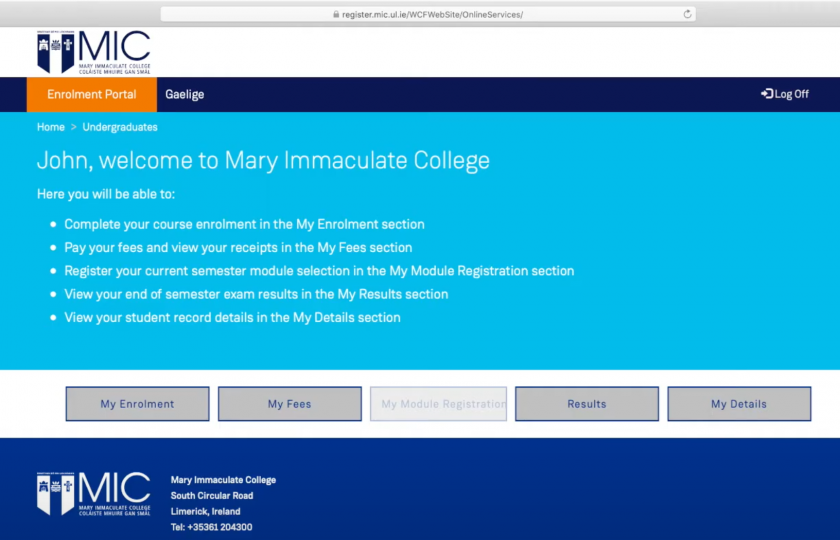 About

Staff

Useful Information

Policies

Enrolment