About
The Admissions Office receives student applications, and manages their progression from application through to offer of places, and enrolment on the College's undergraduate and taught postgraduate programmes of study.
The office is also responsible for ensuring that entry standards for all programmes, as determined by Academic Council, are implemented.
The Admissions Office is located in Room G01, situated on the ground floor of the Foundation Building. Please note that the office opening hours are Monday to Friday 9.30am - 12.30pm and 2pm - 4.30pm. The telephone numbers are 061 204348/ 204929.
If you have any general admissions queries, please email Admissions@mic.ul.ie  If you have queries regarding entry to taught postgraduate programmes then please email TaughtProgrammes@mic.ul.ie
Contact
Admissions Office
061 204348 / 061 204929
Useful Information
There are two application routes to Mary Immaculate College programmes for EU students (or students with EU residency). The two routes are outlined below. Please note that non-EU students are required to apply directly to the International Office by email: International@mic.ul.ie. More information about Study in Ireland here.
Applying to MIC through the Central Applications Office (CAO)
School Leavers
The normal deadline for applying through CAO is 1 February, the late deadline is 1 May and the deadline for change of mind is 1 July.
For more information on key dates and the CAO process see: www.cao.ie.
GCE/GCSE/A-Level Requirements
Bachelor of Education programmes (including MI004, MI005/MI006 & MI008)
Bachelor of Arts programmes (including MI002, MI007) and B Sc Psychology programme MI003 and Thurles Programmes (MI009,MI010, MI011, MIO12, MI013, MI014, MI015)
Please Note: For further information about minimum grades and entry requirements for specific programmes, please contact the Admissions Office directly on Admissions@mic.ul.ie.  For details on minimum grades and entry requirements for Thurles programmes please email Paula.Hourigan@mic.ul.ie
Download English Language Requirements here.
Special Entry Route for QQI/FET/FETAC Applicants
A limited number of places per year will be awarded to applicants through the Higher Education Links Scheme (HELS), which gives learners the opportunity to use their QQI Level 5 or 6 major award to apply, through the CAO, for a place on the first year of a higher education programme. Entry requirements vary for each degree programme.
Please see this Quick Guide for more information on the entry requirements for each of MIC's programmes, or read the guide on an e-reader here.
All applications for admission under the QQI entry pathway must be made through CAO.
Please note: You may, if you wish, also apply through the CAO on foot of your Leaving Certificate results or as a mature student applicant. You are allowed to submit your application under all three pathways if you so wish, and you can do this by selecting all three options.
Mature Students
Mary Immaculate College is committed to improving access to higher education for adults and we welcome applications to all our undergraduate programmes from mature applicants. If you are at least 23 years old on 1 January of the year of entry to college, you are considered a mature applicant. More information on Mature Students can be found here and please note that the process for mature applicants is also outlined on the 'Entry Requirements' tab of individual undergraduate programmes.
EU/EFTA Countries
Students from EU/EFTA Countries should apply for entry to MIC programmes through the CAO.  Download agreed requirements for entry to CAO programmes here, produced by the Irish Universities Association and the Institute of Technology Sector which details.  Non EU students must apply directly through the International Office at MIC.
Applying to MIC – Direct
Readmission Students
The Readmission process is for students who registered on an MIC or UL programme of study, but who have exited prior to taking exams. The students must be interested in coming back in to MIC to the first year of an undergraduate programme.
To apply please download and complete the Readmission form and submit to the Admissions Office, Mary Immaculate College by 1 July. Candidates for readmission must have the necessary points/subjects required for the programme they are applying to.  
Transfer Students
Students who wish to internally transfer to the first year of another programme at MIC, having completed exams, should contact Student Academic Administration and complete an Internal Transfer Form. The email address is SAA@mic.ul.ie  Candidates must have the necessary points/subjects required for the programme they are applying to. Students who wish to transfer into the first year or subsequent years of a programme at MIC from another college should contact Student Academic Administration.
Taught Postgraduate Programmes
Applications for entry to all taught postgraduate programmes must be made to the Admissions Office; see postgraduate programme list here.
MIC Programmes – Online Interview Guidance
Policies
Language Exemptions
For further information please see the MIC Access Office here. You can contact the office on: AccessOffice@mic.ul.ie. 
Please note: Born/part-educated outside of the Republic of Ireland
In the following circumstances it is possible to apply for a Language Waiver if: You were born outside of the Republic of Ireland (ROI), attended part of your second level education outside of the ROI for at least 1 year, but are now attending second level in Ireland and were unable to be provided with the opportunity to take up a second language. OR You were born in the ROI but now reside and attend second level outside of the ROI and were unable to be provided with the opportunity to take up a second language. Such applications are reviewed on a case-by-case basis.
Please contact the Admissions Office if born or part educated outside of the ROI by emailing Admissions@mic.ul.ie  The closing date each year is 1 July.
Deferral of Place (Direct Entry including Taught Postgraduate Programmes)
Students who wish to defer their place as a result of direct entry to MIC should email the Admissions Office, Admissions@mic.ul.ie, requesting the deferral, and giving the reason(s) for wanting it. The Admissions Office will then consult with the relevant Programme Director to see if they wish to grant the deferral. If a deferral is being granted, the Admissions Office will email the student and the student will need to email Admissions in the springtime of the following year to indicate if they wish to take up their deferred place. If a taught postgraduate student has paid the accept fee of €500 and subsequently decides to defer, then the fee will be offset against the fees due for the programme in the following year. Therefore the accept fee will not be refunded.  Please note that some postgraduate programmes do not have a deferrals procedure, and if a deferral is not being granted then the Admissions Office will inform the student by email.
Download information about Deferral of Place (CAO Entry)
Enrolment
Online Enrolment
All new students to MIC must complete Online Enrolment.
You can access the Online Enrolment Portal here. You can log in with your MIC student email address and password that were provided to you in your enrolment email.
CAO students will begin receiving their enrolment email from Friday September 16th. Once you log in you will need to change your password.
To complete online enrolment you will need to complete the My Enrolment tasks, pay your fees and complete your module registration. Note that depending on your course, online module registration may not be available until the end of week one.
If you have difficulty with Online Enrolment please email Enrolment@mic.ul.ie.
Please refer to the screencast below to assist you in completing your online enrolment.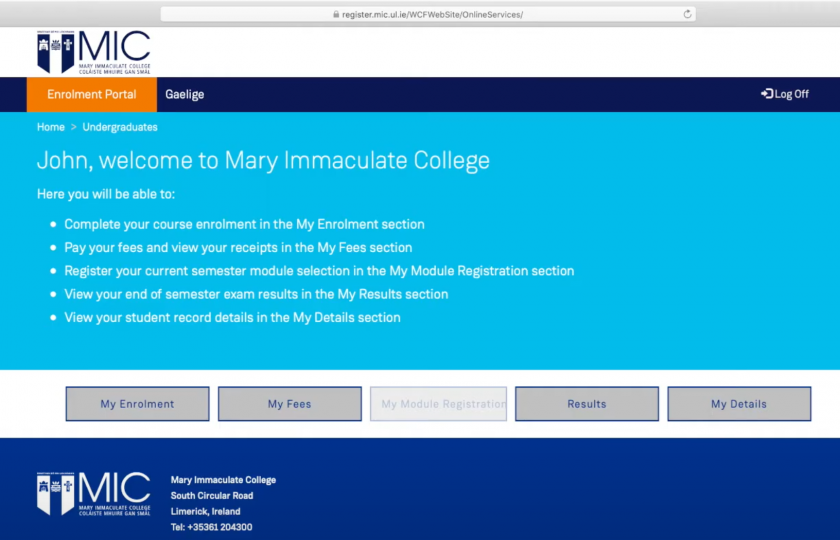 About

Staff

Useful Information

Policies

Enrolment