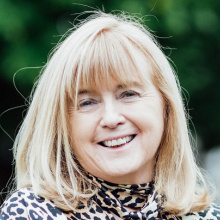 More information
Professor Emer Ring is Dean of Education at Mary Immaculate College (MIC). Emer worked as a senior inspector with the Department of Education and Skills, a primary mainstream class teacher and a learning/support resource teacher, prior to joining MIC as Head of Department of Reflective Pedagogy and Early Childhood Studies in 2011. Emer lectures across early childhood and teacher education programmes and supervises research from undergraduate to doctorate levels.
Emer has been principal investigator on a range of national research projects covering areas such as early childhood, primary and post-primary education, inclusion, child/student voice, pedagogy and autism. She has published widely in the area of education and is co-editor and co-author of 'Autism from the Inside Out: A Handbook for Parents, Early Childhood, Primary, Post-Primary and Special School Settings' published by Peter Lang, Oxford.
More recently, with her colleagues, Dr Lisha O'Sullivan, Marie Ryan and Patrick Burke, Emer completed 'A Melange or a Mosaic of Theories? How Theoretical Perspectives on Children's Learning and Development can Inform a Responsive Pedagogy in a Redeveloped Primary School Curriculum' for the National Council for Curriculum and Assessment (NCCA). Emer is currently joint-principal investigator on the University College Cork (UCC) and MIC research team, which includes MIC's Dr Lisha O'Sullivan and Dr Therese Brophy, evaluating the in-school therapy demonstration project across early years, primary, post-primary and special school settings commissioned by the National Council for Special Education (NCSE).