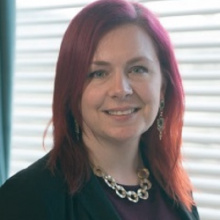 Research interests
Contemporary world literature, Irish Studies, Drama and Theatre, Post-Celtic Tiger Fiction, Dystopian Literature, Urban Studies.
More information
Selected publications
Edited Collections:
Representations of Loss in Irish Literature, eds Deirdre Flynn & Eugene O'Brien (Palgrave, 2018)
Irish Urban Fictions: A Critical Introduction, eds Maria Beville & Deirdre Flynn (Palgrave, 2018)
Book Chapters:
'Sourness and Truth': Representing the post-Celtic Tiger realities of female middle age in Barry, McCormack and McBride in Irish Literature as World Literature, ed Christopher Langlois, Bloomsbury: London, (Forthcoming 2020)
'Our native reminiscence': clinging to Lost time in Kevin Barry's City of Bohane in The City and Time, eds AM Evans & K Kramer (November, 2019)
'The uncanny city: Delving into the sewers and subconscious of Tokyo in Murakami's Hard Boiled Wonderland and the End of the World' in Supernatural Cities, ed Karl Bell. Boydell and Brewer (October, 2019) 
'Streets of Spectrality: Kevin Barry's Dystopian City of Bohane' in Worlds Gone Awry: Essays on Dystopian Fiction, eds C. Clark Triplett, Ashley G. Anthony & John Han. (McFarland, 2018)
'Holding on to "rites, rhythms and rituals": Mike McCormack's homage to small-town Irish life and death' in Representations of Loss in Irish Literature, eds Deirdre Flynn & Eugene O'Brien pp. 70 - 95 (Palgrave, 2018)
'The Transcreation of Tokyo: The Universality of Murakami's Urban Landscape' in Challenging Authors: Haruki Murakami, eds P. l Thomas & M. Stretcher, Rotterdam: Sense Publishers, 2016 pp 87 -100
Article:   
'Rural encroachment in Mary Lavin's short stories' in Irish University Review, EUP, Vol 49, November 2019
'Motherhood, Marriage, and Daughters in Anne Enright's The Green Road' in Moving Worlds: Women Write Now: Reading the Contemporary, 18.1, pp. 115-126.