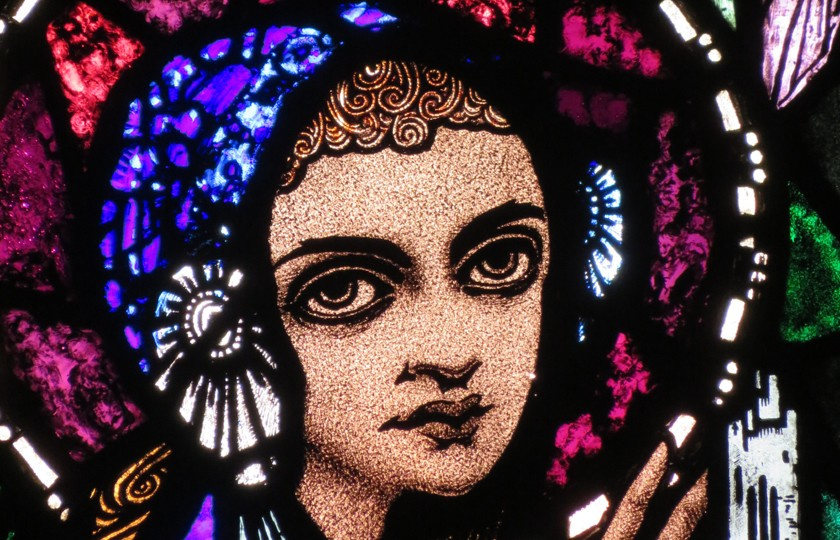 A stain-glass depiction of St Brigid by Harry Clarke as seen in St Michael and John's Church, Cloughjordan, Tipperary. Photo: Dr Catherine Swift.
Ireland's first February Bank Holiday will be held on Monday (6 February) and is held to coincide with the feast day of St Brigid. But who was St Brigid? Dr Catherine Swift, Lecturer in History and Medieval Irish Studies at MIC explains more..
St Brigit (her old Irish name) is by far the most famous woman known from pre-Norman Ireland and a very large number of people have written about her in almost every century from the seventh to the twenty-first. Different authors, of course, emphasise different things with the result that it can be hard to say definitely what she was like as a person but there are a few overriding characteristics which are emphasised frequently. The most frequent of all, of course, are the stories emphasised in Ireland's education system about St Brigit's cross and her magic cloak but precisely because they are so well-known, I thought I'd concentrate here on the many others which get less emphasis.
A personal favourite are all the tales (and there are many) about Brigit as a young girl: sleeping peacefully in the home of her foster-father while he was out gazing at the stars; worried about the woman who looked after her and looking after her when she was ill; helping her mother make butter and getting into trouble for giving food away to the hungry, including stray dogs. There aren't that many stories about children from the middle ages and I like to think that the emphasis on Brigit as a young girl is reflective of the early days of an Irish spring. The season changes gently in our part of the world and by the beginning of February, the days are lighter by an hour, the snowdrops are appearing and while there can still be cold and windy days for some time to come, there is still a sense that the worst of the winter is past and summer is on its way.
Another element in the stories about Brigit is how she lived her life on the edge of different worlds. Her mother was a slave, her father a king. She was born literally on the threshold; her mother, giving birth on the doorstop as she brought in milk and the baby being washed in the liquid from the fallen pail. A druid foretold her birth but she was brought up as a Christian; one version links her upbringing to the area around Abington in east Limerick although others stress Connacht connections and still others a birth in Louth and a father's family in the Liffey valley and the Curragh. She lived in the era of St Patrick when Christianity was only being established in Ireland. Again, this depiction is very well suited to a saint whose feast day symbolises the end of winter and the beginning of the new agricultural year.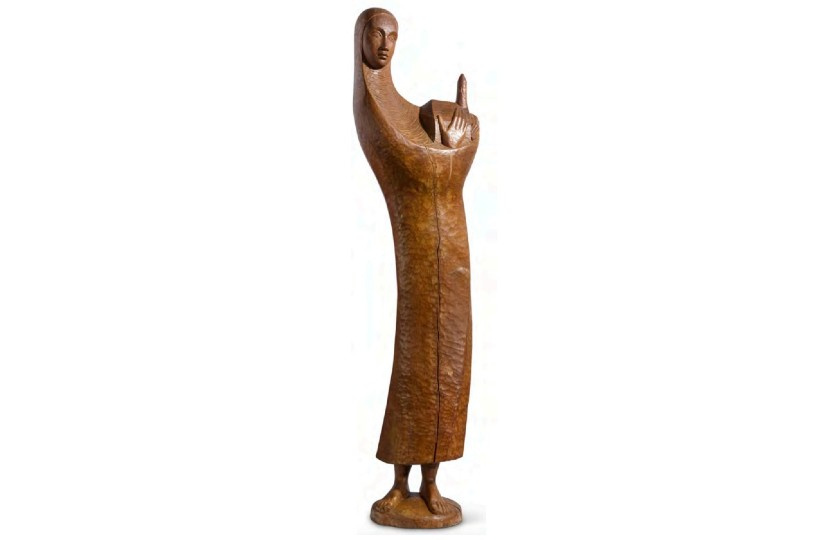 In recent years, there has been a lot of emphasis on Brigit as a pagan goddess and a powerful figure of pre-Christian authority. Such ideas are first referenced in a dictionary drawn up by a tenth-century bishop of Cashel, when she was said to be a daughter of the Dagda who was worshipped by Irish poets as the incarnation of wisdom; she also had two sisters, also called Brigit, who represented healing and bronze-working. In the Middle Ages, this was not an image of the saint which was cultivated so the references are brief and tantalising. For many, this adds to the attractiveness of the idea as it allows people to fill in the gaps as they feel best.
There are rather more stories which links Brigit to authority in the kingdom of Leinster and in the Church. Her most famous foundation was at Kildare which was the seat of kings in the eighth and ninth centuries and also the centre of an important bishopric and a group of monastic brothers. Our earliest life of the saint says she ruled over the entire establishment "in happy harmony" with the bishop while poems written in Irish talk of her overseeing the feasting halls and the armies of Leinster and bringing military victory to her followers. One of the most startling of these stories dates from the setting up of Irish dioceses at the Synod of Kells in 1152 when a foreign diplomat, in attendance on the papal party, describes how horrified they were when they saw bishops sitting at the feet of Brigit's successor as abbess of Kildare. Such a story helps explain why many of the twelfth century kings fought to instal members of their own immediate family as abbesses.
In all the stories about Brigit, however, the most important and by far the most dominant characteristic is her generosity and, in particular, her generosity with food. In many ways, this sums up all the features discussed above; in Irish tradition, Brigit is the housewife. It is she who makes sure that others get to eat; it is she who provides the warmth and the security that comes with a full belly, a roof over one's head and friends to share one's life with. It is not surprising that she is said to have had a vision of heaven as a great ale feast. At the time of this new holiday, on the edge of the new spring, it seems a lovely vision to inspire us going forward as a country and a state.
Dr Catherine Swift is a lecturer in History and Medieval Irish Studies at Mary Immaculate College. You can find out more about her by clicking here.