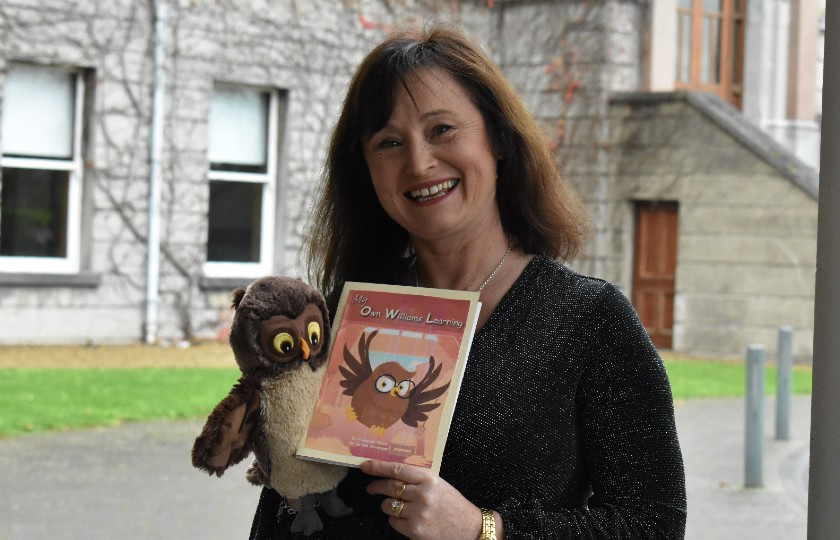 A new set of educational guidelines for learners with Williams syndrome (WS), a rare genetic condition that occurs randomly and affects roughly one in 20,000 people, has been developed by MIC academic Dr Fionnuala Tynan.
My Own Williams Learning, co-written by Dr Fionnuala Tynan and Dr Jo Van Herwegen (University College London), is the product of a collaboration with learners with Williams syndrome and is supported and funded by the Williams Syndrome Foundation, based in the UK. The book is based on research from focus-group discussions and interviews with learners with WS aged 5 to 16 years, whose stories formed the basis for the educational guidelines.
The book is designed to support learners with WS to understand their condition and how it affects their learning. The strength-based approach encourages learners to participate in the various activities to acknowledge and document their unique learning profile and be proactive in celebrating their learning strengths and working on their learning challenges.
The book's co-author, Dr Fionnuala Tynan lectures in the area of inclusive methodology in MIC and has published previously on the subject of WS. She has a brother with WS and is passionate about the inclusion of individuals with WS in all aspects of life. Explaining the genesis of the book, Dr Tynan says it was clear there was a gap in the educational provision for those with WS: "The idea came about after work that Dr Jo Van Herwegen and I conducted with Hyelin Kye to develop educational guidelines to support parents and educational personnel working with children with Williams syndrome. It was clear the missing link was having educational guidelines for the learners themselves."
In the guidelines outlined in the book, learners meet Dr Owl, who knows many things about Williams syndrome and can explain difficult words which children may hear about their learning. They are also introduced to two new friends with WS; Joe and Josie. Dr Owl introduces different 'chapters' about how children with WS learn, including chapters about physical, sensory, behavioural and academic learning. The reader is presented with the WOWs (Wonders of Williams) or the strengths often associated with this type of learning in WS and also with the POWs (Problems of Williams) or the difficulties often experienced by children with WS. The learner has the opportunity to make their own list of WOWs and POWs for each chapter. They are also given ideas on how to support their learning and to set a learning target for themselves.
According to Dr Tynan: "This is one of the most exciting research projects in which I have been involved. It proves, once again, that children are worthy and valuable research collaborators. Children with Williams syndrome can, and have, explained what they need to be better learners. They have shared their learning stories and will now help generations of children to be better learners. As a researcher, there is nothing more rewarding than knowing your research has impact, that it makes a difference in the day-to-day lives of those you wish to support."
The resource has been circulated already and has been well received by those with WS and their families. Speaking ahead of the launch of My Own Williams Learning, one parent said: "My son really identified with Josie and Joe and the POWs and WOWs. I think he found it comforting, that it wasn't just him that experienced these problems and that these are things that all WS kids experience. He was motoring through the pages, reading ahead and ticking things that were problems for him. It was wonderful to see. It really is enabling him to take responsibility for his actions and seek help. It certainly is making him seem more confident and grown up about it all."
One of the children involved in the research process added: "I helped to write the booklet. I think it will help people with Williams syndrome and I think it's amazing!"
Dr Tynan and Dr Herwegen are both members of iREACH, an international group of researchers on WS, and are on the professional advisory panel of the Williams Syndrome Foundation in the UK. In addition to her work on inclusive education in MIC, Dr Tynan is a globally published author on WS and presents internationally on supporting learners with WS to audiences of parents and professionals. She also conducts workshops for individuals with WS and for siblings. She runs a summer school for children with WS in MIC where students volunteer as well as a summer camp for siblings. She has been involved in the BBC4 radio programme The Art of Happiness, as an expert on Williams syndrome and previously appeared on Ireland AM (Virgin Media) to highlight Williams Syndrome Awareness Day.
My Own Williams Learning was launched at a special event at MIC by the College's Director of Equality, Diversity, Inclusion and Interculturalism, Professor Lorraine McIlrath. The digital version and hard copies of the book can be found by clicking here.