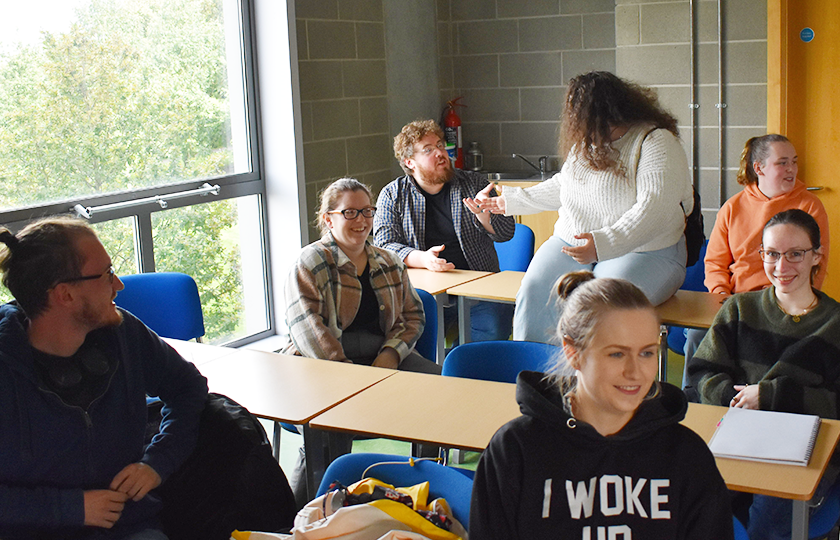 Mary Immaculate College (MIC) has joined forces with Technological University of the Shannon (TUS) to pioneer a new era of simulation learning in the area of Applied Social Science and Contemporary and Applied Theatre.
A first for Higher Education in Ireland, real life social care scenarios played out on the TUS Moylish Campus, Limerick, facilitated by second and fourth year Contemporary and Applied Theatre students from MIC during the first week of the 2023/24 academic year. TUS third year social care students from the Moylish, Thurles and Ennis campuses then interacted with the simulation in real time, introducing a new way of practical learning to the TUS Social Science Department and Third Level Education in Ireland.
This system of learning was introduced to TUS by Dr Melinda Gushwa, Head of Department Applied Social Sciences TUS with the support of MIC Drama and Theatre Head of Department Dr Michael Finneran.
In her previous position at Simmons School of Social Work in Boston, Dr Gushwa developed a robust simulation training and education programme and was keen to introduce it to TUS. This became possible through this collaboration with MIC and Dr Finneran.
Dr Gushwa explained: "There is a lot of research that indicates that students in social service professions who get a chance to work with actors that simulate real world case experiences and then also receive immediate feedback on their practice are more confident. They are also more aware of their strengths, they are more aware of soft edges of growth and this experience will allow our students to be more prepared when they go out into industry."
Drama and Theatre Studies Head of Department Dr Michael Finneran added: "Our programme is a BA in Contemporary and Applied Theatre studies, so we are looking at educating young people for the stage and beyond. Ireland is a small country, not many people earn a full time living as stage performers, so we are interested in having our students acquire skills that will bring them into community theatre, into youth arts, into street theatre and broadly-based facilitation skills, and so simulation work."
Divine Amadi, Third Year Social Care Student at TUS not only enjoyed the simulation work, but felt empowered by the experience. "I feel this experience will help me relate more to the service users when I'm out in the field. I feel the simulation work is also a great way to prep us for what we are going to experience in the field," he said.
Fourth Year BA in Contemporary and Applied Theatre student at MIC Zara O'Donnell said: "For me personally it was about being able to jump into a simulation, switch characters so easily and then being able to work with all of these students who are inevitability going to be doing this in their own field one day. It is a great experience to see what they go through every day and actually to get the experience to see how they react to our simulations and see how they portray what we have just been given on a piece of paper. It has been just fabulous."
The TUS Social Science and MIC Drama and Theatre Studies are eager to build on this success by engaging in future simulations and publishing and presenting on this unique collaboration.