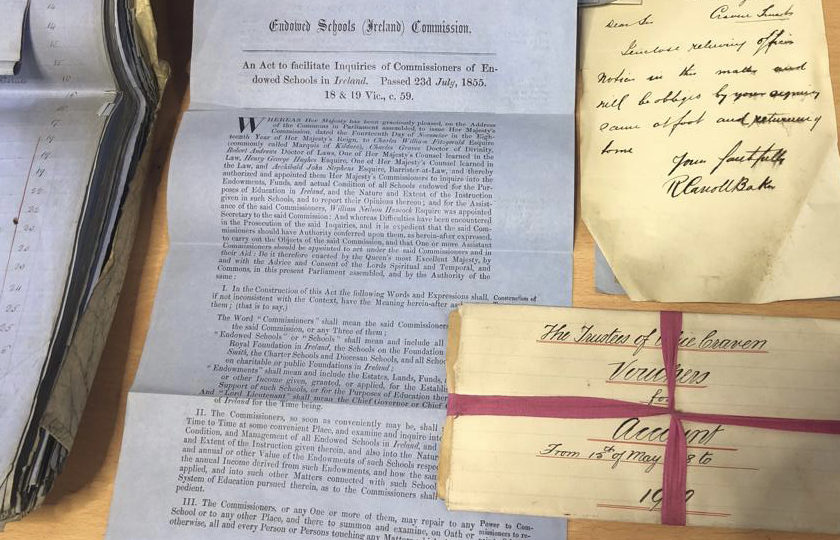 The discovery of a large archive of historical documents reaching as far back as the 1600s has been likened to 'winning the archive lottery' by MIC academics.
The archive was discovered in a skip outside a house in Limerick by Brendan Dennehy around 30 years ago but only 20%, or 28 boxes, could be saved due to the sheer volume of documents. Mr Dennehy approached MIC historian Dr Paul O'Brien recently after attending a tour on Limerick civic history given by Dr O'Brien.
The detailed archive contains important social history of Limerick and the wider region and Dr O'Brien says Brendan is to be credited with saving such an important collection: "He had a good sense and a good fortune to rescue the boxes from the skip and had he not rescued them, they almost certainly would have been lost. The collection consists of many different documents related to the running of landed estates including leases that detail the size of a holding, the rent to be paid each year and any other conditions relating to the property. In some cases, maps and sketches are attached to leases which help us to understand the scope of each property. Other records in the collection include rent rolls, lease books, correspondence, and some estate maps."
The collection was originally put together by a land agent and spans most of Munster although some documents relate to areas as far as Armagh. The archive also contains important records relating to farm tenants which fill gaps in census records lost in the Four Courts fire over a century ago. 
Dr O'Brien says the historic information will help to provide clarity on family trees hundreds of years old: "It's the nature of families marrying into families, you might have been matched off to someone in Cork and you could be from County Leitrim. Often tenants that have small holdings, their names aren't recorded anywhere, so we have hundreds of names of tenant farmers all across Munster. With these lists, generations of farmers can be traced."
Dr Helene Bradley Davies, Historical Geographer at MIC, described the find as "like winning the archive lottery in terms of the range of the material that was discovered."
Dr O'Brien and Dr Bradley Davies have commenced research on the archive and are encouraging anyone who suspects that they may have similar historical documents to check their attic and contact their county archivist for advice.