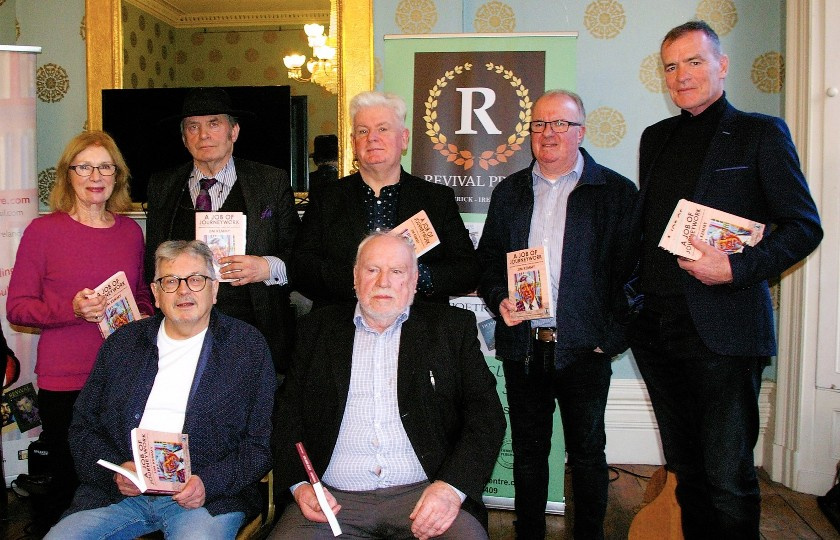 Pictured L-R, back row: Jan O'Sullivan, former Labour TD for Limerick; Tom Muldowney, Limerick Writers' Centre; Professor Eoin Devereaux, UL Sociology Lecturer; Dr Derek Mulcahy, MIC academic and co-editor; Mike Kemmy, nephew of Jim. L-R, front row: Dominic Taylor, co-editor and Joe Kemmy, brother of Jim.
The life and legacy of the late Limerick TD, Jim Kemmy, is explored in a new book titled A Job of Journeywork. It is published by the Limerick Writers' Centre and co-edited by Dr Derek Mulcahy, MIC Academic Learning Centre, and by Dominic Taylor, MIC Bachelor of Arts graduate (English & History, 2015).
The book spans Kemmy's writings, ranging from the 1960s to his passing in 1996, conveniently divided into the various decades. Throughout the pages of this anthology, Kemmy's transformative journey from a local activist to a nationally recognised and respected political luminary is illustrated.
Kemmy established monthly newspaper, The Limerick Socialist in 1972 and in 1979 launched The Old Limerick Journal, which focused on local history. Further publications included Limerick in Old Picture Postcards (1996), The Limerick Anthology (1996) and The Limerick Compendium (published posthumously in 1997).
Co-editor and historian Dr Derek Mulcahy emphasised Jim Kemmy's deep connection to Limerick, both in his political pursuits and literary endeavours, stating: "Jim's texts and voice expressed a concern and care for his fellow citizens. All his literary work was a labour of love that opened up the treasures of Limerick to all. His editorship of the Old Limerick Journal has inspired many in the study of the history of Limerick. This selected work expresses a human quality of honesty and integrity and as a politician a fair straight talking and open expression."
Elected as an Independent TD in 1981, Kemmy was notable for holding progressive views on family planning and his critical views of the 1981 hunger strikers. Kemmy collapsed the 22nd Dail when he voted against the Budget in October 1981, which proposed to put VAT on clothing and footwear, most notably including children's shoes. He founded the Democratic Socialist Party in 1982 and was returned to the Dáil in 1987 before merging with the Labour Party in 1990, of which he was a member when elected in the 1992 and 1997 general elections. During this time, Kemmy was twice elected as Mayor of Limerick (1991 and 1995) and served as both vice-chair and chairman of the Labour Party.
Jim Kemmy's writings serve as a captivating journey through the intricate tapestry of Irish politics and history. They provide a deep and resonant understanding of the challenges faced by a nascent nation, the influences of political ideologies, and the lasting impact of social movements. His words inspire readers to engage critically with the past, ultimately shaping a more just and inclusive future.
Furthermore, Kemmy's writings highlight the dynamic interplay between politics and history in Ireland, offering profound insights, meticulous research, and impassioned advocacy.