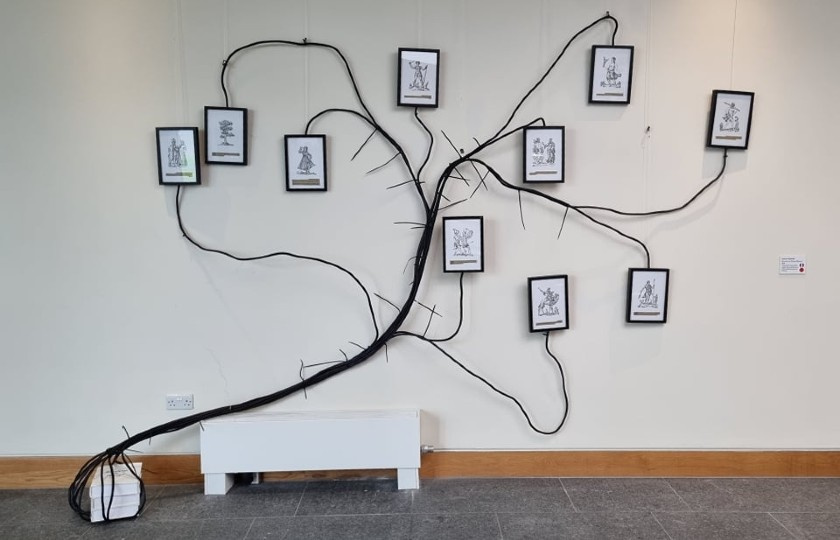 Photo: Description De L'afrique (Rhozome), 2020 - Mohssin Harraki. On display at MIC.
Mary Immaculate College is proud to host part of the Belonging exhibition, which was launched in Limerick today, 10 February, by the European Investment Bank (EIB). Belonging features 82 artworks by European artists, from all 27 countries of the EU, plus the UK, and is on loan from the EIB Art Collection. The exhibition is curated by the EIB and the Hunt Museum and will be displayed across eight locations, including MIC, in Limerick City until 24 April 2022.
Belonging is a pivot for the European Expo, a series of exhibitions, seminars, events, and celebrations over the course of 2022 that communicates national and European culture and cooperation in art and creativity, education, environment, and economics.
"We are delighted to debut this collection in Ireland, especially in the wonderful city of Limerick", EIB President Werner Hoyer said about the exhibition. "The EIB's Art Collection is a quintessentially European body of work offering a wide spectrum of artistic creation. Its focus reflects the EIB's role at the forefront of promoting economic and social development in Europe and naturally interacts with the evolving scope of the bank's activities, particularly its geographic expansion in line with that of the EU."
Mayor of the City and County of Limerick, Cllr Daniel Butler said: "Over the past two years, many of us have come to re-evaluate or question our lives, reaffirm what is best for us and many have chosen a new path. This exciting exhibition, which we in Limerick are honoured to be the first non-capital city to host, has the idea of 'Belonging' at its heart. Limerick is a city where everyone can belong. Limerick as a city is very much part of Europe. This prestigious exhibition will offer a very significant European profile to Limerick, truly demonstrating our European Embrace. I hope that Belonging will attract many visitors to see this fantastic exhibition and give people an opportunity to further explore the wonders of Limerick."
Welcoming the exhibition to MIC was Professor Eugene Wall, President of MIC, who said: "We are delighted to partner with the EIB and the Hunt Museum and are proud to be part of the Belonging exhibition. As we celebrate Belonging and the ethos underpinning it, we remember the place Limerick holds in Europe, and value greatly what we have gained from our membership of it."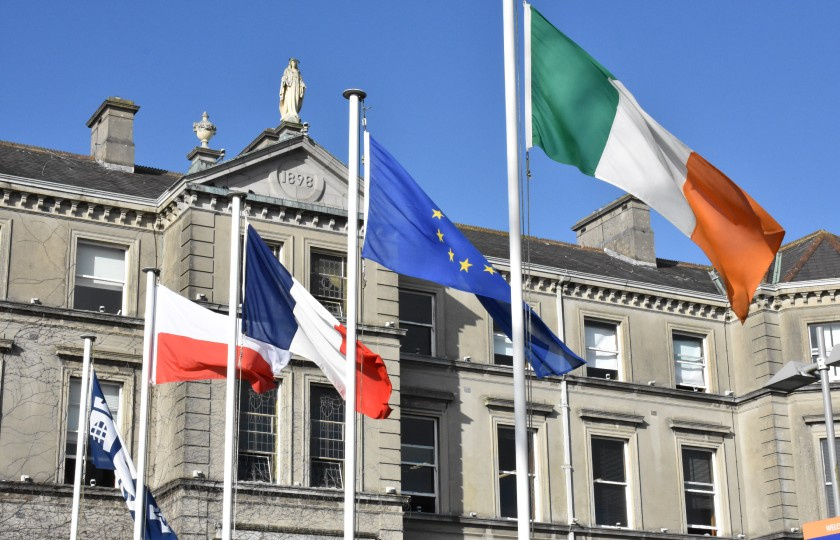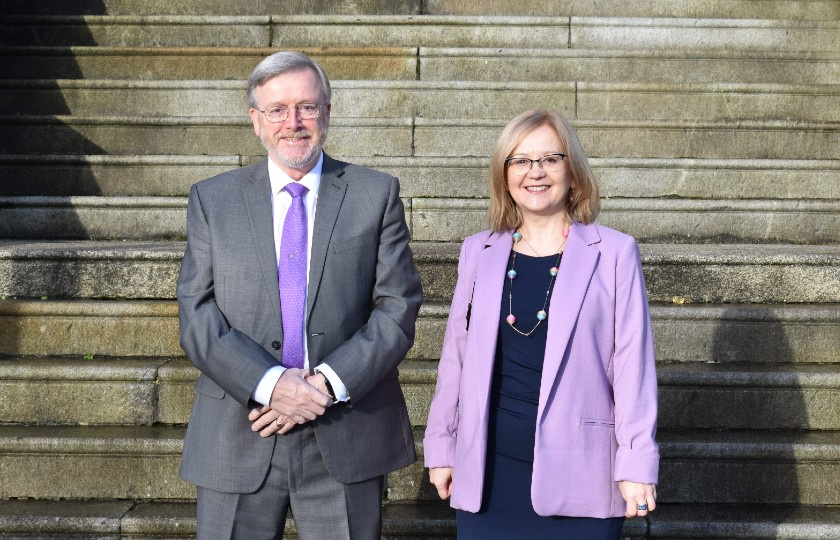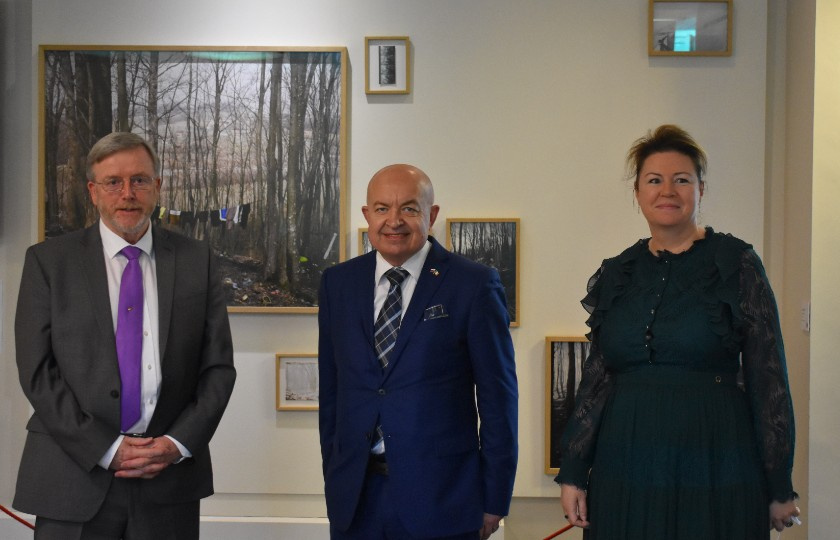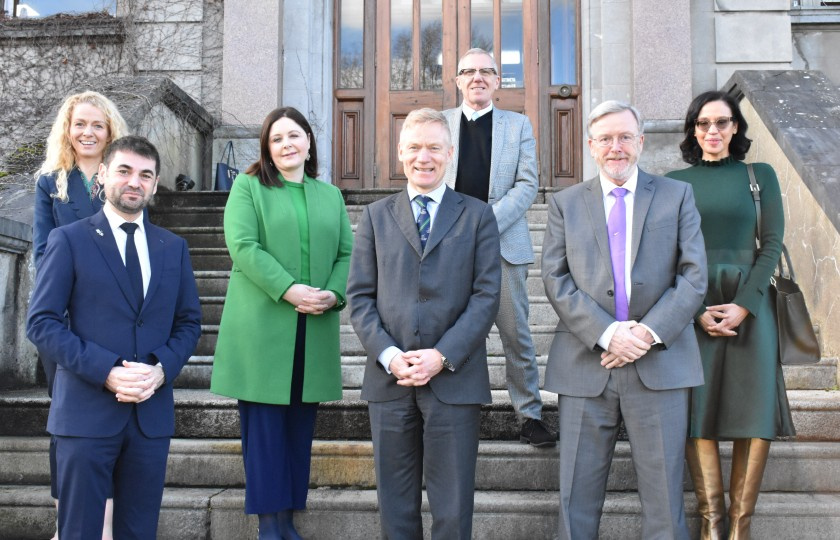 Jill Cousins, CEO and Director of The Hunt Museum and producer of the exhibition: "The meaning and purpose of the European Union remain remote for most people. It is perceived by many to be a bureaucratic and interfering entity. Brexit and the shift to nationalism away from a union of Europe all continue to colour views on any of the benefits of belonging to the Union. This exhibition demonstrates through Art the importance of belonging, belonging to our parish, our country, and the European Union. It shows the similarities of our struggles and challenges. We are very grateful to the EIB for the loan of this incredible collection to Limerick and thank all the seven partner venues across Limerick City for their huge efforts and collaboration to make it happen."
MIC has six artworks on display in the main reception of the Limerick campus. These are Description De L'afrique (Rhizome) (2020), by Mohssin Harraki; Nations: Ogé's Uprising, 1790 (2020) by Kapwani Kiwanga; Triologies: Louvre 1 (2021) by Joana Hadjithomas & Khalil Joreige; Disruptions (2015-2017) by Taysir Batniji; Keine Chance… (2021) by Jošt Franko; Circle (2021) by Abdul Rahman Katanani.
The exhibition is curated by Delphine Munro, Head of Arts & Culture at the EIB Institute, managing all Arts and Culture activities for the EIB Group. The exhibition is supported by Limerick City and County Council, the Dept of Culture, the University of Limerick, Technology University of the Shannon: Midlands Midwest, Shannon Foynes Port Authority and embassies of EU Member States. It is hosted by the Hunt Museum, Limerick City Gallery of Art, Mary Immaculate College, Sailors Home, People's Museum, St Mary's Cathedral, and the University of Limerick's Plassey House, Bourn Vincent Gallery and East Room. Renowned European artists such as; Paula Rego, Sean Scully, Isobel Nolan, Tony Cragg, Anish Kapoor, and Jannis Kounellis will feature. Also, artists of note with a strong European connection such as Andy Warhol and Marlene Dumas will be included in the exhibit, along with artists from the UK such as Fiona Rae and Callum Innes.
Admission is free for all. The artworks on display at MIC can be viewed Monday to Friday from 9am to 5pm. For more information and full event listings, please visit https://www.huntmuseum.com.