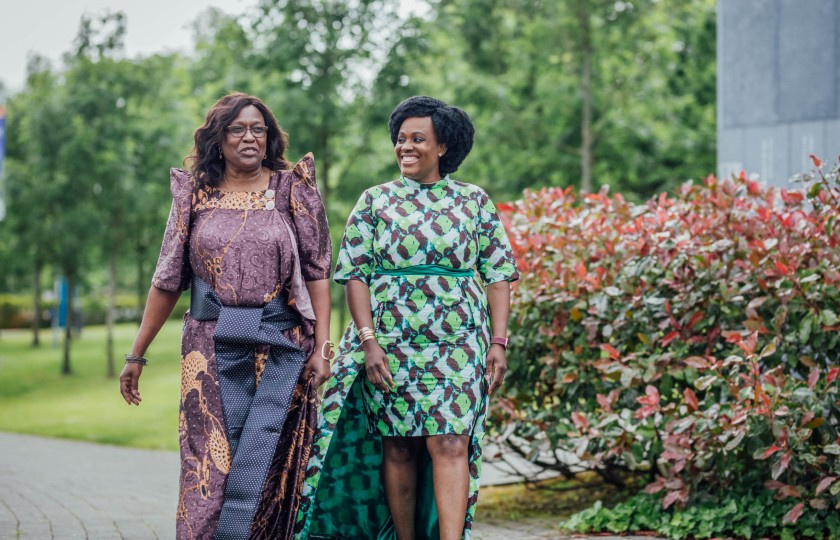 'The Way We Left' was the theme of a special Africa Day event held at Mary Immaculate College (MIC) recently. Organised to coincide with wider international celebrations, the event was unique locally as it focused on an academic exploration of Africa, its culture, and the experiences of those who have arrived in Ireland from Africa.
Africa Day is observed annually in Africa and around the world in late May to commemorate the formation of the African Union and the unity of the continent. Since 2006 in Ireland, the day has witnessed exponential growth in the celebration of Africa's culture, now seeing flagship events nationwide. The event at MIC was organised by PhD student in Applied, Lylian Fotabong; PhD student in Early Childhood Care & Education, Florence Ajala and Social Worker, Linda Kirwasa, in association with MIC's International Office, and MIC's Equality, Diversity, Inclusion and Interculturalism Office.
The central theme of 'The Way We Left' was reflected in Linda Kirwisa's keynote speech which explored the decisions taken by those to leave their home countries, the journeys they subsequently undertake and the experiences that unfold when they reach their destination. The resulting realisation of reality, the differences in culture of the local population and the survivor's guilt at having left loved ones behind was further explored.
Princess Odunola Adepeju Adeyemi of the Yoruba ethnic group in Nigeria was in attendance to discuss 'What's in an African name' and emphasised awareness of the significance and proper pronunciation of African names. Speaking after the event, Princess Adepeju said: "I was proud to share some of the values that I learned from being within the royal palace, the same values that I brought with me to Ireland from Nigeria. I also explained the meaning of my names and why it is important to me and many Africans that, as we try to learn to pronounce Irish and other non-African names, that we expect reciprocity – others needs to try to pronounce African names too. Our names are the identities we bring with us from Africa and mispronouncing names can mean different things."
Florence Ajala, PhD in Early Childhood Care & Education student, comparatively discussed child rearing in Nigeria in Ireland. The topic reflects Florence's PhD research, "The Lived Experiences of Nigerian Mothers and their engagement with their children's ECCE scheme" and aims to explore how stakeholders could support immigrant parents in raising their children in Ireland. Finally, a round-table discussion recognised the mixed perceptions of Africans and gave participants the chance to be the 'Third Voice', to listen to concerns shared by both sides and to make recommendations for a more equitable society.
Among the invited speakers at MIC's Africa Day was John Lannon, CEO of Doras, an independent non-profit organisation working to support and promote the rights of refugees, asylum seekers and migrants in Ireland. Speaking to the theme of identity and belonging, John said: "I can't speak about what it's like to be a migrant in Ireland but I know we've still got a long way to go before we afford everyone the same dignity and respect. We're getting better, but there's still a lot of work for us to do. We need to see government leading the way. Our Migrant Integration Strategy is two years out of date. We can't provide interpreters for basic visits to hospital for people who don't speak English. And we're still waiting for a new National Action Plan Against Racism. But, on a positive note, people can now be proudly Irish and proudly African in Ireland - at the same time. In the 2016 Census, just short of 40,000 people identified as Black or Black Irish with an African background, and there are many more who also identified as Black. Identity is important for all of us. Even if we don't all define our identity in the same way."
Reflecting on MIC's Africa Day was Lylian Fotabong who said: "I am thrilled that the College believed in our vision for Africa Day 2022. This was to allow Africans to lead conversations about Africa and issues that impact Africans because, although we are first-hand witnesses of our experiences, our narratives are often trivialised or misunderstood or portrayed in the prism of others. So, this conference, while offering us the opportunity to academically present how some Africans flee wars in their home countries and their experiences thereon, it created a distinctive occasion to use round table discussions to understand public's discourses on Africa. This is what the conference called the Third Voice and we hope that the recommendations will enlighten us in our continuous quest for total inclusion and integration."
Following the successful inaugural holding of Africa Day celebrations at MIC, plans are already being made to make this an annual event.