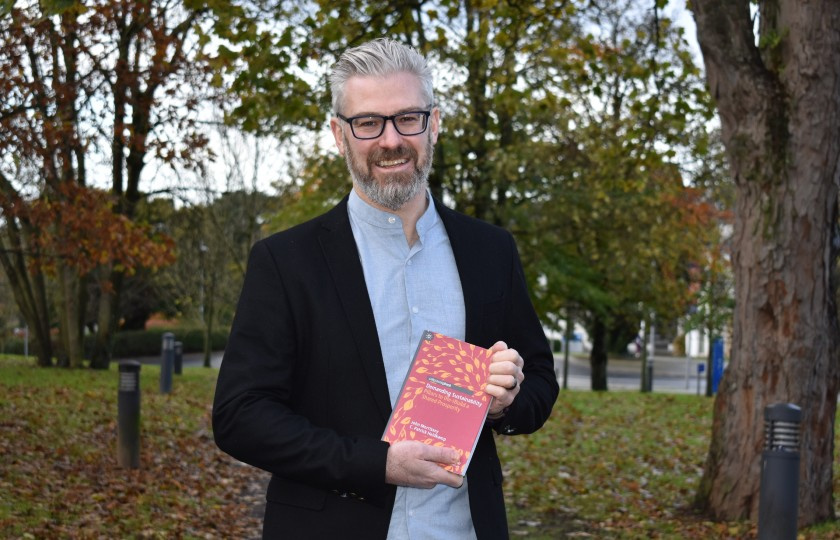 A new book by Mary Immaculate College (MIC) Geography lecturer Dr John Morrissey outlines how the post-Covid global landscape provides an opportunity to re-shape social and economic policies to move towards a more just and sustainable society.
Demanding Sustainability: Pillars to (Re)Build a Shared Prosperity forwards a series of principles on which economic and development policy can be radically reimagined to deliver a more sustainable and prosperous future. The book is co-written by Dr John Morrissey (MIC) and Dr C. Patrick Heidkamp (Southern Connecticut State University, USA).
In the book Dr Morrissey and Dr Heidkamp argue that since 2020, the precarity of the global economy, links between ecological destruction and public health, and disparities in levels of exposure and vulnerability to systemic disruption, have all been thrown into stark relief. The book provides a framework through which policymakers, decision-makers, politicians, community groups and the corporate sphere might begin to consider, map out, and plan for just transitions in their domains.
The authors offer five 'pillars' through which to re-build a shared prosperity; ecological prosperity, a decarbonised economy, a shared (cost) burden, a transformative social sustainability, and a just resilience. These pillars are informed by principles of distributive and procedural justice, recognising the importance and advantages of real community engagement and empowerment and giving due respect to the ecological carrying capacity of the planet.
According to Dr John Morrissey: "This book supports UN Secretary General António Guterres' call to 'demand' sustainability and urgent climate action. We show how the sustainability transformation can be achieved by forwarding key principles for a 'shared sustainable prosperity'. The urgency of the moment could not be greater. Foremost in our motivation is the well-being of our own children, of younger generations and of generations to come."
Dr Morrissey is a Lecturer in MIC's Department of Geography at Mary Immaculate College, Ireland. John's research is focused on sustainable development, particularly sustainability transitions, low-carbon development and challenges of the low carbon economy for urban and coastal communities. His work is focused on the differentiation of transition processes across space, place and communities. He has taught and researched on sustainability issues in Ireland, The UK, Australia and New Zealand.
You can find out more about Demanding Sustainability and order your copy here.