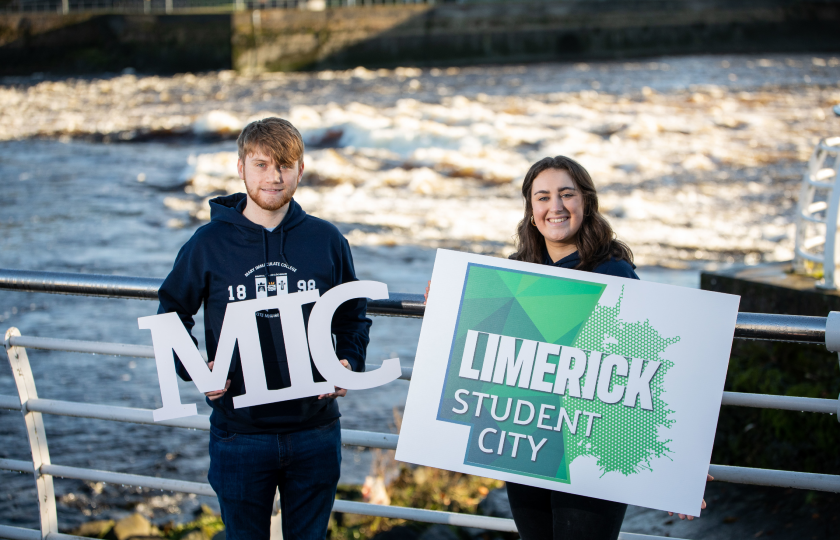 A new multi-faceted campaign has been launched showcasing how Limerick can give students the edge when it comes to college and degree choice, lifestyle and future opportunities as they embrace student life.
Limerick Student City is a collaboration between Limerick City and County Council, Mary Immaculate College (MIC), University of Limerick and Technological University of the Shannon that creates awareness of Limerick as a leading university city.
The campaign positions Limerick as a top choice for higher and further education study, offering a complete experience and the only location outside of Dublin that can boast three university-level educational institutes.
A coordinated release of the campaign by Limerick City and County Council and the institutions is underway and will complement the institutions own marketing campaigns. This particular campaign is to be used as a promotional asset in the run up to the expected January College Open Days and ahead of CAO Application Deadline Day of 01 February 2022 to ensure that Limerick is in the minds of potential students and also their parents and guidance counsellors.
The concept is that there is 'No Place Like Limerick' to be a student. Limerick city is a vibrant, welcoming, fun and fast paced city where everyone, whether an undergraduate, mature, postgraduate or international student, can gain the most from their college experience and have world class opportunities for employment afterwards.
The video features students from all three institutions as well as College of Further Education and Training, Mulgrave Street and Griffith College Limerick as they move from their respective campuses through the city and finally meeting each other on a night out. The video features the music of local band, Bleeding Heart Pigeons, and the visual style is energetic and features vox pops from students reinforcing the message: 'No Place Like Limerick'.
Limerick Student City leverages the qualities and narrative of the Limerick: Atlantic Edge, European Embrace brand to encapsulate the benefits of living and studying in Limerick, so they can be promoted on a national and international basis by the third level sector to attract more students.
Denis Tierney, Head of Marketing & Communications with Limerick City and County Council said: "Limerick Student City is about placing Limerick at the top of people's minds when it comes to choosing a place to go to college. The campaign embraces all aspects of student life, on and off campus, showcasing Limerick as the best place to go."
"There is more to student life than just attending lectures, the availability of affordable accommodation, job prospects, and quality of life, and Limerick ranks highly for all of these."
"But there is more to a young person just deciding to come to Limerick. Their parents/ guardians are involved in the decision, their school's guidance counsellor needs to know what Limerick's higher education institutes offer, and we need to promote this. That is why our campaign speaks to many different audiences at the same time."
Róisín Burke, President of MISU, MIC's Students' Union said: "Studying in Limerick has been a fantastic experience for me. There aren't many places where you can take in vibrant urban art on a morning walk, stop for lunch by a famous stone and finish the day off with a show or cheering on our home teams. Limerick has so much to choose from; art, culture, history, sport, it's all here, and the exciting community that you will meet in Limerick will make these experiences last a lifetime."
Cillian O'Donohue, UL SU President said: "The combination of UL's campus with the vibrancy of Limerick city ensures our students get the best of both worlds. From nature walks to world class sports facilities in UL, to sporting Limerick's Thomond Park and the TUS Gaelic Grounds, the music, the art and welcoming community of the city, makes this a great place to call home. The city is growing and so are the opportunities for employment with many students staying in Limerick after graduation. The possibilities are endless!"
Cormac Dillon, TUS Student Union Deputy President for the Midwest said: "Opportunity and community are the core values I have experienced while living and studying in my home county of Limerick. There are many opportunities to engage with a diverse range of people, be it at Limerick's Milk Market on a Saturday morning, in one of our craft beer breweries or at an exhibition offered at any of our many cultural institutions, including LSAD. Limerick has the ability to open your eyes to all of life's possibilities in a youthful environment with a diverse range of thinking."
Limerick City and County Council has worked in partnership with the tertiary education sector locally in creating this campaign. It will be used in conjunction with the institution's-own campaigns to showcase Limerick.
It's hoped that as many individuals and companies, as possible will get behind the campaign by sharing and liking the video and other assets, which will feature across key social media platforms throughout January.
The message is clear – there's No Place Like Limerick!
For more information check out Limerick.ie/study.