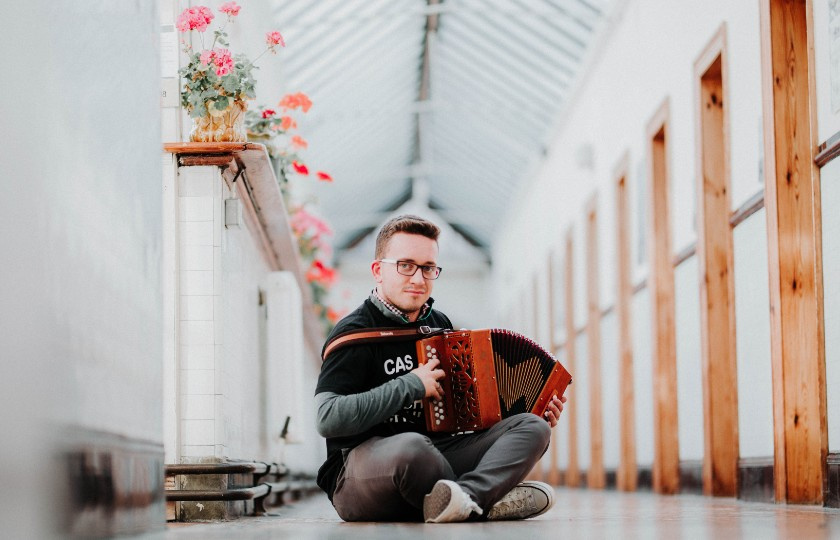 Ceiliúradh na n-Ealaíona Dúchasacha i gCMgS
Tá traidisiún láidir sna healaíona dúchasacha ag CMgS ó am a bhunaithe sa mbliain 1898, le go leor leor ceoltóirí agus amhránaithe traidisiúnta mar Alumni an Choláiste. Ar an gCéadaoin 9 Márta, tá áthas orainn, don chéad uair, ceiliúradh a dhéanamh ar an traidisiún seo ar stáitse Amharclann Chrann Teile. Cuirfidh grúpa de mhic léinn reatha agus iar-mhic léinn, chomh maith le baill foirne, faoi stiúir ár Stiúrthóir Ceoil don oíche, an Dr Geraldine Cotter, oíche iontach airneáin ós ár gcomhair.
I measc na n-ealaíontóirí a bheidh linn ar an oíche beidh mic léinn reatha agus baill de Chumann Ceoil Traidisiúnta CMgS, mar aon le baill de ghrúpa ceoil a sheinn ar chlár 'Céilí House' i Márta 2020. Bhí Ashling Murphy nach maireann, fidléir thar a bheith cumasach, sa ghrúpa úd, mar aon le Colm Broderick, buaiteoir Bhonn Óir Sheáin Uí Riada 2021, Danielle Ní Chéilleachair & Maebh Ní Dhuinnín ó Mhúscraí, amhránaithe ar an sean-nós agus Desi Wilkinson, fliúiteadóir mór le rá agus Ealaíontóir Cónaithe sa Cheol Traidisiúnta i gCMgS 2018-2021 .
In éineacht ar an stáitse leis na mic léinn chomh maith, beidh an Dr Máire Ní Chaoimh, fidléir as Co Chiarraí agus léachtóir in Oideachas an Cheoil i gCMgS agus an Dr Fiodhna Gardiner-Hyland, iníon an cheoltóra cháiliúil Bobby Gardiner, a sheinnean an fheadóg íseal, agus a mhúineann ar chlár an B.Oid.
Is í an Dr. Geraldine Cotter Stiúrthóir Ceoil na hoíche - is léachtóir í Geraldine in Oideachas an Cheoil sa Choláiste. Bronnadh dámhachtain iomráiteach MÓRglór uirthi sa mbliain 2017 mar aitheantas don méid atá déanta aici ar son an cheoil thraidisiúnta i gContae an Chláir, a háit dúchais. Anuas ar sin deineadh ceiliúradh ar a haistear ceoil, mar aon le haistear a deartháir Eamonn, sa chlár 'Sé Mo Laoch' ar TG4.
Is í Siobhán Ní Mhurchú gurab as Béal Átha an Ghaorthaidh ó dhúchas di, a bheidh ar reachtaire don oíche iontach seo. Is amhránaí & ball den ngrúpa traidisiúnta 'Lóchrann' í Siobhán agus léachtóir le Múineadh na Gaeilge sa Choláiste.
Bí cinnte go bhfuil Lóchrann an Choláiste sábháilte ina sheilbh agus gur oíche den scoth a bheidh ann.
Tá ticéid do Gheantraí an Earraigh (€10; €5 do mhic léinn) ar fáil anois/ 061 953 400.
Celebrating Irish Traditional Music during Seachtain na Gaeilge at MIC
Mary Immaculate College (MIC) has a strong tradition in the native arts since 1898, boasting an impressive roll-call of traditional musicians & singers as Alumni. Next Wednesday, 9 March, for the first time, they come together for a celebration of this tradition on the Lime Tree Theatre stage.
A host of present and past students, along with members of staff, led by Musical Director for the evening, Dr Geraldine Cotter, will entertain audience members on a memorable evening of music, song and dance. 
Performers on the night will include current students and members of the MIC Traditional Music Society and members of the MIC Céilí House band in March 2020, which included the late Ashling Murphy, an incredibly talented fiddle player; Colm Broderick, winner of Bonn Óir Sheáin Uí Riada in May 2021 (Colm has also been given the honour by Na Piobairí Uilleann of taking possession of a set of uilleann pipes which belonged to the late Liam O'Flynn, who has been widely acknowledged as Ireland's foremost exponent of the uilleann pipes), Danielle Ní Chéilleachair & Maebh Ní Dhuinnín from Múscraí, two multi-award winning Sean-nós singers and Desi Wilkinson, a renowned concert flute player and MIC Irish Traditional Musician Artist-in-Residence 2018-2021.
Our students will be joined stage by Dr Máire Ní Chaoimh, a fiddle player from Co. Kerry and lecturer in Music Education in MIC and Dr Fiodhna Gardiner-Hyland, a low whistle player from Co. Tipperary and daughter of the famed musician Bobby Gardiner, who teaches on the B.Ed programme in MIC.
Dr. Geraldine Cotter, the Musical Director of the evening, is a tin whistle and piano player, composer, arranger, teacher and researcher, who currently lectures in Music Education at MIC. Her many achievements include being the recipient, in 2017, of the prestigious MÓRglór Award for outstanding contribution to traditional music in her native County Clare and in 2020 her musical journey, along with that of her brother Eamonn, was celebrated in the TG4 documentary, Sé Mo Laoch. 
The host for this memorable night is Siobhán Ní Mhurchú, from Béal Átha an Ghaorthaidh, singer & member of MIC Traditional Music band 'Lóchrann', and a lecturer in Múineadh na Gaeilge in MIC.
Is cinnte go bhfuil Lóchrann an Choláiste sábháilte ina seilbh agus gur oíche den scoth a bheidh ann.
Geantraí an Earraigh takes place on Wednesday 9 March in the Lime Tree Theatre. Tickets cost €10, €5 for a student. Click here for more information.