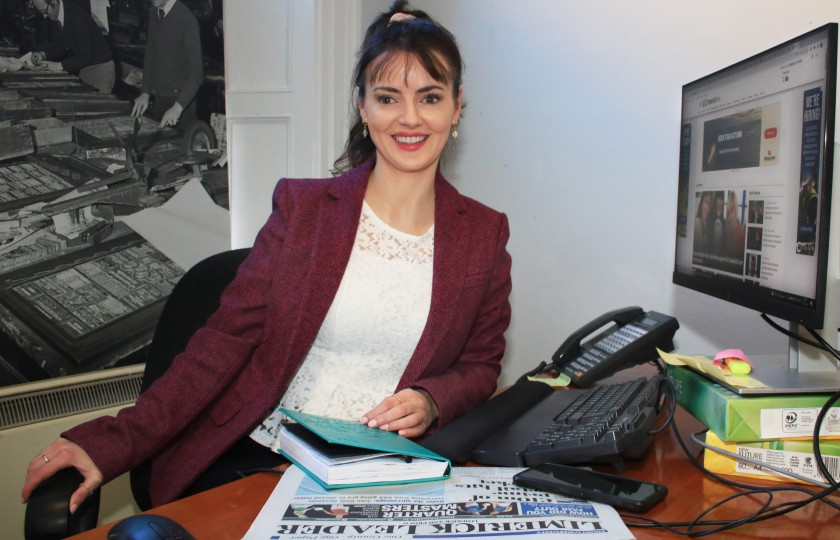 Áine Fitzgerald has recently been appointed as the Managing Editor of the Limerick Leader newspaper – the first female Managing Editor in the newspaper's 133-year history. With Áine's new appointment comes membership of a group of a relatively low number of females who have reached the top seat in Irish local, regional and national newspapers.
For Áine, the unique honour she has earned is not lost on her.
"This is a huge honour, a huge privilege and a huge responsibility," Áine says, speaking after her appointment. "I'm very conscious that I'm the first female editor of the Limerick Leader. I'd be thrilled even if there were other female editors before me, but being the first just adds something extra special to it."
Áine takes up the position of Managing Editor after a six-year spell as the paper's News Editor. She has worked for the well-respected publication since 2006 officially, but had earlier completed a six-month placement in the Leader while studying on MIC's Bachelor of Arts programme, which she graduated from with a joint degree in Media & Communications Studies and Irish in 2005.
It was during her time at MIC that Áine's mind was made up: journalism, not teaching, was the path she was going to follow. She recalls: "I did my six-month placement in the Limerick Leader during my third-year off-campus placement and followed it up with six months in my local primary school in Kilmallock. At the time I was probably veering towards a teaching career but going into a teaching placement after doing the stint in the Limerick Leader, I just knew that I preferred the buzz of journalism and I knew that's where my heart was. I'll be forever grateful to MIC for having that year of placement!"
While she may have been uncertain as to which path to follow after her education, Áine was never one to shirk hard work. In fact, she says that her motto in life has been to "work hard": "Nothing has been handed to me in life and I'm a great believer in hard work and working your way up. I always say that I'm by no means a genius but I worked hard in school, worked hard in college and I work hard now. I think hard work pays off. I think you also need endurance, determination and to be able to take the good with the bad because in any walk of life, in any career, there's bad days. It's not all glitz and glam, there's tough days, long hours, lots of mistakes and you have to be able to pick yourself back up from that. That's what I've done and I think it's paid off.
"When I started out, I would have been quite a shy person. I've worked under three editors at this stage and they'd probably say that I was quiet and I was very much an observer, but underneath I think I had a lot of resilience. Perhaps one of my biggest compliments was from the former Leader Editor, Alan English. When I got the News Editor job in 2016, he told me I had a rod of steel down my back, in a complimentary way. I really appreciated that because it is tough. There are days when you get knocked back."
A major study by Irish media expert, Professor Kevin Rafter, into Irish journalists in 2016 – the same year Áine was appointed News Editor – suggested that men outnumbered women almost 2:1 in the profession. That number represents the gender breakdown across every role at every level in Irish media but Áine admits that a lot of sacrifices need to be made to get to the higher echelons: "I'm not married and I don't have kids. If I did, would I be in this position? To be honest, I don't know, because there are an awful amount of long hours required and I think that's something that does need to be looked at down the line, in terms of women who want to progress in media careers, or any career, when it comes to the work/life balance. I'm fortunate that I have the time to give to it; I do love it and I get a buzz from it, but all other aspects of my life do take a hit because you do have to devote so much time to it. In terms of gender balance, I think if you look around the country and still the role of editor in newspapers is dominated by men, both regionally and nationally, and that's something I'd like to see change."
Áine says that the shift in the methods of working brought about by the COVID pandemic may be a positive going forward.
"I do think that being able to work from home has helped a lot of reporters, so if it helps with people's work/life balance to work from home a little bit, so be it." 
The remote working aspect of COVID was one adaption to the working practices of the paper but Áine says the last number of years have seen many other changes for print journalism. Looking to the future, she says: "It's not easy out there and we've had to adapt very fast to a lot of different things. Obviously, the big one is online and social media. I think we're doing a good job. I don't want to blow our trumpet too much because there's always room for improvement but I do think Iconic [the Limerick Leader's parent company] moved very fast in terms of seeing the opportunity online and the Limerick Leader has huge viewership and a huge readership online every week, massive for a regional paper. As I said I really think that stood to us compared to some other papers who may have held on to just that old outlook in terms of the print project.
"It's a tough task to juggle both the print with the online and it's very fast-paced. I always say that the online is like an animal who needs to be constantly fed. There's an audience constantly hungry for news and we try to keep that updated. In particular, when we have students coming in to us – like I did – they'd usually have only been working on the print product years ago whereas now the online is there. Every day, they have to write for online while also balancing a news list for the print product as well and it's tough but they're getting great experience and they eventually thrive and love it. Unfortunately, the younger generation, no matter how much we'd love them to, just aren't buying papers. The older generation still are and we have to provide good quality news for them in the print product while at the same time giving those who are online a constant flow of news and good journalism, which they've come to expect from us."
"You have to keep adapting. There's no point burying your head in the sand and hoping the digital age is going to go away! It's not going anywhere, it's just going to get bigger and bigger and we have to move with it and embrace it. And it's fun, it's different and I'm learning every day on the job. The younger generation are teaching me! I teach them the old tricks of the trade and they teach me newer tricks and that's the exciting thing about journalism: it's challenging but you're doing a different job nearly every day. It's up to us, and the younger generation coming behind us, to move with the times, embrace changes, upskill as much as we can and learn as much as we can about online and about the different mediums to get their news out there because while the papers aren't selling as much as they were 15 or 20 years ago, our audiences are getting bigger and bigger because of online. There's a whole new massive audience that we'd never have reached that we're now reaching, which is a huge positive and it's something that we have to keep in mind all the time."
Outside of her role in the media, one of Áine's big passions is sport, particularly Gaelic Games. Dabbling in GAA as a child, she is now returning to the pitch as a coach with the U6 and U8 Camogie teams in her native Kilmallock. For Áine, playing sport at a younger age is crucial: "I can't say enough about the importance of sport for young people. There's so much going on for children, young people, teenagers and young men and women online, and there's huge pressure and fake reality to contend with. Sport is such a leveller. You're getting out there, in the fresh air, meeting real people, having the craic and having real conversations. Nobody is perfect in their GAA gear and you can just let loose a little bit, have fun, and it's a little bit of reality in a world where everything looks like perfection all the time. It's a tough world out there and there's a lot of mental health issues and so for children coming up I think that it's important to get that resilience as early as they can and sport is just great for that, across the board. I can see it in my U6s and U8s, the development in their personalities and it's just amazing to see their confidence, even coordination, improving week on week. I'd really recommend it. And I must mention, MIC is brilliant in terms of camogie, LGFA, hurling, football – and I know there are other sports as well, but they're the ones I was raised with."
Conversation turns to MIC and Áine's time studying Arts. For her, unsure of what she wanted to do in life, it was the ideal learning pot: "I know there's a stereotype that Arts is for people who don't know what they want to do, but for those in that situation that's fair enough, there's nothing wrong with that as a stepping stone. I was one of those people and it gave me the opportunity to decide, and as I said the off-campus was brilliant. I had a great four-years at MIC and made some great friends. What I loved about it was that it smaller and more communal [than other universities]. You got to know people a bit more, you found your way around easier and you always felt that staff had your back. I always felt there was great support there for me. It was just a good general sense of community and camaraderie and lovely students as well. I've friends for life that I'm still in contact with and we go on a yearly Christmas outing together and everything, so yeah, I had a great experience and I think MIC is a huge asset for Limerick."
And what advice does Áine have for those either studying or entering the workforce? She says it comes down once again to hard work and resilience: "I think in any job in today's world those are the two things you need. It does take long hours – and I'm not saying you have to make your job your life – but I do think if you want to get on you do need to make sacrifices. Will it be worth it? I suppose it depends on your personality and what you want in life. I know I put the hours in and have gotten roles that I'm really enjoying and for me it has been worth it. If you do want progress and want to break through glass ceilings, it does take work."