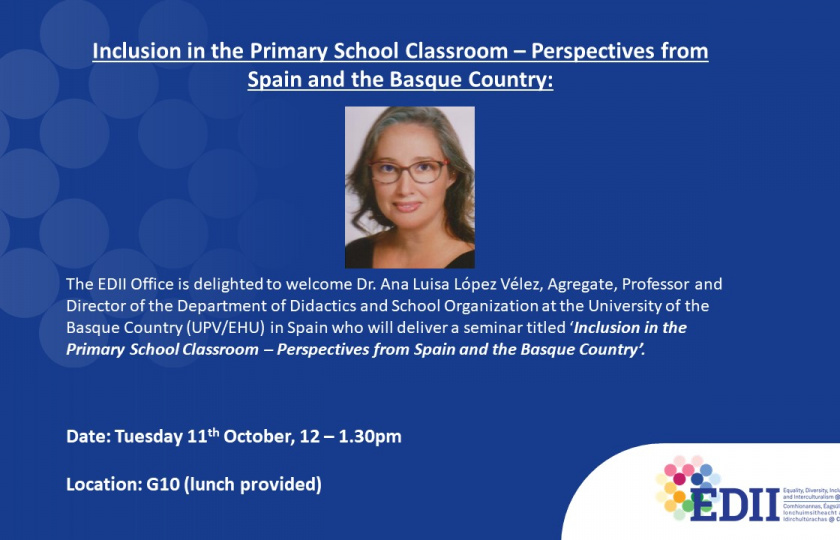 You are invited to join us on Tuesday 11th October at 12pm in G10 for a seminar titled 'Inclusion in the Primary School Classroom – Perspectives from Spain and the Basque Country' with Dr. Ana Luisa López Vélez, Agregate, Professor and Director of the Department of Didactics and School Organization at the University of the Basque Country (UPV/EHU) in Spain.
All welcome. 
Venue & Date:
Location: G10, Foundation Building, MIC Limerick
Date & Time: 11th October, 12 - 1.30pm
About the Event:
Ana Luisa López-Vélez will address the challenges facing the Spanish education system, and especially that of the Autonomous Community of the Basque Country, with regard to interculturality and attention to students with disabilities. Concepts related to inclusive education and the achievement of the Sustainable Development Goals (SDGs), in particular, goals 4 (quality education), 5 (gender equality) and 10 (reduction of inequalities), will be discussed in depth. Finally, the work carried out by the IKHEZI team of the Faculty of Education and Sport of the University of the Basque Country (UPV/EHU) to train future teachers to respond to these educational challenges will be presented. Ana Luisa will describe the work carried out with her team through the Campus Bizia Lab Programme in their project "Transforming realities: University and Community cooperating to humanise education through Service-Learning (S-L) in Final Degree Projects (FDP)". This project has currently been selected by the University of the Basque Country (UPV/EHU) as an institutional nominee for the ENLIGHT Teaching and Learning Award 2022.
About the Speaker:
Ana Luisa López Vélez received her in Education and MSc on Educational Research at the University of Manchester.  She has been a consultant to the UNESCO Regional Bureau for Education in Latin America and the Caribbean on inclusive education and educational innovations.  She is a lecturer and researcher at the Faculty of Education and Sports, Department of Didactic and School Organisation. She lectures on inclusive education and interculturality in schools in undergraduate and postgraduate studies. She is tutor of students in practices, Bachelor's Degree and Master Degree dissertations, and PhDs. She is involved in the Doctorate Programme of Psycho-didactic.
Research interests and collaborations:
Collaboration with IKHEZI: Ikerketa Hezitzailea (recognised by the Basque Government, IT1304-19): building up the Educational Project of the Council Network of Early Childhood Schools, financed by the Vitoria-Gasteiz Council.
Member of the INNOVA team (recognised by the Basque Government as A category): Model to Evaluate University Social Innovations (ISUR), ALFA-TUNING Latin America Project, financed by the European Commission.
Researcher at the University of Deusto, with FEVAS, Plena Inclusión: a study on the educational answer to students with intellectual disabilities in Secondary Education in the Basque Country, financed by the Basque Government.