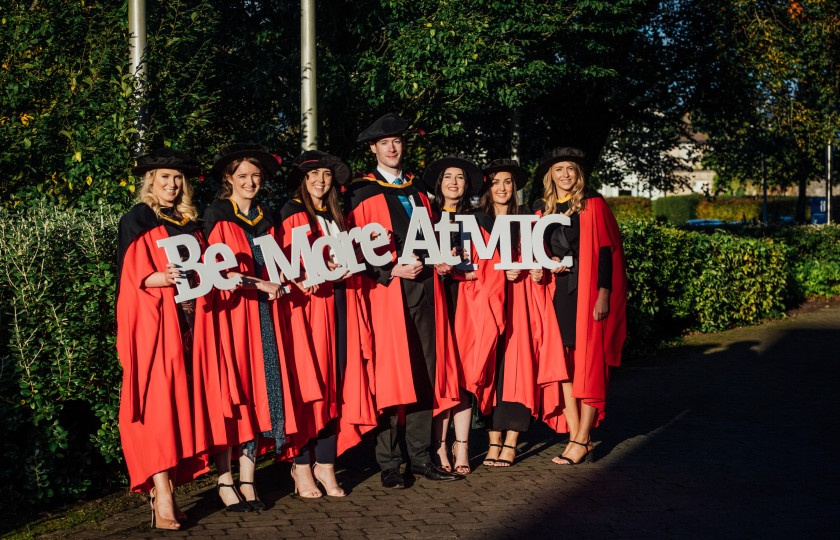 There were many reasons for celebration at Mary Immaculate College (MIC) on Thursday 21 October, as MIC's conferring ceremonies made a welcome return to campus after being held on-line last year due to public health constraints.
A special ceremony was held to celebrate the conferring of degrees on more than 40 Doctoral and research Master's postgraduate students from the Faculty of Arts and the Faculty of Education, all of whom completed their postgraduate studies by research and thesis, testifying to the depth and wide range of research currently being undertaken in MIC.
This event saw the highest number of research degrees being awarded to MIC students with 25 graduates receiving doctorates. The ceremony also included a celebration of the graduation of 21 members of the class of 2020, who were unable to be conferred in person last year, due to public health constraints.
Speaking at the event was Minister of State, Niall Collins, T.D., Department of Further and Higher Education, Research, Innovation and Science who said: "The COVID-19 pandemic has affected all of us in different ways and I want to acknowledge how hard it has been for those of you graduating.  I'm very much aware that you've managed with reduced access to libraries, archives and laboratories, as well as perhaps missing being able to easily discuss your research and findings with your peers and faculty members. You have all overcome those barriers, and I sincerely congratulate you on the completion of your chosen qualifications. You should be immensely proud of yourselves, as I am sure are your families and the academic staff here at Mary Immaculate College. I wish you the very best in your future careers and I look forward to witnessing the contributions you will make in the future."
Amongst those receiving their hard-earned doctoral awards were seventeen graduates who were awarded a Professional Doctorate in Educational and Child Psychology (DECPsy). The DECPsy programme, established in 2016, is a three-year, full-time professional training course for candidates interested in pursuing a career as an educational psychologist. Research conducted by the DECPsy students as part of their studies, varied in focus from parental smartphone use, sleep hygiene, affective working memory and pupil achievement to adverse childhood experiences (ACEs), autism and the continuum of support; all of which will have positive and lasting implications for future practice in educational and child psychology.
Also present were Dr Declan O'Brien from Kildimo, Co. Limerick, Dr Louise Curtin from Doneraile, Co. Cork and Dr Maryanne Lowney Slattery from Tralee, Co. Kerry, all of whom were recipients of prestigious Irish Research Council Government of Ireland Postgraduate Scholarships.
Dr O'Brien is a senior news correspondent with the Irish Farmers Journal and has more than 25 years' experience as an agricultural journalist. He was awarded a doctorate for his research on the growth of the Irish beef processing industry and its impact on Irish agricultural policy. His MA thesis on the demise and closure of the Dublin Cattle Market was recently published by the Four Courts Press and is entitled 'From the Hoof to the Hook: An investigation of beef processor influence on Irish farm policy and politics 1950 - 1986.'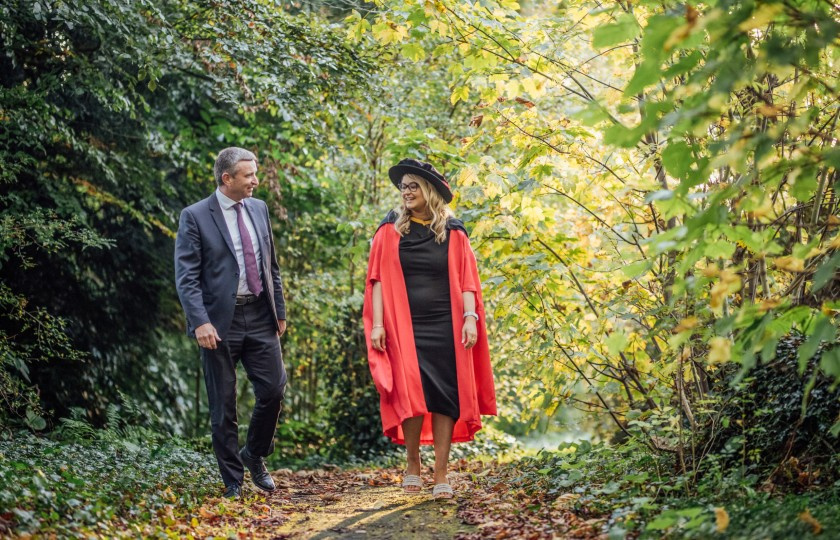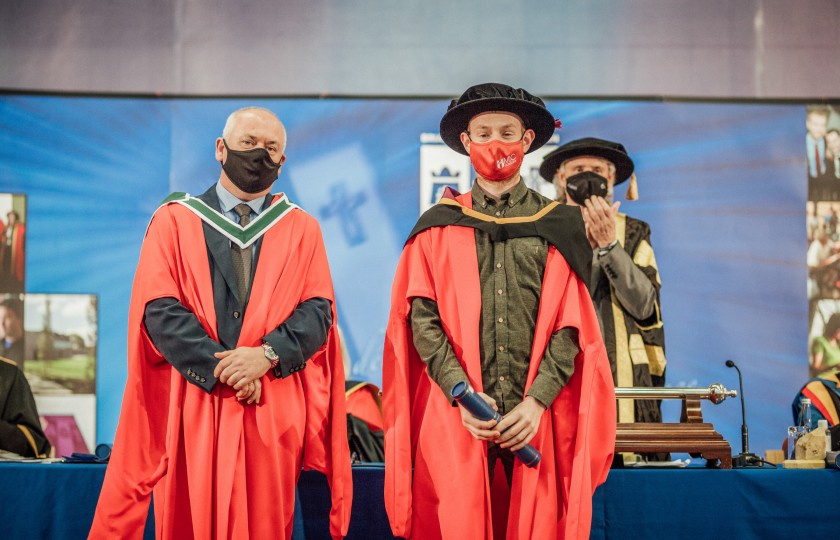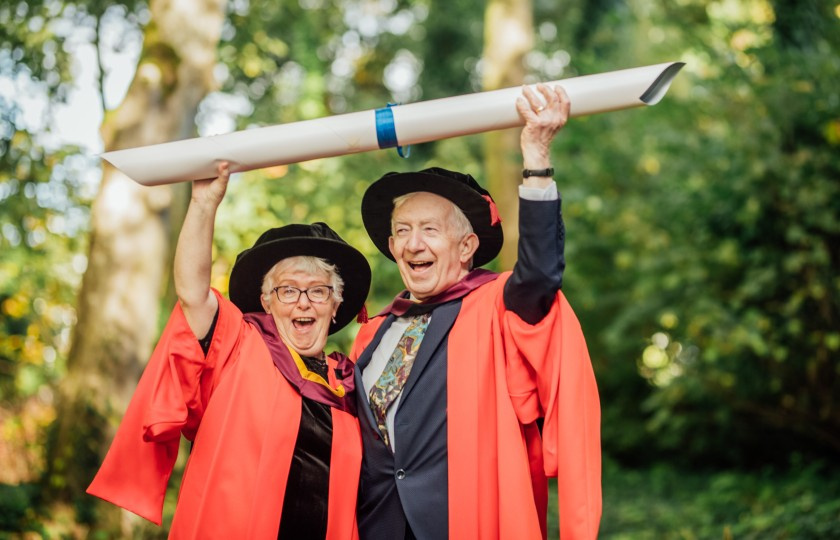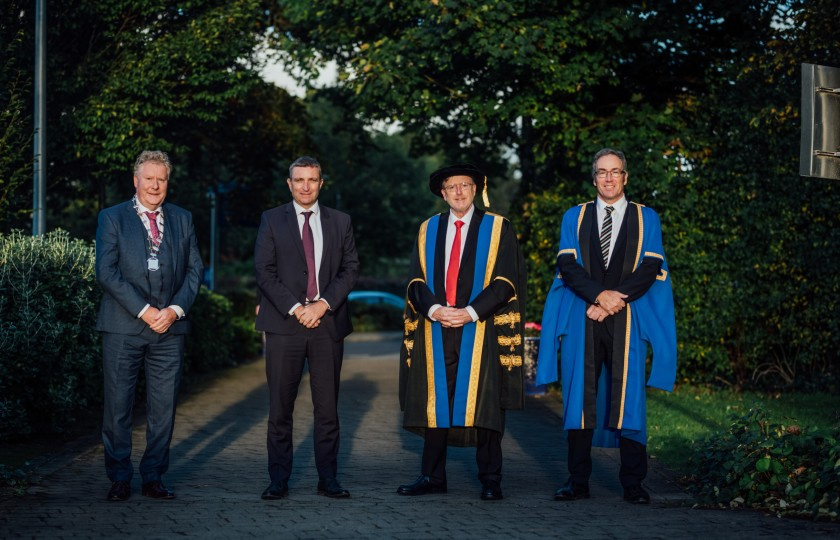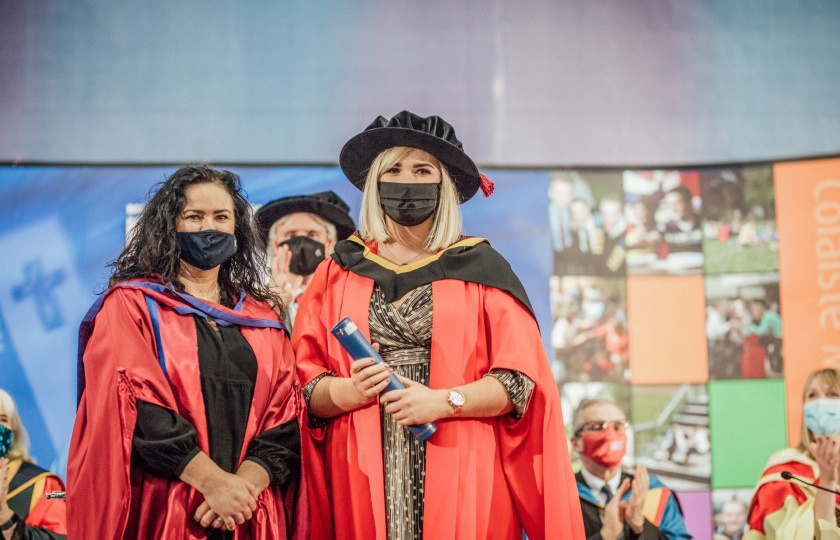 Dr Curtin, was awarded a doctorate for her research on a special education teacher allocation model to support inclusion in Primary Schools in Ireland, entitled 'An Examination of the Special Education Teacher Allocation Model to Support Inclusion in Primary Schools in Ireland' whilst Dr Maryanne Lowney Slattery received her doctorate last year for her thesis entitled 'Experiences of Post-primary School Communities Transitioning to a Settings-base for Mental Health and Wellbeing Promotion: The Impact of Policy on Context, Competition and Care.'
Other areas of exciting new research undertaken included Dr Hollie Fitzmaurice from Kilcornan, Co. Limerick, whose research looked at the impact of the parent-child relationship on the development of the heroic identity within comic book and graphic novel culture; theatre practitioner Dr Aideen Wylde, from Clonmel, Co. Tipperary, looked at disrupting perceptions of Jewish and minority identity in Ireland through theatre; and Dr Tríona Waters from Ballinasloe, Co. Galway, and previous  Winner of the Royal College of Physician's 'Kirkpatrick History of Medicine Award' in 2018, undertook her research in 'Irish Insanity and the Limerick District Lunatic Asylum, 1772-1900'.
Speaking at the event Professor Eugene wall, President of MIC said: "Research underpins the educational process, benefiting students and academic staff by enhancing and enriching the teaching and learning experience. Now and in the future, MIC is committed to supporting and resourcing the on-going development of the research skills base among our staff and students. In recent years the College has invested heavily in building its research capacity, through financial supports, and staff development, external collaboration and dedicated administrative structures. This has produced rich dividends, with staff engagement in research at an all-time high, as evidenced by an almost exponential increase in staff publications and engagement in professional conferences over recent years. This effort will be maintained and developed further, and the cross-fertilisation of research with teaching and learning will be a particular focus for us in the coming years, along with an increased emphasis on research that contributes significantly to public policy. In this and other ways, MIC will continue to contribute to the Irish economy and quality of social and cultural life at local, regional, national and international levels."
Joining graduates in attendance at the event was Councillor Tom Ruddle, Deputy Mayor of the City and County of Limerick, Minister of State, Niall Collins, T.D., Department of Further and Higher Education, Research, Innovation and Science, Bishop Brendan Leahy, Chairperson of the Board of Trustees and Governing Authority of MIC, and Professor Nigel Healey, Provost/Deputy President of the University of Limerick.