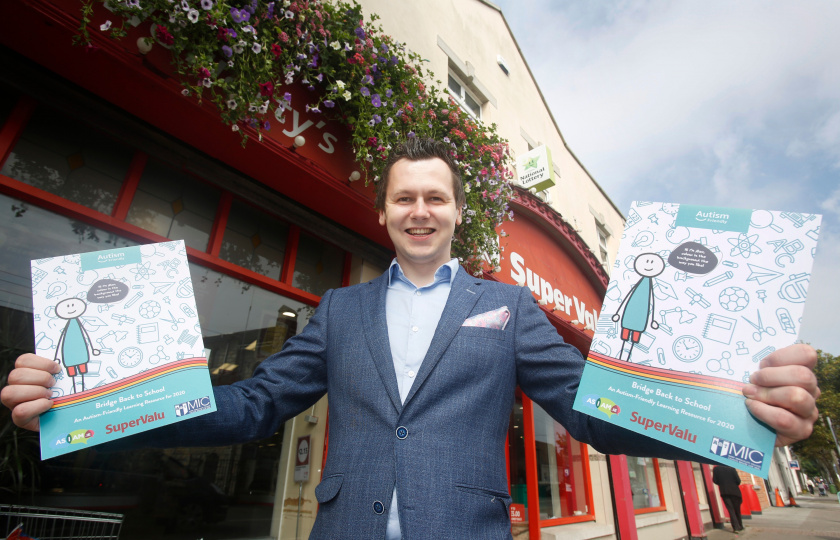 Mary Immaculate College is delighted to have volunteered with AsIAm and SuperValu in the development of the Learning Resource Toolkit. "Bridge Back to School"- An Autism-Friendly Learning Resource for Summer 2020, which will be available SuperValu stores nationwide from July 6th. The Covid-19 pandemic continues to impact society in unimaginable ways, with children identified as among a specific and vulnerable section of the population who have experienced the pandemic differently, notably from the removal of the stability in their lives that pre-school and school brings.
Balancing the role of parents/carers with that of home-schooling, while juggling work, cooking and household chores, has been particularly demanding for families. For autistic children, the impact of the pandemic is magnified by the challenges presented in terms of the disruption to their routine and the reassurance that the predictability of pre-school and school brings, while acknowledging also that for some children, there may be a sense of relief stemming from a reduction of anxiety generated by the pressure to go to school and participate in social activities.
For all students, including autistic students, navigating the returning to education, in a supportive, understanding and student-centred manner remains critical. The Bridge Back to School learning resource has been developed to support autistic students across the education system from pre-school to post-primary level to begin to prepare the summer months for the return to school in September. Dr Lisha O'Sullivan, Head of Department of Reflective Pedagogy and Early Childhood Studies, Dr Margaret Egan, Lecturer in Inclusive Education, Maria Dervan, PhD student, Niamh Moore, Dec Psy student and Prof Emer Ring, Dean of Early Childhood and Teacher Education, have worked with AsIAm, post-primary teacher Anne Jones and post-primary principal Billy Redmond in developing this toolkit.
According to Prof Emer Ring, "the aim of the resource is to support a facilitator (parent, special needs assistant, teacher or home support worker) in working with an autistic student during the summer months. Based on the four key principles of promoting research-informed practice, universal design for learning, the centrality of student voice and adopting an autism-specific lens, Prof Ring added that "the toolkit provides guidance in key areas that will enable autistic students to navigate the transition back to education as Ireland re-opens". Prof Ring thanked the incredible team involved in the resource and in particular her colleagues Dr Margaret Egan and Dr Lisha O'Sullivan, for their support and generosity in giving their time, expertise and commitment to the project, noting that she was particularly proud of the invaluable contributions of PhD student Maria Dervan and Dec Psy student Niamh Moore to the publication.
CEO of AsIAm, Adam Harris remarked that "The superb team behind the resource has worked to create an inclusive, cross-sectoral, evidence based tool to support children in the summer of 2020 and beyond'. Adam observed that "the 50 pages cover key topics from social skills to "my first day back in school" and are augmented by an online bank of further information and activity sheets, concluding that 'as with everything we do autistic experience and voice has been central to our approach."
20,000 of the resource booklets will be distributed to SuperValu stores nationwide and be available to pick up from Monday, July 6th in every store at identifiable points. The toolkit can also be accessed online from the SuperValu website from July 6th. SuperValu is dedicated to making communities around Ireland more inclusive and is leading the way in autism friendly shopping by continuously raising understanding and awareness of autism among its customers and staff. Martin Kelleher Managing Director, SuperValu said "We are proud of the work we are doing to raise awareness of autism in all SuperValu communities around the country. SuperValu and AsIAm are committed to the journey of making our communities more autism friendly and inclusive of all members. We are delighted to partner with Mary Immaculate College and AsIAm to develop this resource from the experienced knowledge of a pool of experts. SuperValu recognises the challenges for families as they prepare for the return to school and hope that this useful and practical learning resource will be an essential support for them over the coming months. The resource will be available for all to pick up in their local SuperValu from Monday, July 6th."