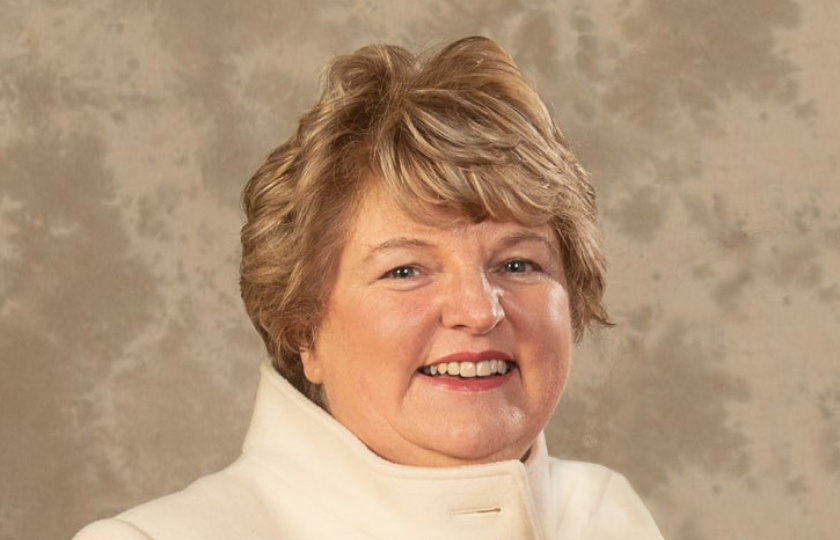 Bronnadh Scoláireacht Foilsitheoireachta ó Acadamh Ríoga na hÉireann ar an Dr Eilís Ní Dheá atá in léachtóir sa Roinn um Oideachas Teanga agus Litearthachta i gColáiste Mhuire gan Smál.  Comórtas oscailte a bhí anseo i measc léachtóirí Gaeilge na tíre agus dhá scoláireacht a bhí ar fáil.  Tabharfaidh an scoláireacht seo deis don Dr Ní Dheá leabhar dar teideal, 'Saothrú an Léinn Ghaelaigh i gCo. an Chláir 1700 -1900' a ullmhú don chló. 
Deir an tOllamh Ciarán Mac Murchaidh, cathaoirleach an Choiste Fhoilsitheoireachta ina litir bhronnta, "Tá an-áthas orm a chur in iúl duit go raibh baill an Choiste an-tógtha go deo le caighdeán, éirim agus mianach an togra foilsitheoireachta a leag tú os do chomhair" agus dhearbhaigh sé gur cinneadh d'aonghuth Scoláireacht Foilsitheoireachta a bhronnadh uirthi.
Agus í ag tagairt don Scoláireacht, deir an Dr Ní Dheá, "Tá gliondar an domhain orm an scoláireacht rí-thábhachtach seo a ghnóthú ó Acadamh Ríoga na hÉireann.  Rachaidh an scoláireacht go mór chun tairbhe dom mar tabharfaidh sé seans dom luí amach ar mo chuid taighde go lán-aimseartha sa téarma seo atá romhainn."
Dhearbhaigh sí chomh maith, "Is deis iontach é seo dom mar beidh an t-am agam chun lámhscríbhinní a aimsíodh le déanaí a scrúdú, mar shampla, cnuasach lámhscríbhinní Chlann Domhnaill i Sussex i Sasana agus cnuasach beag lámhscríbhínní a aimsíodh in Auxerre na Fraince. Tá Fo-choiste na bhFoilseachán  san Acadamh chun tosaigh ag cur léann na Gaeilge ar aghaidh, go háirithe, leis an gcabhair a chuireann siad ar fáil do fhoilsiú ábhair den scoth as Gaeilge.  Is onóir thar na bearta dom glacadh leis an scoláireacht seo tar éis dom blianta fada a chaitheamh ag gabháil de thaighde sa ghort seo."
Agus é ag déanamh comhghairdis leis an Dr Ní Dheá, deir an tUasal Seán de Brún, Ceann na Roinne um Oideachas Teanga agus Litearthachta i gColáiste Mhuire gan Smál, "Is onóir agus pribhléid mhór don Dr Eilís Ní Dheá agus don Roinn um Oideachas Teanga agus Litearthachta gur bhronn Acadamh Ríoga na hÉireann Scoláireacht Fhoilsitheoireachta ar Eilís. Is éacht ar leith é seo ag cur san áireamh nach raibh ach dhá scoláireacht ar fad ar fail don tír. Tréaslaím ó chroí le hEilís agus guím gach rath uirthi agus í ag tabhairt aghaidh ar leabhar acadúil. Táim cinnte go gcabhróidh an scoláireacht seo le hEilís agus go gcuirfidh a saothar go mór le léann na Gaeilge agus le cáil acadúil Choláiste Mhuire gan Smál."
Tabharfar cuntas cuimsitheach agus déanfar anailís ar thraidisiún na lámhscríbhinní i gContae an Chláir san 18ú agus sa 19ú haois sa mhonagraph scolártha seo.  Ba iad na scríobhaithe agus a gcuid patrún a bhí freagarthach as seachadadh na litríochta sa ré seo nuair nach raibh fáil forleathan ar leabhair Ghaeilge i gcló.  Deir an Dr Ní Dheá, "Is den riachtanas é do na h-eagarthóirí  filíochta sna hOllscoileanna in Éirinn agus thar lear go mbeadh fáil acu ar eolas cúlra na scríobhaithe a bhí i mbun grafnóireachta sa ré seo. Faightear eolas sna lámhscríbhinní chomh maith atá ina fhoinse fíorluachmhar do na staraithe, do na tíreolaithe, do na socheolaithe agus do na saineolaithe san Oideachas."
Dhearbhaigh sí, "Beidh éileamh idirnáisiúnta ar an leabhar seo. Cuirfidh sé mór le mo cháil i gcúrsaí taighde agus cuirfidh sé go mór le cáil Choláiste Mhuire gan Smál i gcúrsaí taighde sna h-Ollscoileanna in Éirinn agus sna Ranna Ceiltise in Ollscoileanna ar fud an domhain."
Tá an Dr Ní Dheá ag lorg cúnaimh ón bpobal ina cuid taighde. Deir sí, "Tharlódh go bhfuil daoine amuigh ansin a bhfuil leabhair nótaí nó scríbhinní beaga acu a scríobhadh i ndeireadh an 19ú haois.  Uaireanta ní thuigeann daoine an tábhacht a bhaineann lena léithéid. Má thagann éinne ar scríbhinn den saghas sin i bhfolach thuas san áiléar, bheadh an Dr Ní Dheá an-bhuíoch ach eolas a fháil faoi.  Is féidir dul i dteagmháil léi ag an seoladh ríomhphoist Eilis.NiDhea@mic.ul.ie."
Is ón Tulach i gContae an Chláir don Dr Eilís Ní Dheá ó dhúchas agus tá cónaí uirthi anois sa Chreatalach.  Tá sí ina léachtóir le Gaeilge i gColásite Mhuire gan Smál ón mbliain 1985 i leith.  Ghnóthaigh sí téarma taighde eile faoin scéim Téarma Sabóideach Taighde  a tairgíodh sa Choláiste don bhliain 2020-2021.  Cuirfidh sí tús leis an téarma sabóideach sin i mí Eanáir 2021.  Is í Teanga agus Litríocht na Gaeilge na príomhréimsí taighde a shaothraíonn Eilís, go háirithe, léann na lámhscríbhinní.  Bronnadh céim PhD uirthi i gColáiste na hOllscoile, Corcaigh i ngeall ar an obair a rinne sí ar thraidisiún na scríobhaithe i gCo. an Chláir agus aithnítear í mar shaineolaí sa réimse sin.  Bhronn An Chomhairle um Thaidhde sna Dána agus sna h-Eolaíochtaí Sóisialta [IRCHSS] Scoláireacht Shinsireach Rialtas na hÉireann ar an Dr Ní Dheá faoi dhó roinnt blianta ó shin agus bhronn an Chomhairle Oidhreachta duais ar leith uirthi i ngeall ar an obair a rinne sí ar lámhscríbhinní a bhí fós i seilbh phríobháideach.  Tá mórán alt agus aistí i leabhair foilsithe aici ar an ábhar seo agus go leor léachtaí poiblí tugtha aici. 
Tá Acadamh Ríoga na hÉireann ar cheann de na  hinstitiúidí is mó le rá in Éirinn i léann na nDán agus na n-Eolaíochtaí.  Cuireann an tAcadamh taighde i ngort na Gaeilge ar aghaidh leis an tacaíocht agus leis an aitheantas a thugtar do lucht taighde.  Is é an onóir is mó atá le fáil ag lucht acadúil na tíre seo ná a bheith tofa mar bhall den Acadamh.
MIC Lecturer Receives Prestigious Royal Irish Academy Scholarship
Dr Eilís Ní Dheá, a lecturer in the Department of Language and Literary Education at Mary Immaculate College (MIC), has been awarded a Publication Scholarship by the Royal Irish Academy. This prestigious scholarship was one of just two to be awarded nationally following a public competition open to all lecturers in academic Irish throughout the country. The scholarship will allow Dr Ní Dheá to devote her time to the completion of her new book entitled, 'Saothrú an Léinn Ghaelaigh i gCo. an Chláir 1700 – 1900 / The Gaelic Manuscript Tradition of Co. Clare 1700 – 1900'.
The awarding committee, under the chairpersonship of Professor Ciarán Mac Murchaidh from Dublin City University (DCU), were unanimous in their decision to grant Dr Ní Dheá this scholarship having been "extremely impressed with the standard, scope and substance" of her publication project.
Commenting on the scholarship, Dr Ní Dheá said, "I am absolutely delighted to have received this prestigious scholarship from the Royal Irish Academy. This scholarship will be of great benefit to me and offers me the financial security to immerse fully in my research for the forthcoming semester."
She added, "An opportunity like this is invaluable for me as I will now have the time to investigate recently-found collections of manuscripts such as the McDonald manuscripts in Sussex, England and a small collection of Irish manuscripts discovered in Auxerre, France. The Royal Irish Academy's Publication Committee has been to the forefront in promoting Irish scholarship and in particular, in assisting with the publication of scholarship of the highest academic quality. It is truly an honour for me to receive this award for the fruits of many years of painstaking research."
Congratulating Dr Ní Dheá on her achievement, Seán de Brún, Head of the Department of Language and Literary Education at MIC, said, "It is a great achievement and honour for both Dr Eilís Ní Dheá and the Department of Language and Literacy Education that Eilís was awarded one of the two publication scholarships offered by the Royal Irish Academy. I would like to congratulate Eilís on this great achievement and wish her every success as she prepares her scholarly monograph for publication. I am confident this work will contribute greatly to knowledge in the field and enhance Mary Immaculate College's reputation."
Dr Ní Dheá's scholarly monograph will give a comprehensive account and analysis of the Gaelic manuscript tradition of Co. Clare during the 18th and 19th centuries with a focus on the scribes, who together with their patrons, were solely responsible for the written transmission of Irish literature prior to the era of printed books in Irish being made widely available. According to Dr Ní Dheá, "Information on the transmission of the Irish corpus of literature during these centuries is vital to the work of academic staff in universities, both in Ireland and abroad, who are engaged in producing editions of Irish poetry. Scribal colophons yield a wealth of knowledge that is invaluable to the historian, the historical geographer, the educationalist and the sociologist alike."
She added, "The publication of this book will have an international reach and will greatly advance my own research profile and the research profile of MIC in all universities in Ireland and in the Departments of Celtic Studies in universities around the world."
Dr Ní Dheá is also appealing to the Irish public for their assistance in her research. She said, "Some people may still have small manuscripts/copybooks in their possession written in the Irish language from the late 19th century. There are still Irish manuscripts/copybooks in homes around Ireland but people do not realise just how valuable these are to Irish researchers and historians. I would appeal to people to have a look in their attics or spare rooms and if you happen to discover one of these most valuable manuscripts, I would appeal to you to get in touch with me on Eilis.NiDhea@mic.ul.ie."
Dr Ní Dheá, who hails from Tulla, Co. Clare and is now living in Cratloe, has been a lecturer in Gaeilge at MIC since 1985 and will commence her second term of sabbatical leave in January under the merit-based Research Sabbatical Scheme offered by MIC for the year 2020-2021. Her main area of research is Irish language and literature in the 18th and 19th centuries with special reference to the Gaelic manuscript tradition. She holds a PhD from University College Cork (UCC) for her work on Irish language manuscripts and is widely recognised as an expert in the field. She is a previous two-time recipient of the Government of Ireland Senior Scholarship from the Irish Research Council and also received a special award from the Irish Heritage Council for her work on Gaelic manuscripts in private possession. She has published widely on the scribal tradition of Co. Clare and frequently gives public lectures on the subject.
The Royal Irish Academy (RIA) is Ireland's leading body of experts in the sciences and humanities. The Academy champions Irish research by identifying, recognising and supporting Ireland's world class researchers. Membership of the RIA is considered the highest academic honour in Ireland.