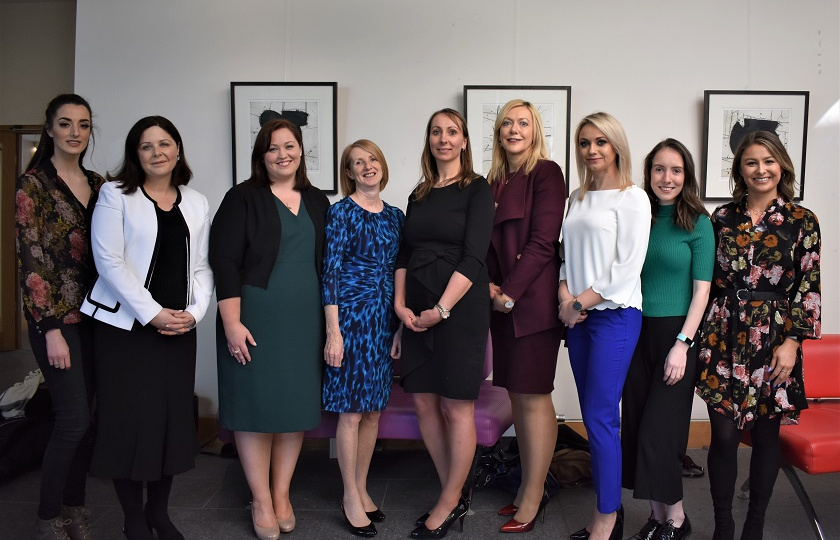 The Student Teacher Educational Research (STER) initiative last week (2 April) held its second annual conference at MIC Limerick—a cross-campus, interdisciplinary event involving almost 50 student teachers and education graduates from across a wide variety of programmes.
The conference, opened by Dr Aimie Brennan, founder and coordinator of STER, was attended by students and staff from both the MIC Limerick and MIC Thurles campuses. The event also marked the launch of the second volume of the online journal. This year's journal includes articles from 10 student teachers on topics relevant to early years, primary, post primary and higher education. The themes include social inclusion, leadership, well-being and work-based learning and their relevance to experiential practice of teaching is clearly evidenced. The online journal can be accessed here.
Launching the journal, Prof. Niamh Hourigan, Vice-President of Academic Affairs at MIC, highlighted the importance of giving students a platform to share their new research findings.
"Each generation has new concerns, original insights and innovative research methods which they bring to their research. The publication and dissemination of the STER online journal not only raises the profile of student teacher research at national level but critically disseminates the findings of that research. Engaging student teachers in educational research for the improvement of practice is essential in teacher education and STER is the only student-centred initiative within the HEI sector in Ireland that is specifically targeting student teachers for the purpose of publicly disseminating their research."
Dr Brennan, Lecturer in Education at MIC, added that she is "passionate about STER as a model to generate valuable dialogue about educational research and extend the learning during initial teacher education".
"It is important that we, as teacher educators, strive to enhance student teachers' research literacy so that they may positively engage with educational research throughout their professional careers. STER ensures that students have an opportunity to collaborate; to develop critical reflection skills; and to apply theory to practice, all of which will be essential to their role in the classroom."
She added: "I would like to commend the dedicated and capable student reviewers, conference advisors and contributors who worked with me throughout this academic year to bring the second volume of the STER journal and conference to fruition. MIC is lucky to have students who give so generously to the education community and I very much value their contribution."
STER is a student-centred model of research dissemination aimed at enhancing student teachers' engagement with educational research during initial teacher education. It provides a range of opportunities for students to share their research findings in innovative and accessible ways.
A new addition to the initiative will be the STER Podcast series, which is due to be launched later this year. In this series, Dr Brennan speaks to student teachers about their experience of conducting research during initial teacher education. Students share some of the key findings of their research and discuss the benefits and challenges of conducting research that informs practice.
Main photo (L-R): Student presenters at STER 19: Claudia Kelly (BA ECCE); Prof. Niamh Hourigan, Vice-President Academic Affairs, MIC; Dr Aimie Brennan, MIC lecturer & STER Coordinator; Mairead Spillane (MA EWOP graduate); Katherine Chapple (M Ed graduate); Marinella Raftery (M Ed graduate); Siobhan Sentry (M Ed graduate); Aoife Munroe (B Ed graduate) and Holly Cunneen (B Ed graduate).
For more information about STER, click here.