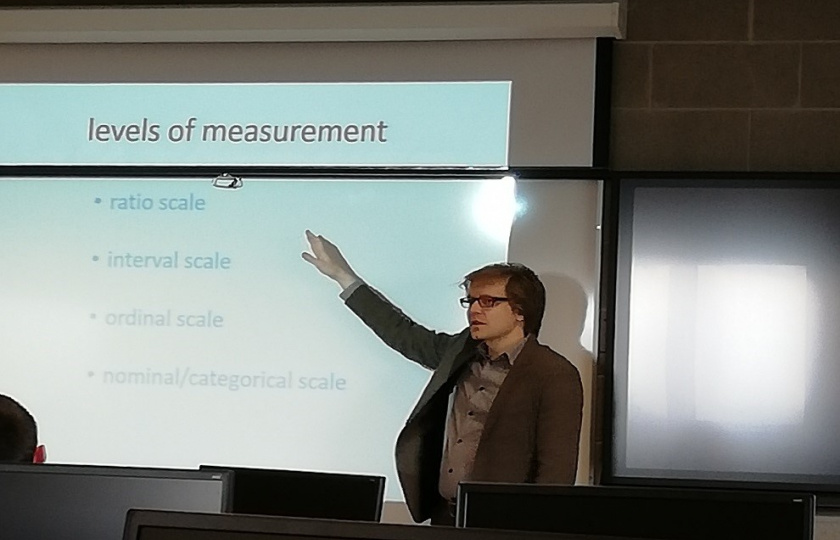 The Department of English Language and Literature was delighted to host the joint MIC PhD Applied Linguistics/ UL PhD TESOL Summer School on 17th and 18th June. It was a wonderful two days in which both guest practitioners and PhD students shared their expertise in specialist Applied Linguistics skills in practically based workshops. We were privileged to have a lecture and workshop from  Professor Tony Berber-Sardinha from the Catholic University of São Paulo, Brazil who was visiting MIC as part of the Erasmus+ programme.   Professor Berber- Sardinha presented a fascinating and insightful talk and workshop based on his research on using corpus linguistics to uncover historical trends in culture and science. Dr Andreas Buerki (Cardiff University) uncovered the mysteries of using statistics in Applied Linguistics in his comprehensive workshop, while Dr Nicola Bessell, UCC, shared her expertise on analysing accents using specialist software.
We were especially proud of our own PhD students, Caitlin Neachtain, Ana Terrazas-Calero, Jane Brennan Seely, Giovani Santos, Geraldine Mark and Mateus Miranda who showcased the expertise they have developed in the course of their studies in Applied Linguistics at MIC. We also had some really interesting poster presentations from both UL and MIC students.
In their closing remarks, Dr Freda Mishan (Course Director SPhD TESOL, UL) and Dr Joan O'Sullivan (Course Director SPhD Applied Linguistics, MIC) commended the workshop facilitators for their effort and professionalism, and spoke of the value of the student cohorts and guest Applied Linguists coming together to share ideas and expertise in the annual joint Summer School. The help of Departmental Assistant, Deborah Tobin in preparing for the event and SPhD student Caitlin Neachtain for her work on social media, was acknowledged.  The valuable support of Corporate Communications, the Arts Office, particularly Linda McGrath, Pat Brown and Aramark, and ICT, particularly Kevin McNamara and Tony O'Grady who prepared the lab for the event, was also acknowledged.