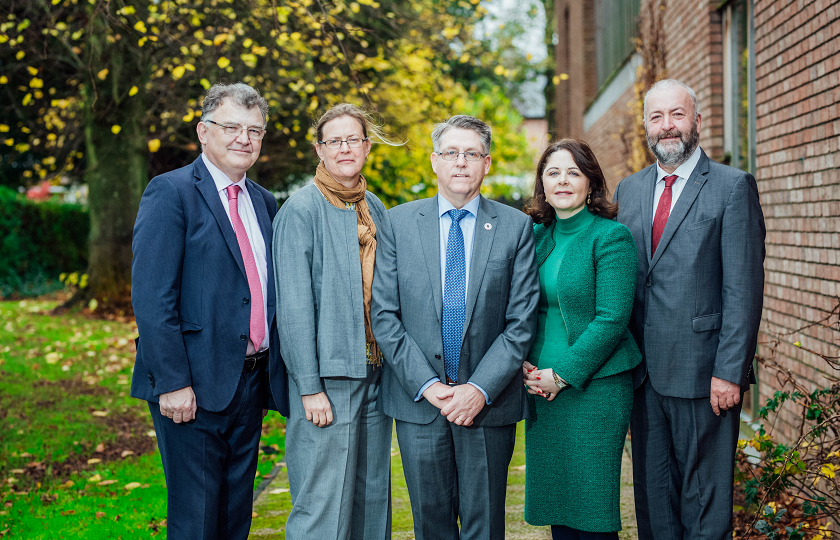 Speaking at a Research Colloquium held at Mary Immaculate College (MIC) on Friday 01 November, Professor Michael Breen, Dean of Arts at MIC, stated that "human trafficking is a scar on the body politic, a cancer in the midst of our society. We have seen that most recently in the tragedy in Essex."
The Research Colloquium highlighted the issue of modern slavery and human trafficking, and revealed that official statistics from Ireland and Northern Ireland underestimate the number of victims of human trafficking in both jurisdictions. It also revealed that there is a lack of awareness in Ireland of the crime of human trafficking and highlighted the need to provide training for all sectors who might come into contact with victims of trafficking to enable them to identify and assist such victims.
The Colloquium focused on the work of the Global Santa Marta Group, of which MIC is a member, and the research of the Human Trafficking and Exploitation Project in Ireland (HTEPII), which is led by MIC and co-funded by An Garda Sióchána, the Police Service of Northern Ireland (PSNI), the Department of Justice Northern Ireland and MIC.
The Human Trafficking and Exploitation Project in Ireland (HTEPII) aims to provide the best data possible as to the scale, scope, extent, and nature of human trafficking and exploitation on the island of Ireland. According to Professor Michael Breen, Dean of Arts at MIC and co-principal investigator on the HTEPII project along with Professor Michael Healy, Vice President of Research at MIC, the data collated in this research project will "make the invisible visible".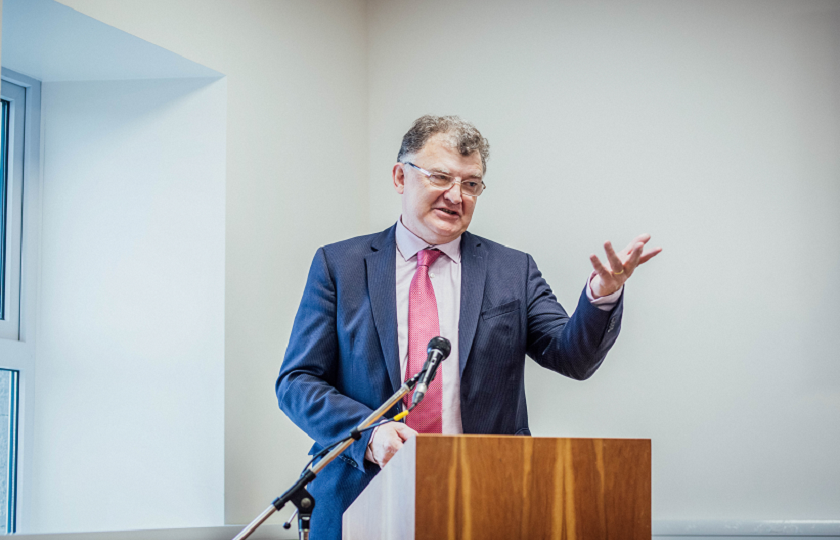 Professor Breen, who is also a member of the Global Santa Marta Group and Global Anti-Human Trafficking Task Force, said, "The exploitation of some of the world's most vulnerable people for profit by unscrupulous individuals must be brought to a swift end. This is essentially an issue of social justice, not just a crime to be prevented."
Dr Amy Healy, a Post-Doctoral Research Fellow at MIC working on the HTEPII project, is currently collaborating with NGOs and non-statutory government agencies who work with victims of trafficking to gather data on trafficking victims who are currently not being included in official government statistics. 
Commenting on the project, Dr Healy said, "Modern slavery is a global phenomenon. Current estimates are that some 40 million people are enslaved in the world today with 1 in 4 being a child. Ireland is not immune from this trade, and there are people enslaved in Ireland, some of whom have been trafficked in from other countries. Between 2013 and 2018, 321 adults and 26 children were recorded by the Department of Justice and Equality as having been trafficked into the country. In Northern Ireland, these figures stand at 181 adults and 74 children. However, the official statistics may not accurately reflect the scale of the problem and there may be many more who have slipped through the cracks."
In their research, which will culminate in a report to be published in May 2020, Professor Healy, Professor Breen and Dr Healy have discovered that there is a lack of general awareness in Ireland of the crime of human trafficking both from the victim's perspective and from those who come in contact with the victim. According to Dr Healy, "This is one of the main reasons that victims of trafficking may not be working with the relevant statutory agencies and as a result, missing from official government statistics. Fear is also a factor in preventing these victims from accessing help–fear of traffickers, of authority figures, of deportation or of jail."
She continued by saying, "There is a need to provide training for all sectors who might come into contact with victims of trafficking to enable them to identify and assist such victims."
In his address, Professor Michael Breen spoke about the ongoing efforts of the Santa Marta Group with which MIC is associated. The Santa Marta Group is an alliance of international police chiefs and bishops from around the world who are working together with civil society to eradicate human trafficking and modern-day slavery. Endorsed by Pope Francis, the group is tasked with raising awareness about the nature and scale of slavery and works to put the care of victims at the centre of law enforcement approaches to trafficking.
He also spoke of the many forms that exploitation can take including forced labour, sexual exploitation, domestic servitude, forced criminality and organ harvesting, and highlighted the top five products, which are imported into the G20 countries and which are at risk of propagating modern slavery, namely laptops, computers, phones, garments, fish, cocoa and sugarcane. "Looking at only the 'top five' at-risk products in each country identified by the Santa Marta Group analysis, G20 countries are collectively importing US$350 billion of at-risk products annually. Ireland is a member of the G20 group. Citizens of most G20 countries enjoy relatively low levels of vulnerability to the crime of modern slavery within their borders, and many aspects of their governments' responses to it are comparatively strong. Nonetheless, businesses and governments in G20 countries are importing products that are at risk of modern slavery on a significant scale. This must stop. We need to ensure ethical supply chains for all goods sold in the G20 economic region."
Opening the Research Colloquium, Professor Niamh Hourigan, Vice President of Academic Affairs at MIC, said "The issue of human trafficking and modern slavery is of growing importance within international debates about borders, war, unequal development and globalisation. MIC's involvement in a range of anti-slavery initiatives not only establishes the College as a centre of excellence in Ireland in terms of research in this area but our involvement in the Human Trafficking and Exploitation Project in Ireland and the Santa Marta Group also impacts directly to our broader aspirations to support social justice initiatives nationally and globally." In support of MIC's social justice agenda, Prof. Hourigan also announced MIC's intention to become a College of Sanctuary for refugees and asylum seekers.
For more information on the Santa Marta Group here. 
Pictured at top of page (l-r): Professor Michael Breen, Dr Amy Healy, Professor Niamh Hourigan and Professor Michael Healy pictured with Kevin Hyland (centre), chair of the Human Trafficking and Exploitation Project in Ireland, advisor to the Global Santa Marta Group and former UK Antislavery Commissioner.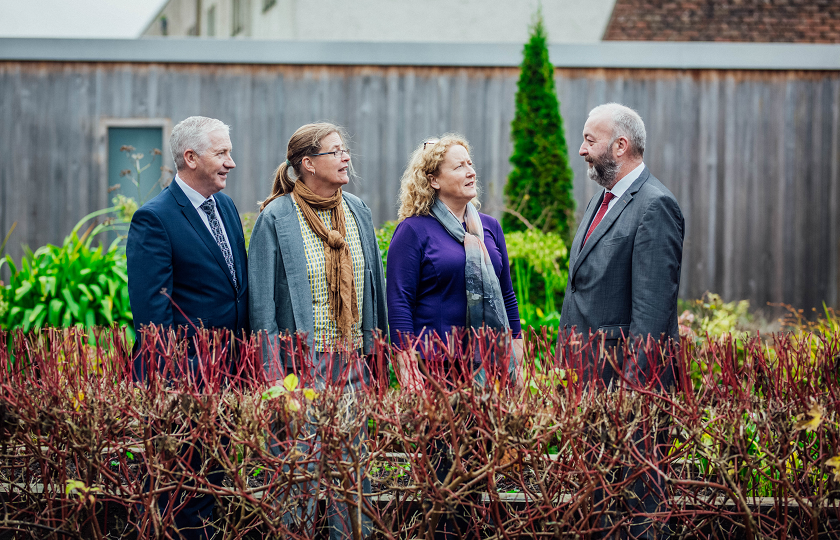 Pictured above: Detective Sergeants John O'Flaherty and Claire McKeon from the Human Trafficking Investigation and Co-ordination Unit (HTICU) within the Garda National Protective Services Bureau pictured with Dr Amy Healy and Professor Michael Healy.