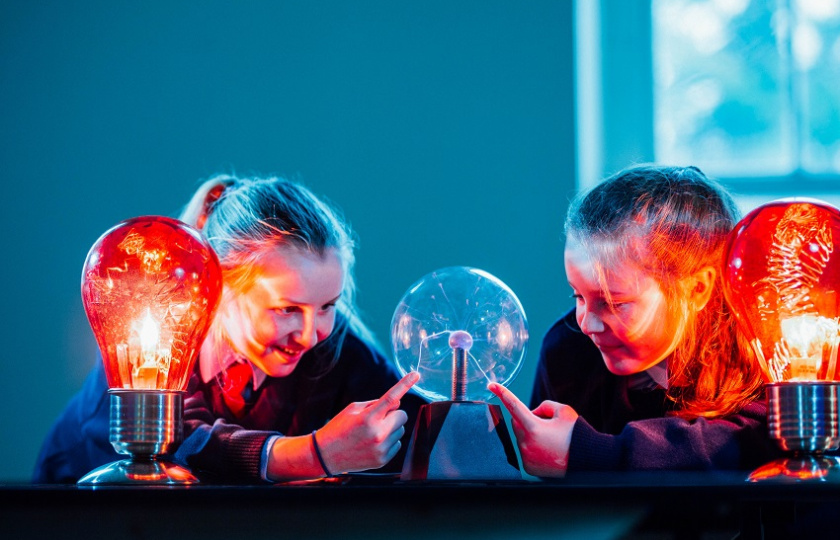 Developed and delivered by the RDS, ESB Science Blast Limerick will once again return to Mary Immaculate College with over 3,500 primary school students from more than 144 schools attending the three day event from May 21-23 2019.
View Exhibition Booklet here.
ESB Science Blast nurtures STEM skills (Science, Maths, Engineering & Maths) through entire primary school classes investigating a simple question about the world around them. It is a great way to learn science in a fun, non-competitive and hands-on method that has many proven benefits.
Research, commissioned to coincide with the ESB Science Blast Limerick event and conducted on behalf of the RDS reveals that most parents of primary school students in Munster want to see an increased focus on science education, as they believe it will give their children an advantage in their future careers and be beneficial for society.
The research shows that 95% of Munster parents identified the growing need for their children to learn life skills, such as critical thinking, creativity, collaboration and communication. As a result, parents ranked science as one of the top five most important subjects, along with Maths and English, in delivering these life skills.
In fact, the research showed parents understand the critical role of science today. 76% of parents in Munster believe a good understanding of science is needed to live and work today. The majority (77%) also believe basic science education will give their kids an advantage in life. A large proportion of parents (62%) talk with their children about science subjects and activities in their school.
When it comes to their children's future, the majority of parents (81%) are open to their child pursing science as a career. Over three quarters (79%) of parents see good career opportunities for their children, if they learn about science.
Participating in the ESB Science Blast encourages students to engage with the Four Cs of STEM education: Critical thinking, Creativity, Collaboration and Communication, each an essential part of their investigation. All of the 144 schools will display the findings to their chosen investigations at Mary Immaculate College. Some of the questions that the students have been investigating this year are: Why is the sky blue? How much weight can spaghetti hold? Why do things smell? Why is water clear? How do we stop onions making us cry? How do magnets work? Is chocolate good for you? Why do your fingers go wrinkly in water?
"The skills that the students gain from working on their investigations are essential science skills, but also vital life skills," says Michael Duffy, RDS. "Such skills are increasingly recognised as desirable in workplaces all over the world.
The RDS has been cultivating interest in science and helping to develop science skills in Ireland for generations. We know that a positive interaction with science at a young age can make a vital difference to later education choices. We hope that all participants enjoy exploring the amazing possibilities of science through their investigation, but that for some of them this is the start of a life-long interest."
Mary Immaculate College is once again delighted to be the host venue for the Limerick fair as according to MIC President, Professor Eugene Wall, "The promotion of STEM within our education system is a key priority, and one that MIC is deeply is committed to. Our continued support of the Limerick fair reflects this.
MIC is the leading third-level institution in Ireland in the provision of programmes in the teaching of STEM and STEAM at primary level and are at the frontline of teacher education playing an important role in shaping the attitudes and fostering the value of STEM education for 21st century learners."
ESB is the title sponsor of the event across all three venues. Chief Executive, Pat O'Doherty commented on their involvement: "ESB is committed to supporting STEAM education and learning as a way of empowering young people to fulfil their potential and encouraging them to positively engage with the issues and challenges facing society. ESB Science Blast taps into the innate curiosity and creativity of children to help them develop key 21st century skills that will enable them to critically assess the world around them and become the problem solvers and influencers of the future".  
ESB Science Blast is an education programme developed and delivered by the RDS. It is funded by the RDS, ESB, Naughton Foundation, Science Foundation Ireland, Irish American Partnership, Limerick City and County Council, Devenish Nutrition, Citi, Dublin City Council, Irish Aid, Kainos, Northern Trust, Jones Engineering Group and supported by ICC Belfast, Belfast City Council, CCEA, W5, C2K, AmmA Centre, Nerve Centre and Mary Immaculate College.
ESB Science Blast takes place in Mary Immaculate College, Limerick from 21-23 May. To find out more about the event visit www.esbscienceblast.com